Anatomy and Pathology/Oncology Section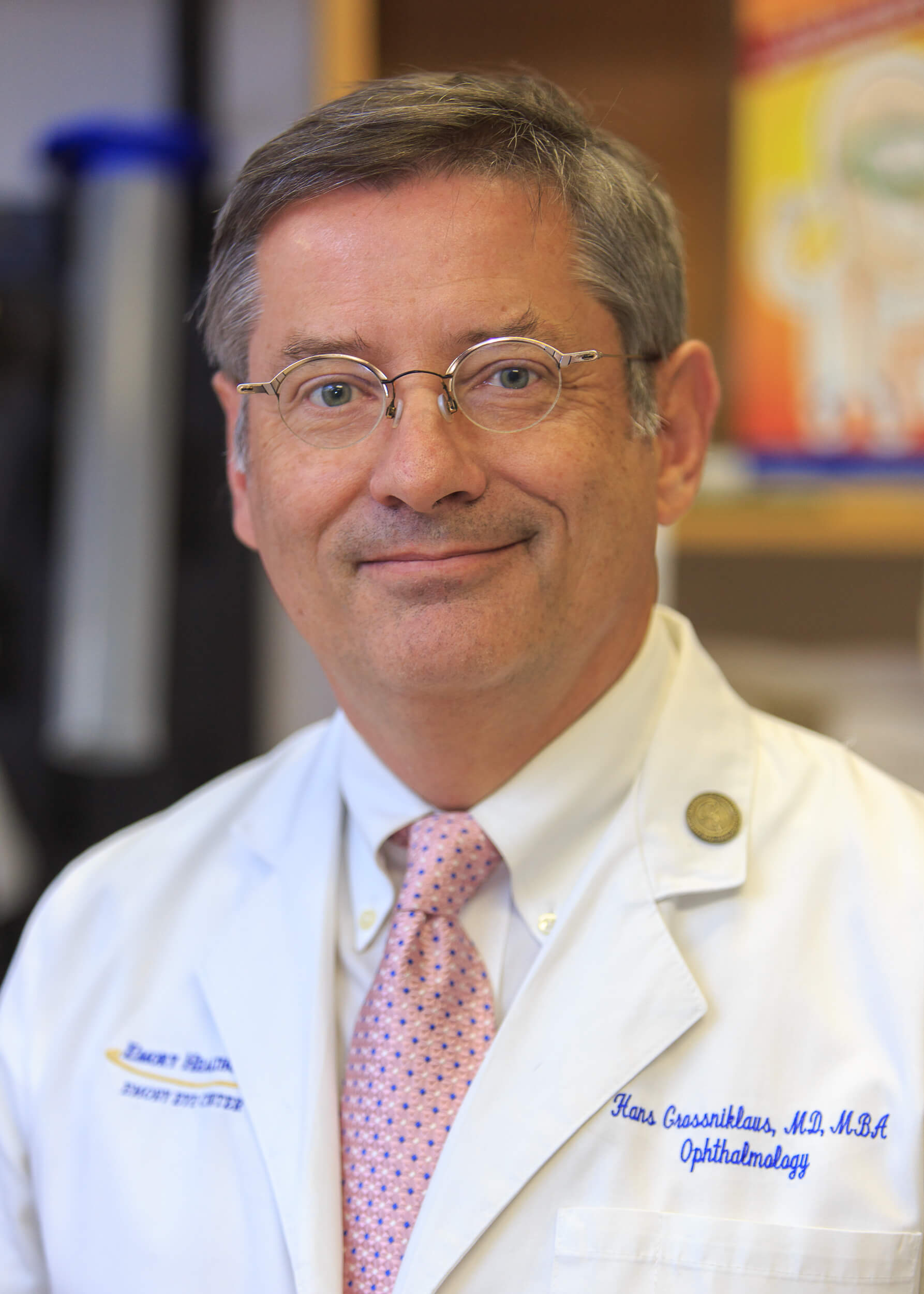 Hans Grossniklaus MD, MBA, FARVO, is the Phinizy Calhoun Jr. Professor of Ophthalmology and Pathology, Vice-Chairman, Department of Ophthalmology, Emory University School of Medicine.
Grossniklaus received his MD degree from Ohio State University, followed by residencies in ophthalmology and pathology at Case Western Reserve University and fellowships in ophthalmic pathology at the Wilmer Institute and the Armed Forces Institute of Pathology. He is board certified in ophthalmology and pathology. He has been on the faculty at Emory University and served as director of the L.F. Montgomery Ophthalmic Pathology Laboratory since 1989 and founding director of the Ocular Oncology Service since 2007 where he actively sees and treats patients. He is a member of numerous national and international organizations, including the Past-President and current Executive Vice President of the American Ophthalmological Society (AOS) and Past-President of the American Association of Ocular Oncologists and Pathologists. He has served on 5 national/international committees, including NIH Study Sections both for the NEI and NCI.
His research interests are the pathobiology of choroidal neovascularization/AMD, retinoblastoma and uveal melanoma. He has authored/co-authored nearly 500 manuscripts published in peer reviewed journals, 25 chapters and edited 10 books/monographs and is currently Editor-in-Chief of the WHO Classfication of Tumours of the Eye. He is founding Co-Editor in Chief of the journal Ocular Oncology and Pathology. He has received support from 11 federally funded grants including being PI with continuous support of ocular oncology R01 grants.
He is a member of the Cancer Biology graduate school program, has trained 25 post-doctoral fellows and PhD students. He has received numerous awards, including the AAO Senior Achievement Award, the outstanding former Heed Fellow Award and the W. Richard Green Lecture Award. He has served on the Program Planning Committee for ARVO, was in the inaugural FARVO class, and has attended ARVO meetings for over 25 years, including having over 200 ARVO abstracts over the years.
Christine Wildsoet OD, PhD, FAAO, FARVO, is a full professor in the School of Optometry/Vision Science Program at the University of California Berkeley where her main teaching responsibilities are Systemic and Ocular Pharmacology. She is a fellow of both the American Academy of Optometry and Association for Research in Vision and Ophthalmology (ARVO), a long-term member of the editorial board of Investigative Ophthalmology and Vision Science (IOVS), a trustee of the Association for Ocular Pharmacology and Therapeutics (AOPT), and a member of the external advisory board of MyFUN, a European community-funded myopia research training program. She is also a regular reviewer for many granting bodies, including the National Eye Institute of the National Institutes of Health, and a variety of other journals.
Wildsoet received her optometry training at the Queensland University of Technology and her pharmacology and PhD graduate research training at University of Queensland, Brisbane, Australia. She is a recipient of a University medal from the University of Queensland, the Glenn A. Fry Award from the American Academy of Optometry (for research), and a Distinguished Faculty Mentoring Award from UC Berkeley. The focus of research in the UC Berkeley Myopia Research group for which she serves as PI is myopia, specifically the mechanisms underlying the development of myopia and the clinical management of the same. On-going research has four main directions: 1. Visual environmental influences, including defocus, urbanization and light, on eye growth regulation and myopia, 2. Local ocular cellular and molecular signaling pathways involved in eye (scleral) growth regulation, 3. Optical, pharmacological and tissue engineering approaches to myopia control, and 4. Mechanisms underlying myopia as a risk factor for other ocular disease, including glaucoma. Both human- and animal model-based lines and both in vitro and in vivo approaches are used.
Working on these projects are clinician scientists (local & international), as well as vision science graduate PhD students, whose training backgrounds include Molecular Biology, Optometry, Medicine and Bioengineering. Graduate OD and undergraduate students researchers are also involved. Their work is regularly represented at ARVO. Funding is from the National Eye Institute and industry.
Glaucoma Section
Christopher A. Girkin, MD, MSPH, FACS, FARVO, completed his ophthalmology residency training at the UAB Callahan Eye Hospital, followed by a fellowship in neuro-ophthalmology at Wilmer Eye Institute, Johns Hopkins University. He concluded a second fellowship in glaucoma with The Shiley Eye Center at University of California, San Diego, as a Heed Glaucoma Fellow.
Girkin moved from San Diego to the University of Alabama at Birmingham in 1999, where he started as assistant professor of Ophthalmology and is now professor and chairman of the Department of Ophthalmology; EyeSight Foundation Endowed Chair in Ophthalmology and chief medical officer of the Callahan Eye Hospital.
Throughout his career, Girkin has promoted and served the scientific glaucoma community. Girkin has served as secretary and program chair for the American Glaucoma Society and chaired the ARVO Glaucoma Program Committee. His contributions to glaucoma care and research, and services to the scientific community were recognized by multiple awards including the American Glaucoma Society Clinician-Scientist Award in 2003 and 2004, the Research to Prevent Blindness Physician-Scientist Award in 2005, and the Ronald Lowe Medal in 2008. He has been selected as one of the "Best Doctors in America" yearly from 2003 to 2013. He has served as an invited lecturer at numerous research and educational events related the field of glaucoma, including chairing the American Academy of Ophthalmology Subspecialty Day in Glaucoma, and has delivered over 250 lectures to ophthalmic practitioners and professionals throughout the United States and abroad.
Girkin has authored or coauthored over 150 peer-reviewed publications, where most of his research contributions focus on the effects of age, race and glaucomatous injury on the morphology and biomechanical behavior of the optic nerve. He has serves on the editorial board for the American Journal of Ophthalmology, Journal of Glaucoma and Investigative Ophthalmology and Visual Science. His active research program has brought over $15 million in extramural funding to the department with research grant support as primary investigator from the National Eye Institute, Center for Disease Control, Glaucoma Research Foundation, Research to Prevent Blindness and EyeSight Foundation of Alabama.
Girkin has shown exceptional administrative and leadership skills that would prepare him to be an excellent trustee. Since his appointment as Chairmen of the UAB Department of Ophthalmology in 2012, the program has grown its research enterprise from $1.8 million in annual revenue to over $8.9 million in 2017 and is the fastest growing research program in the United States in NIH funding over that time period. In a similar timeframe, he has founded the integrated Callahan Eye Hospital Clinics that have expanded from 6 practice locations to 19 in 2017. It is now the largest ophthalmology group in Alabama employing over 30 providers across all subspecialties of ophthalmology and optometry.
Louis R. Pasquale, MD, FARVO, is professor of Ophthalmology and Distinguished Scholar in Ophthalmology at Harvard Medical School. In addition to directing the Glaucoma Service at Massachusetts Eye and Ear Infirmary (MEEI), he leads the Glaucoma Fellowship Program, the MEEI Teleretinal Program, and co-directs Harvard's Glaucoma Center of Excellence.
Pasquale received his Medical Degree with Distinction in Research from the State University of New York, Stony Brook. He completed an internal medicine internship at Bronx Municipal Hospital affiliated with the Albert Einstein School of Medicine. After finishing an ophthalmology residency at Temple University School of Medicine, he completed a 2-year glaucoma fellowship at the Wilmer Ophthalmological Institute.
Pasquale is a member of the PLOS One, American Journal of Ophthalmology, International Glaucoma Review and Journal of Glaucoma editorial boards. He currently serves as Chair of the American Glaucoma Society Research Committee and is a member of NIH's National Advisory Eye Council. He is also former chair of the ARVO Meeting Program Committee, Glaucoma Section. Pasquale received the 2006 American Academy of Ophthalmology Achievement Award, the Physician Scientist Award by Research to Prevent Blindness in 2009 and is a Gold Fellow of ARVO.
Pasquale is a physician scientist who champions the 'reverse engineering cycle of discovery' in order to translate clinical, population-based and lab research into rationale treatments for glaucoma. He is an NIH Principal Investigator with continuous support since 2006. His government-sponsored research leverages the rich resources available in the Nurses Health Study, Health Professional Follow-up Study and the Women's Genome Health Study to identify primary prevention strategies in the open-angle glaucomas.
He has published 184 peer-reviewed articles in scientific journals that includes work leading to a deeper understanding of the complex genetic architecture of primary open angle glaucoma and exfoliation syndrome. He has also performed analytical epidemiology research, which serves to define roles for environmental factors in these conditions. He has also authored 84 reviews/book chapters/editorials. He has delivered numerous named lectures including the prestigious Spaeth Oration at the Philadelphia College of Medicine and has given many talks/courses around the world.
He currently serves on the Advisory Boards of Eyenovia and the Scientific Advisory Board of The Glaucoma Foundation, New York City.