As eye and vision researchers across the world are making spectacular findings and developing life-changing therapies, scientists belonging to historically disadvantaged groups have faced challenges in earning equal opportunities to conduct such work.
While this reality will not be remedied through one initiative, this award will support early-career underrepresented minority (URM) researchers by providing both funding and mentoring in their exploration of novel and innovative research project ideas. Thanks to Genentech's support, the ARVO Foundation will offer one two-year grant totaling $100,000 to a researcher who has received their initial faculty appointment and is working to establish an independent vision research program.
Applications open July 1 – Sept. 1
View eligibility details and how to apply
2020 Genentech Career Development Award for URM Emerging Vision Scientists recipient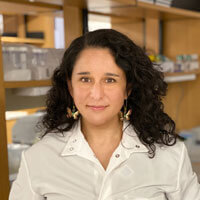 Elizabeth Zuniga-Sanchez, PhD
Baylor College of Medicine
USA

ARVO mentors
Dr. Zuniga-Sanchez will receive the support of two ARVO-appointed mentors during the two year grant period to provide career development support and supplementary scientific guidance:
Maureen McCall, PhD, FARVO (University of Louisville)
Rachel Wong, PhD (University of Washington)
About Dr. Zuniga-Sanchez
Dr. Zuniga-Sanchez is assistant professor of ophthalmology at Baylor College of Medicine. She obtained a PhD in neuroscience at the University of Southern California and completed her postdoctoral research in neurodevelopment at the University of California, Los Angeles. She is the inaugural recipient of the Genentech Career Development Award for Underrepresented Emerging Vision Scientists.
"As a daughter of Mexican immigrants that worked as farm laborers in California, I am an advocate for promoting the advancement of underrepresented students in science," she says. "I know first-hand the socioeconomic struggles students from a disadvantaged background face, and this is why I have been actively involved in working with students from different academic levels ranging from elementary school to college. I want to serve as a role model for those coming from a disadvantaged background and provide the support and encouragement for them to succeed. With this award, I will continue my work to teach, inspire, and mentor young scientists."
About Dr. Zuniga-Sanchez's project
Loss of photoreceptor connections is one of the main causes of blindness in retinal developmental and degenerative diseases. Thus, restoring photoreceptor circuitry may be a means to treat and reverse vision loss in those with retinal diseases. However, one major impediment is that very little is known about how photoreceptors form proper synaptic connections to their respective targets. Dr. Zuniga-Sanchez's research focuses on identifying the key molecular interactions that mediate selective wiring of photoreceptors to their respective synaptic targets.

To answer this question, her team uses the mouse retina as a model system and bring the latest technological advancements such as single cell sequencing, CRISPR technology, and stochastic cell labeling to identify the factors that mediate proper retinal connectivity. Through these studies, the project aims to uncover general principles of neural circuit formation, as the molecular mechanisms of wiring complex circuits in the retina may be conserved within other regions of the central nervous system. Her long-term objective is to make significant contributions in vision research, with the overall goal of preserving and restoring sight in those affected with retinal diseases.