Keynote speakers
Shawn Kanungo, Disruption Strategist
Strategy in a World of Disruption
Shawn Kanungo is a disruption strategist who works at the intersection of creativity, business, and technology. He has been recognized nationally and globally for his work in the innovation space after 12 years of working at Deloitte. Kanungo's mandate at the firm was to help corporate executives to better understand and plan for the opportunities and threats associated with disruptive innovation.
Now, as a partner of Queen & Rook Capital, Kanungo helps organizations adopt exponential technologies and more to the digital age. He is a practitioner who has worked hand-to-hand with hundreds of organizations on their journey to digital transformation.
Kanungo's work and interviews have been featured in Forbes, the Globe and Mail, The Guardian, CBC and CTV. In 2016, he was recognized as one of Avenue magazine's "Top 40 Under 40". He spoke at TEDx in 2017 and was named to Inc's "100 Most Innovative Leadership Speakers" in 2018.
Adrienne Scott, MD
Make your impact: Being a leader in eye and vision science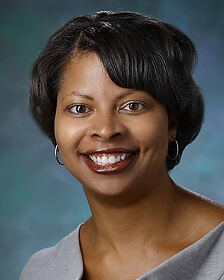 Adrienne W. Scott, MD, is an associate professor of ophthalmology at the Wilmer Eye Institute, Johns Hopkins University School of Medicine. She completed ophthalmology residency and vitreoretinal surgery fellowship training at the Duke University Eye Center.
Scott maintains an active clinical and surgical retina practice and is the medical director of the Wilmer Bel Air clinic and ambulatory surgery center. Her clinical research focuses on vitreoretinal diseases, with an emphasis on sickle cell retinopathy and its relationship to systemic sickle cell disease, retinal imaging and health disparities in eye care. She leads the Wilmer Eye Institute Diversity Committee and is the immediate past Wilmer Retina Fellowship training program director.