Science Communication Training Fellowship
Outreach events
Andrea Waksmunski
Graduate Student
Case Western Reserve University
U.S.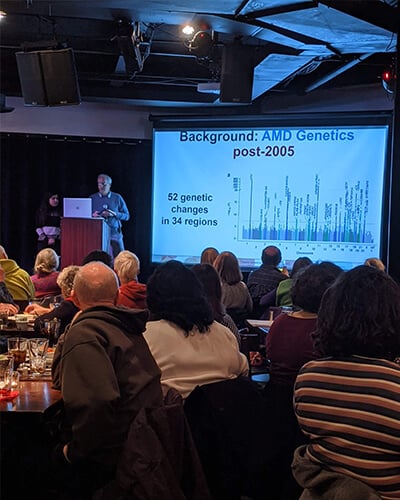 Science Café Cleveland, an informal public forum for the open discussion of current scientific issues, was an optimal venue for Andrea to put her newly acquired science communication strategies into practice. She gave her slideshow presentation on Age-related Macular Degeneration and genetics research with her principle investigator, which was custom for the venue. Audience members asked questions about her work for over an hour after her presentation was completed. One attendee even requested a copy of the slides to share with his family. "I am thankful for this unique opportunity to share my research with an eager-to-learn audience and be an accessible resource of information for them."


Chloe Thomas
Graduate Student
University of Birmingham
U.K.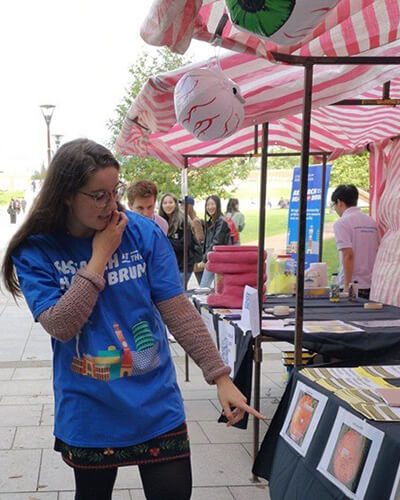 As part of the Research at the Heart of Brum event organized by the University of Birmingham, Chloe orchestrated her program through a stall located in the center of campus. Her aim was to inform the public about Age-related Macular Degeneration and current treatment methods for the disease, including her research into developing an immunotherapy eye drop. All 76 attendees she successfully engaged with filled out feedback forms on the effectiveness of her booth. "From this experience, I would say that organizing an engagement event is quite hard work, but if you put in the effort to plan the first event, you can re-use the activities for future engagement opportunities."
Rebecca Ward, PhD
Researcher
University of College Dublin
Ireland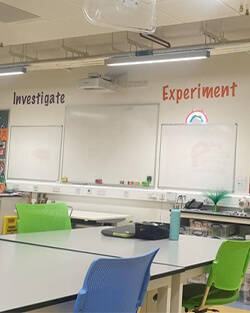 Effective educational toolkits are an incredible asset to any teacher. Rebecca Ward, PhD successfully created an easily reproducible and public toolkit for teachers to educate primary-level students on multiple aspects of vision and the eye, including ocular structure, pupil dilation, depth perception, blind spots and vision preservation. 50 students aged eight to ten were split between two scheduled outreach events, with primary-level teachers and a University College Dublin coordinator attending both sessions to provide Ward feedback on her hands-on slideshow presentation. The comments she received from the first session allowed her to adjust her toolkit accordingly, making for a smoother second session. "I hope to continue running this workshop, among others with more groups of students, through this program."


Nathan Schuck
Graduate Student
University of British Colombia
Canada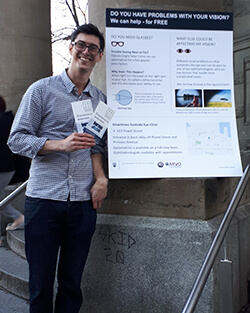 On a Saturday in Vancouver's bustling downtown eastside, Nathan Schuck set out to reach the city's densest collection of individuals suffering from housing insecurity and poverty and to educate them on common causes of vision loss, such as refractive errors and glaucoma. He set up his poster promoting the Downtown Eastside Eye Clinic outside of an outreach community center and got to work. Over 4 hours, he engaged 32 people in conversation, with 27 taking a pamphlet and/or card detailing the clinic's information. He monitored his success by defining a conversion as an individual stating they interacted with him upon checking in at their appointment. Although only one individual met this criteria, the impact an appointment had on that individual was remarkable. "I hope to continue to work with marginalized populations to better the health of others who may not otherwise get the care that they need."
Konstantina Sampani, MD
Research Fellow
Beetham Eye Institute
U.S.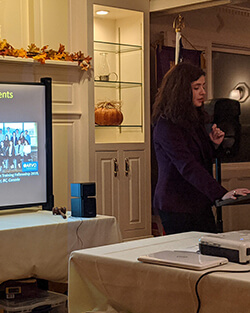 Konstantina Sampani, MD succeeded in raising awareness about and interest in the importance of developing imaging biomarkers to detect and prevent diabetic retinopathy, a complication that affects one-third of diabetics worldwide. On Nov. 14, World Diabetes Day, she gave her 45-minute presentation to over 100 Massachusetts Lions Eye Research Fund (MLERF) members, including their Board of Directors. Afterwards, she spoke with attendees about her research in one-on-one conversations for over an hour. The MLERF president then acknowledged her contributions to diabetic retinopathy research through presenting her the Lions presidential pin. Sampani then scheduled a May 2020 visit of the Beetham Eye Institute with the MLERF board to further present and demonstrate her work. "I had the opportunity to communicate my science with a non-scientific audience and learn how to present complicated results in a simple way that the audience will be engaged and interested in transferring the information to other people."
Hon Shing Ong, MBBS, MSc, FRCOphth
Research Fellow
Singapore National Eye Centre
Signapore
The development of translational science is dependent on the communication between basic and clinical researchers. Hon Shing Ong, MBBS, MSc, FRCOphth of Singapore National Eye Centre set out to improve the connection between scientists of SNEC and Singapore Eye Research Institute (SERI) through bi-monthly corneal research meetings. His first meeting was attended by a range of audiences from both basic and clinical science, helping attendees better understand the basic research being conducted at their institution, including the types of patients being referred for ongoing clinical trials. "Through this event, I understood the power of bringing people with different backgrounds together and how a simple event can improve the communication amongst clinicians and academics."
Paul Parker
Student
Rush University Medical Center
U.S.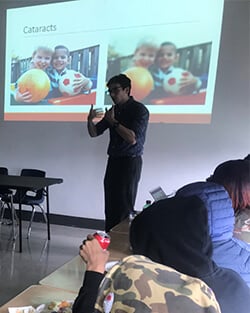 Reaching teenagers is hard. Paul Parker knew that going in, but he came prepared. His goal was to help 20 junior and senior high schoolers understand what common eye diseases are, how chronic systemic disease can manifest in the eye and the steps of performing a basic eye exam using basic equipment. He presented comparisons of normal vision and vision impaired by common eye diseases and used his NEI "See What I See" application and device to engage his audience. Attendee surveys taken before and after the event showed an increased level of understanding and interest in eye disease. "Throughout the planning of this event, I learned a lot about how best to plan events like this, create advertisements and also work with officials at the school to figure out how best to engage teenagers in an area they may not otherwise really think about."
Guilherme Neri Pires, MD
Clinical Researcher
Lisbon Central Hospital
Portugal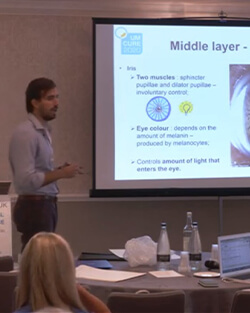 Guilherme Pires, MD's outreach event's goal was to provide uveal melanoma patients a better understanding of their disease to improve their medical compliance and active participation in future clinical trials. He held a live-streamed lecture for over 50 attendees. During the lecture, he reviewed the anatomical and treatment options for the disease using 3D models and concept maps to maximize information retention. Anecdotal feedback was promising, and Guilherme has fine tuned his presenation for future audiences. "Informed patients are empowered to look for alternatives even when they are told there are none [and] have better planning capacities for their personal, work and family life."
Helen Jiao, PhD
Postdoctoral Researcher
University of Melbourne
Australia
Helen Jiao, PhD is a member of the BrainSTEM initiative, a program that aims to engage, inspire and teach Year 9 and 10 students across Victoria, Australia. The students are mentored through their own projects via video conference over the course of several months. Helen employed skills gathered during the Science Communication Training Fellowship, including using simple explanations to explain scientific concepts when communicating with her students, and also collaborating with fellow science communicators to maximize the impact of her teachings. Her efforts were a success, with each student showing sustained engagement throughout the program. "By working cohesively with a senior communicator or a group of like-minded science communicators, we target a broader audience while we learn to hone our communication skills."



Salma Ferdous
Student
Emory University
U.S.
Salma Ferdous wanted to educate students on her daily life as a PhD student, including what different career options would be available to them should they also pursue a PhD. She was to participate in the ATL Science Festival Imagining the Future event, where science educators are paired with different elementary, middle and high school teachers to visit classrooms and educate them on possible future careers. Salma was to present a 1-hour presentation in front of two different groups of 65 students, which would include an overview of her day-to-day life and a hands-on activity. Due to COVID-19, Salma's event was postponed, but the lessons learned during the planning phase will carry her forth in her science communication journey.
Edmund Tsui, MD
Assistant Professor of Ophtalmology
Stein Eye Institute
U.S.

Gaining a basic understanding of how to identify and treat eye conditions is important for medical professionals of any specialty. At the David Geffen School of Medicine at UCLA, Edmund Tsui, MD is striving to teach second-year medical students the importance of eye health, eye examination basics and how to approach caring for patients with red eyes. Edmund consults and recruits several ophthalmologists for both the development and execution of his ongoing programs, which include the use of a Jeopardy-style game and an eye exam simulator to both entertain and inform his audience. "The feedback obtained from workshops this year will be incorporated into improving the workshops for next year."