Awards
ARVO celebrates the 2019 Champalimaud Foundation Vision Award winners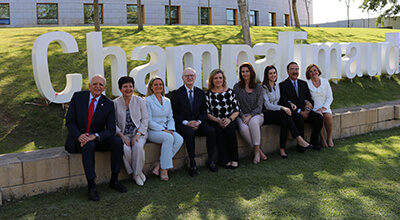 The Champalimaud Foundation recently announced the 2019 António Champalimaud Vision Award winners. The Paulista Institute of Studies and Research in Ophthalmology (IPEPO), the Altino Ventura Foundation (FAV) and the UNICAMP Ophthalmology Service were recognized for having made outstanding contributions to the alleviation of visual problems, primarily in developing countries. These three longstanding organizations have worked to prevent blindness and visual impairment by providing eye services to underserved populations in Brazil for more than 30 years.
IPEPO, also known as Instituto da Visão, is a nonprofit that provides cataract surgical services, free glasses and tertiary eye care for a population of over 2 million people in Metropolitan São Paulo, the Amazon and beyond. The Altino Ventura Foundation, based in Pernambuco in Northeast Brazil, one of the poorest regions of South America, has worked throughout the region to eliminate blindness and rehabilitate the visually impaired. The UNICAMP Ophthalmology Service, part of one of Brazil's top university hospitals, initiated the first cataract-free-zone project in Latin America. ARVO has a strong membership presence in each of these organizations.
"The three organizations being recognized this year have brought critical, sight-saving care to disadvantaged areas of Brazil. I look forward to learning more about their efforts in the award lecture at ARVO 2020 in Baltimore."
- ARVO President Daniel Stamer
ARVO President Daniel Stamer joined representatives from the organizations as they were presented with their award at the state-of-the-art Champalimaud Centre for the Unknown in Lisbon, Portugal, on Sept. 6. The €1,000,000 award may be used in any way that furthers the outstanding contribution of the recipient groups or organizations.
The 2020 António Champalimaud Vision Award will be presented to active research groups involved in basic or clinical research which has led to a major breakthrough in the understanding and/or the preservation of vision. The deadline for submissions for the €1,000,000 2020 António Champalimaud Vision Award is Dec. 31, 2019. Learn more
About the Champalimaud Foundation
The Champalimaud Foundation, created in 2005 by the last will and testament of António de Sommer Champalimaud, focuses on cutting-edge research and strives to stimulate new discoveries and knowledge that can improve the health and well-being of people around the world. The Champalimaud Centre for the Unknown, based in Lisbon, Portugal, hosts the Foundation's activities in the fields of neuroscience and oncology by means of research programs and the provision of clinical care of excellence. The fight against blindness is also supported through a focused outreach program.
Photos from the ceremony held Sept. 6, 2019, Rui Ochoa photo credits