About ARVO B2B
ARVO Bench to Bedside (B2B) is a unique event developed to educate vision scientists on how to advance translational ideas to clinically applied products. The program, which will be geared toward the pipeline's early stage, will provide companies with an opportunity to share the trials and tribulations of taking a new discovery to the market with researchers from across the globe. The event will include opportunities for interaction between innovators and venture capitalists, including education on how to obtain funding and enter the beginning and middle phases of clinical trials. Additionally, the program will offer guidance on technology transfer, patents and regulatory concerns.
We are looking for a new visual identity for B2B and would like your help. ARVO members are invited to create an eye-catching logo design for B2B that is innovative and should be recognizable as part of the ARVO family. Please read below for more details regarding logo design, contest rules and submission requirements.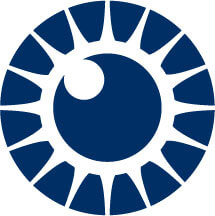 Logo design
The logo should represent the innovative and entrepreneurial nature of the B2B meeting. The acronym "B2B" should be included in the design and can include the full name "Bench to Bedside", but is not required. Dates and or locations for the meeting should not be included. The ARVO eyeburst image (right) may be used in the design but is not required.
Contest rules
The B2B logo may be featured on our website, social media and other mediums (e.g., signage, merchandise, etc.) and used for advertising campaigns and/or marketing materials in the future. To enter the contest, you must agree to the rules outlined below. Please read these rules prior to entry to ensure you understand and agree. Submission of an entry in the contest constitutes agreement to these rules. Following are the official contest rules:
To be eligible, each entrant must be a current ARVO member.
Individuals may submit up to two separate entries maximum.
All submitted work must be the original work of the entrant(s) and must not include, be based on, or derived from any pre-existing or third-party designs, trademarks or copyrighted material. The logo must be easily reproducible and scalable for large and small formatting.
All entries will become the property of ARVO. By submitting an entry, each entrant agrees that any and all intellectual property rights in the logo design are deemed assigned to ARVO.
Except where prohibited by law, an entry submission into this contest constitutes permission to use the winner's name, likeness and information provided on the entry form for publicity purposes, without further permission or compensation.
No royalty payment will be given to the artist for use of their logo if selected.
ARVO reserves the right to alter, modify or revise the winning logo as it sees necessary to fit the needs of B2B.
The decisions of the B2B Logo Selection Committee will be final.
How to enter
The contest begins on July 20. To enter, eligible participants must:
Save your logo design in .jpeg, .png or PDF formats (if you are chosen as a winner, you MUST be able to provide a high-resolution vector file with 300 dpi or higher that is under 25MB). High-resolution digital photos in good lighting or a scan of your logo design will also be accepted.
Complete the Official Entry Form.
Submit your completed Entry Form and logo design by August 14.
Selection criteria
A Logo Selection Committee comprised of ARVO staff and B2B stakeholders will evaluate all entries based on the following criteria (though other criteria may be considered):
Relevance – Does the entry align with the goal and mission of B2B?
Originality – Does the composition exhibit original design, creativity and imagination?
Aesthetic Quality – Does the submission command attention? Does it display visual balance and color coordination? Is it legible? Do all the elements work together to create a unified and appealing design?

The winner will be announced via ARVO's website, social media and by direct email to the winner. The Logo Selection Committee reserves the right to not select a winner if, in its sole discretion, no suitable entries are received.
Please contact comms@arvo.org with any questions.