as of April 2022

ARVO and the Colorado Convention Center are committed to the health and well-being of our attendees, exhibitors, staff and meeting contractors.
Attendees must be fully vaccinated, as defined by the CDC and WHO, against COVID-19. (Exemptions will not be permitted)
Attendees are encouraged but not required to wear masks while in the Convention Center.
Separate seating will be available for attendees who wish to socially distance.
Hand sanitizing stations will be available throughout the Convention Center.
Vaccine verification will be handled through Clear Health Pass.
ARVO 2022 attendees with a United States CDC-issued vaccination card
You may utilize the CLEAR app to upload your vaccine information prior to entering the Convention Center. You will show your "cleared" app screen to a meeting staff person to quickly move through the line, enter the Convention Center and print your badge.
Follow these simple steps:
Download the CLEAR app from your App store to your phone.
Select "Create your Health Pass" or update it if you've used a Health Pass previously.
Select "Have a code?"
Enter the code EFATTENDEE46 and follow on-screen instructions.
The ARVO 2022 CLEAR Health Pass code is: EFATTENDEE46
You must enter this code. Do not try to search for ARVO on the app; that will not work.
Once complete, a green screen appears with a QR code and your photo. Below your photo will be the words "Attendee Health Pass."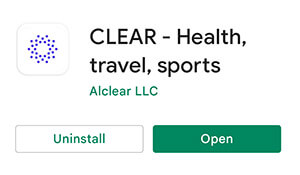 You may choose to simply show your vaccination card instead.
Attendees with a vaccination card from outside the United States
You will show your vaccination card or a photo of it to gain access to the Convention Center. You cannot use the Clear app.
International travelers are required to be vaccinated and to test negative in order to enter the U.S. and, in most cases, in order to return home. While ARVO is not providing on-site COVID-19 testing, there are a number of COVID-19 Testing locations near to the Convention Center for those who wish to test because of symptoms or those who are required to test before returning home.
ARVO strongly encourages all international attendees to secure travel insurance in the event of trip disruption due to COVID-19 or any other cause.
---
Prefer to Socially Distance?
Orange lanyards will be available upon request at the Tote Bag Pickup for attendees who would like to signal to others that they prefer to keep their distance.
There will also be designated seating in session rooms for this purpose. Tables set for distancing can be found at the back of each meeting room and will be marked with orange table signs.
We look forward to a safe return to coming together in person for ARVO 2022.
Note: Protocols are subject to change