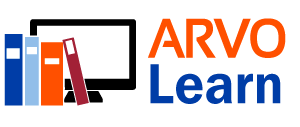 Are you seeking opportunities to learn or grow professionally? Do you have specific eye and vision science topics that you want to explore more deeply?
Introducing ARVOLearn — the new online learning system from ARVO.
ARVOLearn combines the latest advances in online learning with the expertise and knowledge of the world's largest eye and vision research organization. Whether you want session presentations from recent ARVO meetings, an on-demand course or a series of modules or mini modulesthat you can view at your convenience, ARVOLearn can help you expand your knowledge and grow your career.
Access to ARVOLearn
Members
ARVO members have access to the ARVOLearn media library and select modules as part of their membership. Members can use their current ARVO credentials to login to ARVOLearn.
Nonmembers
Access to the Annual Meeting session recordings within ARVOLearn can be purchased through two different subscription options. Individual learning activities can be purchased at the nonmember rate. Browse the catalog.
Silver Access Pass: Pass subscriptions offer one year of access to the ARVOLearn media library catalog containing hundreds of video presentations from recent ARVO Annual Meetings. Cost: $50
Gold Access Pass: In addition to access to the ARVOLearn media library catalog, Gold Access Pass subscribers receive discounted rates on ARVO's online education products, access to ARVOConnect, the online community for ARVO, and receive ARVO's electronic publications and communications. Cost: $85*Please note that these subscriptions are not considered membership to ARVO. An ARVO membership is not required to purchase an access pass to the ARVOLearn media library. However, an ARVO membership is required to submit an abstract to ARVO's Annual Meeting and to receive other member benefits.
Learn more about the Access Passes on ARVOLearn. ARVO members can login with their current ARVO username/password. Nonmembers can create an account.

On-demand webinars
Working with an Institutional Review Board (IRB): Practical advice for success
Thursday, March 19, 2020
8 – 9pm U.S.EDT
Cost: Free
Join ARVO's President-elect, Stephen C. Pflugfelder, MD, FARVO and Mitchell G. Brigell, PhD, FARVO as they discuss the role of an Institutional Review Board (IRB) and give practical advice for complying with the regulations aimed to protect human subjects involved in research. This interactive session will include a question and answers session open to all attendees. There is no fee to attend, but registration is required. Can't make the live session? Register to ensure access to the recording.
This webinar is presented as part of the ongoing partnership between ARVO and the American Academy of Ophthalmology.
Join Susan Vitale, MHS, PhD, FARVO and Daniela Ferrara, MD, MSc, PhD from our Ethics and Regulations in Human Research Committee (ERHR) as they host Michael David Abramoff, MD, PhD, FARVO, J. Jill Hopkins, MD, FRCS, June Lee, MD, PhD and Ariella Kelman, MD, for a discussion of ethical concerns related to the use of AI-enabled devices in clinical research and patient care. You will hear about Autonomous AI: From ethical rules to real-world use, AI in drug development and patient care and Autonomous ophthalmic therapeutics.
Click the Login now link to view this session.

On-demand courses
Select the Login now link to purchase.
Artificial Intelligence – from benchtop to bedside
18 presentation recordings from the 2019 Education Course, 23 videos showcasing AI technologies and five recored panel discussion webinars. (Members-in-Training (MIT), $59, Members $99, Nonmembers $139)

Applying electrophysiological techniques to translational vision research
Select recordings from the 2019 Education Course. (MIT $49, Members $79, Gold Access Pass subscribers $99, Nonmembers $109)
Diabetic retinopathy: What's new
Select recordings from the 2019 Education Course. (MIT $49, Members $79, Gold Access Pass subscribers $99, Nonmembers $109)
Ocular immunology: Fundamentals, disease entities, and future therapeutic opportunities
Select recordings from the 2019 Education Course. (MIT $49, Members $79, Gold Access Pass subscribers $99, Nonmembers $109)
Statistical methods for correlated eye data
All recordings from the 2019 Education Course. (MIT $49, Members $79, Gold Access Pass subscribers $99, Nonmembers $109)