Virtual Exhibitor FAQ
Categories
Exhibit hours and time zones
What are the virtual exhibit hours?
Suggested Core exhibit hours*:
9am – 2pm U.S. EDT
Thursday, May 13 - Friday, May 14


When will attendees be online and when should exhibitors be online in the meeting platform?
The Imaging in the Eye Conference has scheduled activities from approximately 9am – 2:15pm U.S. EDT each day May 13-14. View the Program.
Access to the meeting platform
What meeting software platform is ARVO using for the 2021 Annual Meeting?
Pathable
Will I have access to the entire meeting platform?
Yes, exhibitors have access to the entire meeting platform, similar to attendees.
How do I register my booth staff for the meeting?
The main contact listed on each exhibitor contract will receive an email with instructions on how to register their booth staff. Please register everyone you'd like to have access to the booth for either "building" or "working the booth" purposes.
Please note: If one of your booth staff is also a first author on a submitted abstract to the Imaging in the Eye Conference, they must register for the meeting as full-paying registrant. Complimentary exhibitor registration does not qualify as a paid registration for a presenting author.
When can I enter the platform and start building my booth? When do booths need to be completed?
Exhibitors will receive access to the platform within 48 hours of registering their booth staff. Deadline for booth setup is May 13 (the first day of the meeting). Changes to your booth may be made until May 14.
Interaction with attendees
How can I interact with attendees?
There are several ways to interact with attendees within your exhibit booth page and throughout the entire meeting.
"Talk Now" — a live real-time one-on-one Zoom video call in Pathable between an attendee and an exhibit staff representative. Talk Now is a special feature only available in an exhibit booth.

Attendees click the Talk-Now button in the booth and a private zoom call request will launch to an available exhibit staff.
Exhibit staff can turn on or off their ability to be available for Talk Now. A green checkmark will appear next to booth staff's name and photo when they are available for Talk Now.
Talk Now will be functional 24 hours a day to accommodate all exhibitors and attendees from around the world.
Exhibitors should only mark they are avaiable for Talk Now during the hours they are online.



Private meetings — similar to "Talk Now" because they are one-on-one video Zoom chat, however they can be scheduled at different times during the event.

Private meetings are available to all meeting attendees, speakers and exhibitors 24 hours a day.
This feature will be available starting two weeks ahead of the meeting, so that attendees may ask to schedule meetings with you in advance.
Private meetings can only be scheduled during meeting dates (May 13 – 14).
You will receive an email to your personal email inbox (and Pathable inbox) and can choose to accept or decline the meeting.



Discussion Forum — There is a live public discussion forum in each booth for attendees to leave questions that exhibit staff can answer at any time. This is public and viewable by everyone who enters the booth.


Booth Visitors and Leads — As exhibit staff, you will receive a list of everyone who enters your booth. There is also the ability for attendees to "Leave their Card" which is their way to ask to set up more time to connect with you. They are essentially leaving you their business card, and you can review these attendees credentials and follow up with them at your leisure. Booth visitors become "Leads" if they initiate a "Talk Now" call or click the "Leave your Card" button. Only contacts considered "Leads" will include an email address.
What if I miss a "Talk Now" call from an attendee?
When the Talk Now call is initiated, if no exhibitor answers after a specific time (90 seconds) the system will automatically switch to a different booth staff member. If no one answers after the total time (270 seconds), the system will end the call and prompt the attendee to either leave a written message or schedule a meeting. The attendee is able to hang up the call manually at any time.
If the attendee elects to send a message, the message will be included in the exhibitors leads report in the same fashion that would occur if the attendee was to click "Leave your card." As this is a message to an organization and not a person, the staff members will not be immediately notified, but they will see the lead details in their analytics and metrics reports informing them when the attendee called and the message they left.
If the attendee elects to schedule a private meeting, they will be taken to the private meeting scheduler to book a time with a random booth member. That specific booth staff member will receive a notification of the meeting invite immediately.
If the attendee elects to do nothing, their information will be included in the leads information informing the exhibitor of when they attempted to call.
What if I do not want to use any discussion forum or Zoom "Talk Now" features in my booth?
While we cannot remove the discussion forum or Zoom Talk Now features from your booth, you can choose not to use them.
We suggest writing a first comment into the discussion forum stating that you will not be monitoring or responding to threads in the discussion forum. Also all booth staff can toggle "Off" their ability to be avaiable for Talk Now. In doing so, Talk Now calls will not be sent to any booth staff.
What Booth Analytics are available to exhibit staff?
Booth staff can access the Analytics tab on the Manage section of their booth page. This tab displays Booth Visits, Conversations, and Content Consumption. Booth analytics will not start collecting until the meeting is launched.
Booth Visits

Total Booth Visits: displays the total number of

all

visits to the exhibitor's page URL, including multiple visits by the same user. This number excludes booth staff (people listed as members of the organization).
Unique Booth Visits: displays the total number of all unique visitors to the exhibitor's page URL, excluding booth staff visiting their own booth.
Leads: all unique booth visitors who have clicked the "Leave Your Card" or "Talk Now" buttons on the exhibitor's page. Leads will include a contact's email address.

Conversations

Private Messages: The sum of all private messages sent for all members of the organization (outbound) AND sent to all members of the organization by people at the event who are not members of the exhibitor's organization (inbound).
Private Meetings: All private meetings completed for each member of the organization.
Chat Messages: the sum of all group chat messages that have been posted to the exhibitor's group chat on the exhibitor's page and during in-booth webinars launched from the exhibitor's page, if webinars took place.

Content Consumption

Total Video Views: total number of all video views in the exhibitor's page

that were uploaded via the Content Assets menu

and/or videos attached to agenda items associated with an exhibitor (for example, in an exhibitor showcase session).
Total Document Views: all documents downloaded from the exhibitor's page

that were uploaded via the Content Assets menu

.

Content Consumption Details

By video: total and unique views
By document: total and unique views
All metrics are available to be downloaded into a CSV file by selecting the Download CSV button next to the appropriate section.
Booth features
What are the features of my booth?
View the booth packages. For more detailed questions related to each feature, please contact arvoexhibitor@ntpevents.com.
I would like more exhibitor registrations than are alloted in my booth package. What can I do?
Please contact arvoexhibitor@ntpevents.com with your request.
What size graphics do I need to supply for my booth or other advertising I've purchased?
Please refer to the correspondence from ARVO and NTP Events about your booth package for graphic dimensions.
Additional graphic dimensions:
Logo in your booth: 300x300px
Rotating banner ad in Pathable site: 2560x200px
You may also contact your booth sales representative for further information related to advertising and sponsorship details at arvoexhibitor@ntpevents.com, or call your ARVO Event Services at 703-706-8248.
How many files can I include? How large a file size is allowed?
You may upload as many files (pdfs, PowerPoint Presentations, Word documents) and videos, as you'd like to the "Files" section of your booth. However, it recommended that you upload no more than 10, as it may become harder for attendees to view all the files and they may have the tendency to skim your files.
You may highlight up to six videos in a carousel feature to be prominently displayed in your booth.
Each file you upload has a max size limit of 10GB
Adding video to your booth
You may include videos the Files/Content Assets tab of your booth. Video files may be up to 10GB.
Images in your booth
You may upload your logo into your booth. This will the main identifier for your booth, both in the booth itself and in the exhibit page that lists all exhibitors. For the logo file you will upload a JPG or PNG of minimum 200px width.
There is also a larger static header banner image you can use in your booth. The size is 1170x145px.
You may also add images in the description section of your booth. Recommended size is 400x400px or smaller.
Booth Screenshots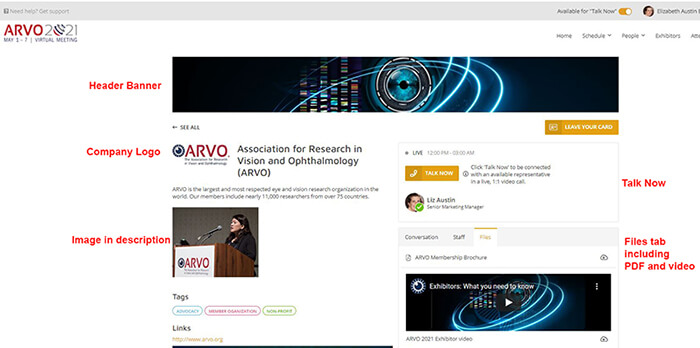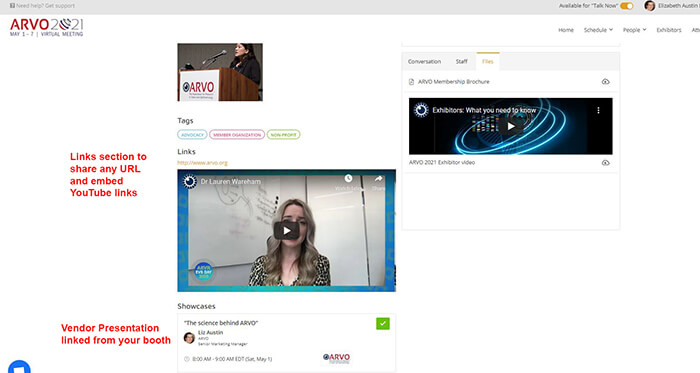 Vendor Presentations
What are the requirements for the vendor presentation?
Pre-recorded and On-demand
30 minutes
No conflict of interest or competition with scientific content
Data and tracking provided to vendors
Searchable via platform by keyword
Presentation will stay on meeting site until June 30 for extended viewing.
Presentation is linked from the meeting agenda and exhibitor booth (if you are an exhibitor)
ARVO will review vendor presentations and has the right to deny content deemed in conflict of interest or inappropriate.
Availability: 1 per sponsor
Deadline for submission of files: May 3
Presentation may be on a topic of company's choice. Style can be voice-over slides, TED-talk style, person speaking from stage, etc.
File type: .mv4 or .mp4
Video encode: H.264, MPEG-4 AVC
Resolution: 1920 X 1080
Bitrate: 2000Kbps
Frame rate: 30 fps
Stereo audio bitrate: 320Kbps
File size limit: 5GB
Building your booth
How do I build my booth?
If your company is paid in full and you've registered your booth staff, each booth staff registered will receive a sign-on access to link to the Imaging in the Eye Conference platform. The email comes from Imaging in the Eye Conference (no-reply@pathable.com). Please check your spam if you believe you should have received it, but you do not see it.
The access link will take you directly to your back-end manage section of your booth. Here you will access the features of your booth to edit your company description, upload files and videos and view booth analytics.
If you'd like to view the booth from the "front-end" attendee view, click on the "Back to organization details" link. See screen shot below.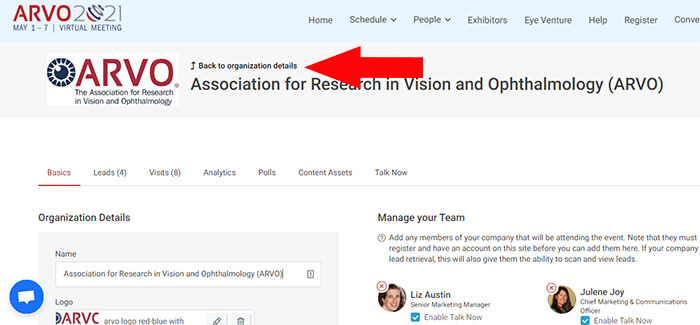 When in your booth attendee-view "front-end" and you'd like to get back into the manage "back-end", click the "Manage" button or "Edit my Organization" under your Profile. See screen shot below.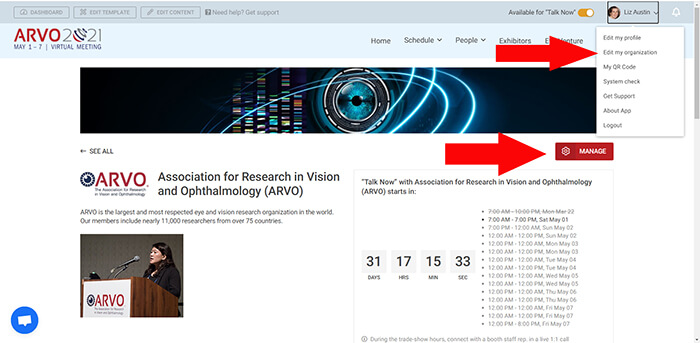 Additional help
Where do I go to receive help or answer other questions?
Prior to gaining access to the meeting platform to build your booth, please contact arvoexhibitor@ntpevents.com, or call ARVO Event Services at 703-706-8248 for questions related to your sponsorship package.
Once you are granted access to the meeting platform, technical questions can be answered by meeting platform support staff. View the "Help" page in the navigation for instructions on where to find apropriate help. You can also email arvoexhibitor@ntpevents.com.