Keep up with latest news from ARVO, the ARVO Foundation and community partners, plus find updates on funding, outreach, jobs and more with the latest issue of Insight.
Jan. 30, 2018
The ARVO Foundation announces the 2018 Epstein Award recipients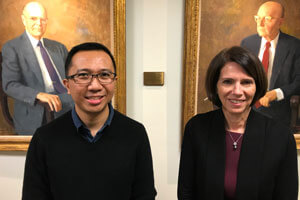 Janey Wiggs, MD, PhD, FARVO, and mentee Ryan Collantes, MD, are being recognized with the $100,000 Dr. David L. Epstein Award. The award is given annually to recognize a senior investigator in glaucoma who has a strong record of mentoring clinician-scientists to independent research in academic careers.
Events & education
New online event: NIH updates for human subjects research administration
Do you manage NIH applications and grants for research involving human subjects? Attend this event and explore what is different for 2018. Discuss with NIH/NEI staff the "new" definition of a clinical trial and key changes to grant application forms. You will leave this session with practical advice for addressing these changes.