Oct. 26, 2017

Members in the news

Van Gelder awarded $50K Bressler Prize


Russell N. Van Gelder, MD, PhD, was presented with the 2017 Bressler Prize at the Alfred W. Bressler Vision Science Symposium and Award Luncheon held in New York this month. The $50,000 prize was awarded to Van Gelder by Lighthouse Guild based on his research on non-visual photoreception.

Van Gelder is the Boyd K. Bucey Memorial Chair, professor and department chair, Department of Ophthalmology, at the University of Washington School of Medicine in Seattle, Wash.

U.S. Advocacy
ARVO co-sponsors poster session on Capitol Hill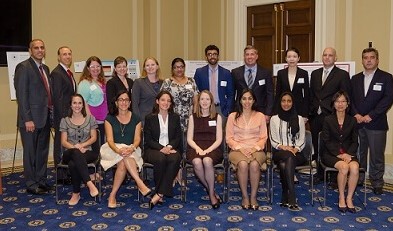 In September, 18 young vision researchers shared posters of their research with policymakers on Capitol Hill as part of the Alliance for Eye and Vision Research's (AEVR) Third Annual Emerging Vision Scientists Day.

The investigators, whom have not yet received their first investigator-initiated (R01) grant from the National Institutes of Health (NIH)/National Eye Institute, also visited the offices of their Congressional representatives the following day.