Wiggs and Collantes receive 2018 Dr. David L. Epstein Award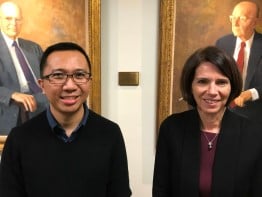 Janey Wiggs, MD, PhD, FARVO, and her mentee, Ryan Collantes, MD, are the 2018 Dr. David L. Epstein Awardees. The Harvard Medical School pair will receive the $100,000 research award, given annually to recognize a senior investigator in glaucoma who has a strong record of mentoring clinician-scientists to independent research in academic careers. This unique award supports a collaborative project between a mentor/mentee pair.
Wiggs, who specializes in the genetics of glaucoma, is the Paul Austin Chandler Professor of Ophthalmology, vice chair for clinical research in ophthalmology, and leads the Genetic Diagnostics Section of the Ocular Genomics Institute at Harvard Medical School. She and Collantes met when he presented her with a remarkable pedigree of a family affected by juvenile open angle glaucoma whom he encountered during his ophthalmology residency in his home country of the Philippines.
Impressed by his enthusiasm and desire to help this family, Wiggs took Collantes on as a postdoctoral fellow in 2016. His genetic study of this family led to the discovery of a novel type of myocilin (MYOC) mutation, which is responsible for the family's disease. Support from the Dr. David L. Epstein Award will provide the necessary funding to allow Collantes to work for two additional years in the Wiggs Lab. Their project aims to identify mutations responsible for early-onset glaucoma in Filipino families and develop methods for efficient genetic screening for families residing in this area of the Philippines.
Collantes, who is one of the first ophthalmologists in the Philippines researching the genetics of inherited ocular disorders, hopes to return to his home country after his training to establish a career as a clinician-scientist, identifying genes responsible for glaucoma and implementing gene-based therapies to treat it.
As a mentee of David Epstein, this award is particularly significant to Wiggs. "I had the opportunity to work with David Epstein years ago when he was the chief of the glaucoma service at the Massachusetts Eye and Ear Infirmary. Dave was a wonderful mentor. He taught me to ask important scientific questions and he encouraged me to pursue research in glaucoma genetics because he recognized my passion," she recalls. "He was a champion of the clinician-scientist and always wanted to know what I was doing to help the young trainees develop their careers. I wish that I could introduce him to Ryan Collantes because I know that he would be delighted to see his passion for his work and his promise as a young clinician-scientist."
Wiggs and Collantes will be presented with the Dr. David L. Epstein Award at the ARVO 2018 Annual Meeting in Honolulu, Hawaii. Dr. Epstein is widely considered to be one of the most influential leaders in the world of glaucoma and glaucoma research over the past 30 years. When he passed away in 2014, his family created the award in his name to perpetuate and honor his commitment to the scientific understanding and cure of glaucoma through the support of promising clinician-scientists in exceptional research environments. The first award was given in 2016.