As eye and vision researchers across the world are making spectacular findings and developing life-changing therapies, scientists belonging to historically disadvantaged groups have faced challenges in earning equal opportunities to conduct such work.
While this reality will not be remedied through one initiative, this award will support early-career underrepresented minority (URM) researchers by providing both funding and mentoring in their exploration of novel and innovative research project ideas. Thanks to Genentech's support, the ARVO Foundation will offer one two-year grant totaling $100,000 to a researcher who has received their initial faculty appointment and is working to establish an independent vision research program.
Applications open Aug. 1 – Oct. 1
View eligibility details and how to apply
---
2023 Genentech Career Development Award for URM Emerging Vision Scientists recipient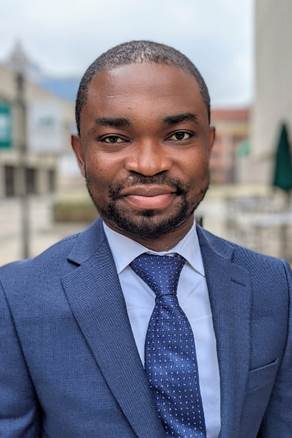 Edmund Arthur, OD, PhD
University of Alabama at Birmingham, USA

ARVO mentor
Dr. Arthur will receive the support of an ARVO-appointed mentor during the two year grant period to provide career development support and supplementary scientific guidance:
Gemmy Chui Ming Cheung, MBBS, FRCOphth (Duke-NUS Medical School, National University of Singapore)
About Dr. Arthur
Dr. Arthur is an optometrist, a vision scientist, and currently a tenure track assistant professor of optometry at the University of Alabama at Birmingham
"This award provides critical support for my research career," says Arthur. "The data from this two-year pilot study will inform several future research projects in diabetic retinopathy (DR) and diabetic macular edema (DME) in my lab."
About Dr. Arthur's research
Dr. Arthur is currently investigating a novel retinal vascular biomarker for early diabetic retinopathy (DR) detection and disease monitoring known as the peripheral capillary free zones.
The data from this will inform a planned future project of a biological variable model for screening and early detection of DR and DME in underserved populations. "This will be a three-year cross-sectional study aimed at developing a biological variable model that includes ethnicity, HbA1c, age, and sex in screening for individuals at risk of worse diabetes associated retinal neurodegeneration in underserved populations."
---
Past recipients
2022
Cammi Valdez, PhD (Northeastern State University)
Mentor:
Machelle Pardue, PhD (Atlanta VA Medical Center/Georgia Tech)
2020
Elizabeth Zuniga-Sanchez, PhD (Baylor College of Medicine)
Mentors:
Maureen McCall, PhD, FARVO (University of Louisville)
Rachel Wong, PhD (University of Washington)