The Dr. David L. Epstein Award is given annually to a well-established, senior investigator with a documented history of conducting eye and vision research in glaucoma and mentoring clinician-scientists to independent academic and research careers. The award supports a collaborative project for the mentor and mentee related to glaucoma.
The award was created by Dr. Epstein's family with the intention of furthering his long-standing determination and interest in solving the complex issues of glaucoma through well-conceived and executed scientific research focused on finding the causes and new treatments for the disease. The first award of $100,000 was presented at the 2016 Annual Meeting.
Applications open July 1 - Sept. 1
View eligibility details and how to apply
2019 Dr. David L. Epstein Award recipients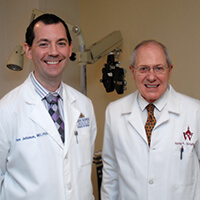 Harry A. Quigley, MD, FARVO (mentor) and Thomas V. Johnson, MD, PhD (mentee)
Wilmer Eye Institute, Johns Hopkins University
USA
Project title
Stem cell transplantation for RGC replacement and optic nerve regeneration
About Dr. Johnson's project
To cure blindness from glaucoma and other diseases in which the retinal ganglion cells die, we need to find replacement cells, incorporate them into the retina in the eye, grow their communicating fiber to the brain centers for vision, and establish the organization that produces visual images. Dr. Johnson's project, under Dr. Quigley's mentorship, takes initial steps in replacing lost nerve cells, studying how human stem cells can be turned into the needed nerve cells and how they can be induced to enter and live appropriately within the neural retina
---
About David L. Epstein
The Joseph A.C. Wadsworth Clinical Professor of Ophthalmology, Dr. Epstein served as chairman of the Department of Ophthalmology at Duke University School of Medicine for 22 years before he passed away on March 4, 2014. He was a longtime ARVO member and served as president in 1992. Dr. Epstein received the 2013 Mildred Weisenfeld Award for Excellence in Ophthalmology for his distinguished scholarly contributions to the clinical practice of ophthalmology. He developed novel drugs for the treatment of glaucoma, leading to 10 patents that involve all aspects of ophthalmic patient care and treatment.
Dr. Epstein authored more than 230 scholarly papers and consulted in glaucoma clinical care while maintaining an active glaucoma research program. He is credited with inspiring generations of young ophthalmologists as a gifted mentor and teacher with a Socratic teaching style. In 2012, he received Duke University School of Medicine Medical Alumni Association's Distinguished Faculty Award.
Dr. Epstein also served on numerous national scientific advisory boards, and as president of the Chandler-Grant Glaucoma Society in 1992 and the Association of University Professors of Ophthalmology in 2013.