As many as 11 million people in the United States have some form of age-related macular degeneration. This number is expected to double to nearly 22 million by 2050. The impact of age-related macular degeneration on the global aging population is enormous as people are deprived of their economic livelihoods and independence.
Eye and vision researchers have already discovered several genes at work in AMD, the distinctions between types of AMD and the development of therapeutic remedies. The ARVO Foundation for Eye Research believes the work must continue so that there can be earlier identification of those likely to develop AMD, discovery of ways to slow the progression of the disease and novel ways to treat AMD to limit sight loss. Thanks to Genentech's support, the ARVO Foundation will offer one grant to a researcher working in basic research in the understanding of AMD and another grant to a researcher working in translational AMD research focusing on therapeutics. Each research fellowship (basic and translational) is $40,000.
Applications open July 1 - Sept. 1
View eligibility details and how to apply
2018 Genentech AMD Basic Research Fellowship recipient
Kevin Schneider, PhD
University of California Irvine
USA
Project title
The Role of MicroRNA in the Development and Progression of AMD
About Dr. Schneider's project
Age-related macular degeneration (AMD) is a leading cause of blindness in the developed world but there is variation in severity and responses to treatment among different patients. In order to develop effective treatments, it is critical to understand the causes of the disease and be able to screen patients to identify those who are most appropriate for certain medications. This project hypothesizes that the mitochondria, the power plants of the cell, can influence susceptibility and disease progression of AMD by regulating levels of microRNA. MicroRNA are powerful regulators of gene expression that are of great interest for a wide variety of diseases, and could serve as (a) potential biomarkers for early diagnosis of AMD, and (b) as potential treatments to control the expression of harmful pathways. Dr. Schneider has measured high levels of a particular microRNA that is associated with cell death and stress in our model AMD cell culture system, and when this microRNA in inhibited we are able to improve the health of our AMD cells. Further experiments could identify this microRNA as a target for therapeutics to help prevent the damaging effects of AMD.

Dr. Schneider says of receiving this award, "This prestigious grant will greatly further my research and provide the opportunity for several impactful publications. It will allow me to gain recognition in the field of mitochondria, microRNA and AMD, and tremendously accelerate my career. I look forward to continuing my work studying AMD, and the experience provided through this grant will expand my knowledge and techniques in this exciting area of research."
2018 Genentech AMD Translational Research Fellowship recipient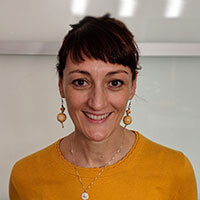 Rosario Fernandez-Godino, PhD
Mass Eye and Ear/Harvard University
USA
Project title
Targeting complement activation via tick-over: a prophylactic treatment for dry AMD
About Dr. Fernandez-Godino's project
As many as 11 million people in the US has some form of macular degeneration; this number is expected to double to 22 million in the next 30 years. Current therapies can improve vision only in some patients with advanced age-related macular degeneration (AMD); unfortunately, there is no effective therapy that prevents disease progression in patients with early/intermediate disease. The first clinical sign of AMD is the formation of drusen, which appear as yellow spots in the fundus of the eye and which mechanism of formation is unclear. We need to understand how drusen forms, and how aging and genes participate in this process in order to develop drugs that stop AMD progression. The most important genes associated with AMD belong to the complement system, which is an important part of the immune system that attacks bacteria. Mutations in these genes along with age may cause that the complement attacks your own retinal cells inappropriately, which results in drusen formation. We have developed a model that mimics the formation of drusen in a dish. We will use this model to test if the blockage of two essential components of the complement system, C3 and CFB, can be used as a prophylactic therapy to prevent the progression of drusen to blindness.

Dr. Fernandez-Godino says, "This fund will help my research program to move forward. Specifically, I will perform some pilot experiments which results will be used as preliminary data to apply for NIH funding. This award will also promote my professional development by supporting my career as an independent investigator."