Meet with mid- and senior-level female ARVO members for a short mentoring session at ARVO 2020
WEAVR Drop-In Mentoring Program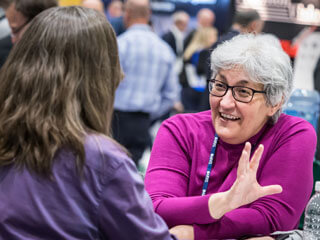 Women in Eye and Vision Research, an initiative of the ARVO Foundation, will offer the Drop-In Mentoring program at ARVO 2020. Mid- and senior-level female ARVO members will be available during specified times to meet with individuals who may be looking for professional guidance from a female perspective. These are brief, one-on-one, confidential sessions of 15-30 minutes to take place in ARVO Central in the Exhibit Hall.
How it works
Drop in hours will be offered during designated poster times (to be announced). Look for the marked meeting point ARVO Central in the Exhibit Hall for mentors/mentees to meet, and mentors will also be wearing bright stickers. Mentors/mentees can meet anywhere in ARVO Central, or move to the Networking Lounge. No appointment is necessary.
To participate, stop by ARVO Central in the Exhibit Hall to meet up with a mentor during these times:
Monday, May 4
4:00pm - 5:45pm

Tuesday, May 5
11:45am - 1:30pm

2:45pm - 4:30pm

Wednesday, May 6
3:00pm - 4:45pm
Mentorship support is provided on a first-come, first-served basis and availability may be limited.
Interested in serving as a mentor? Sign up online by April 3!
Past mentors include:
Alexandra Benavente, MCOptom MS PhD
SUNY College of Optometry
Terete Borras, PhD, FARVO
University of North Carolina
Allen Cheong, PhD
Hong Kong Polytechnic University
Holly Chinnery, PhD
University of Melbourne
Kathryn Crawford, PhD
PharmOcu
Meg DeAngelis, PhD
University of Utah
Sabine Fuhrmann, PhD
Vanderbilt University
Juana Gallar, MD, PhD, FARVO
Universidad Miguel Hernandez-CSIC
Fatema Ghasia, MD
Case Western Reserve University
Ilene Gipson, PhD, FARVO
Harvard University
Neena Haider, PhD
Harvard University
Monica Jablonski, PhD, FARVO
University of Tennesee Health Science Center
Kate Keller, PhD
Oregon Health and Science University
Aparna Lakkaraju, PhD
University of California, San Francisco
Amy Lo, PhD
University of Hong Kong
Machelle Pardue, PhD
Georgia Institute of Technology and Emory University
Kathryn Pepple, MD, PhD
University of Washington
Tonia Rex, PhD, FARVO
Vanderbilt University
Valerie Saw, FRCOphth, FRANZCO, PhD
University College London
Andrea Vincent, MBChB, MD, FRANZCO
University of Auckland
Stela Vujosevic, MD, PhD
University Hospital Maggiore della Carita
Jingyun Wang, PhD
Salus University Pennsylvania College of Optometry
Maria Woodward, MD
University of Michigan
Terri Young, MD, MBA, FARVO
University of Wisconsin-Madison
To inquire about serving as a volunteer mentor at ARVO 2021, please contact us at info@arvofoundation.org.