Meet with mid- and senior-level female ARVO members for a short mentoring session during ARVO 2022
WEAVR Drop-In Mentoring Program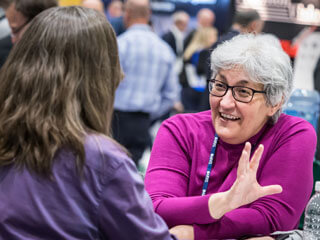 Women in Eye and Vision Research, an initiative of the ARVO Foundation, is offering the Drop-In Mentoring program at the ARVO 2022 Annual Meeting. Mid- and senior-level female ARVO members will be available to meet with individuals who may be looking for professional guidance from a female perspective.
Attendees will have the opportunity to schedule brief, one-on-one sessions of 15-30 minutes to take place May 11 and 12 via the ARVO 2022 virtual meeting platform. You must be registered for the Annual Meeting to schedule a session.
---
How it works
May 11 - 12 (Virtual)
You can schedule online private meetings with a mentor during the virtual Annual Meeting dates of May 11 - 12 (a private meetings is a one-on-one Zoom meeting that can be scheduled between any two attendees).
The drop-in hours are indicated below along with the available mentors. To schedule a private meeting via our online Meeting platform, please follow these steps:
Hover over the 'People' item in the ARVO 2022 navigation menu and select 'Attendees'
Enter the mentor's name in the 'Search' field
Click on their profile, then on the next page click the 'Schedule Meeting' button
Available Mentors


Associate Scientist, Massachusetts Eye and Ear; Associate Professor of Ophthalmology, Harvard Medical School
Wednesday, May 11: 2 – 3pm ET


Assistant Professor of Ophthalmology, Wilmer Eye Institute, Johns Hopkins Medicine
Wednesday, May 11: 10am – 3pm ET
Thursday, May 12: 12:30 – 3:30pm ET


Associate Professor, The University of Hong Kong, School of Clinical Medicine, Department of Ophthalmology
Wednesday, May 11: 10am – Noon (Hong Kong Time)
Thursday, May 12: 10am – Noon, 2:30pm – 5pm (Hong Kong Time)