Each year the Diversity Initiatives Committee awards three minority fellowship travel grants. The ARVO SACNAS Eye and Vision Research Award is given to an individual with the best vision and ophthalmology-related abstract from the Society for Advancement of Hispanics/Chicanos and Native Americans in Science conference of that year. The ARVO Vision Research Minority Fellowship Award is awarded to an individual who has won a Rabb-Venable Excellence in Ophthalmology Award at that year's U.S. National Medical Association's annual convention (two awards given each year). The Rabb-Venable award is named in honor of Dr. Maurice Rabb, Jr., and Dr. H. Phillip Venable, two pioneering African American ophthalmologists and researchers. For more information about these grants, please contact awards@arvo.org.
---
2022 ARVO Minority Fellowship Travel Grant recipients

Jessy Martinez | ARVO SACNAS Eye and Vision Research Award recipient
Winning project: Binocular visual experience followed by sleep optimally promotes visual cortex plasticity and reverses visual deficits in a mouse model of amblyopia.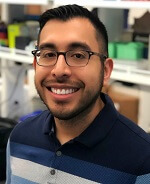 Jessy Martinez is a fifth-year PhD candidate at the University of Michigan. He works in the lab of Dr. Sara Aton where his research focuses on sleep's contribution to the development of the central visual system. Specifically, his research has studied how sleep contributes to recovery of visual responses in excitatory and inhibitory neuron populations in a mouse model of amblyopia. Before attending graduate school, he earned his BS in biology from UCLA and went on to earn a MS at California State University, Los Angeles. When not doing research, Martinez has worked on several projects in the recruitment and retainment of underrepresented graduate students, outreach for the K-12 community in Southeast Michigan, and research opportunities for first-generation undergraduate students. After his PhD, he plans to pursue a career as a developmental neuroscientist with a focus on understanding the neural mechanisms underlying our central visual system.


Johsias A. Maru | ARVO Vision Research Minority Fellowship Award recipient
Winning project: Barriers in Ophthalmology Residency Applications for Students Identifying as Underrepresented in Medicine: A San Francisco Match Analysis.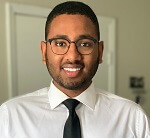 Having split his childhood between Ottawa in Canada and Huntsville, Ala., Johsias Maru is proud of the experiences and perspective these two vastly different environments provided. He graduated in 2018 from Amherst College with a B.A. in psychology. After working as a research assistant for two years at Boston Children's Hospital—investigating the health/health care disparities faced by pediatric transgender and gender diverse individuals—Maru developed a passion for understanding the many ways in which systemic oppression harms the health of communities. Now a third-year medical student at the University of California, San Francisco (UCSF), his interest in equity has merged into his growing passion for ophthalmology. Working with Dr. Fasika Woreta, for example, he has conducted a study assessing race-based biases in letters of recommendation written for ophthalmology residency applicants. He looks forward to an exciting career in ophthalmology one day.
Anuoluwapo Sopeyin, MD | ARVO Vision Research Minority Fellowship Award recipient
Winning project: Racial and Ethnic Disparities in the Prevalence of Post-Cataract Surgery Endophthalmitis.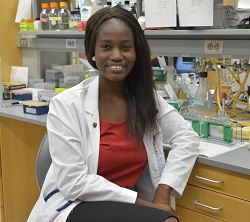 Anu Sopeyin received her bachelor's degree in biochemistry from Vassar College. Afterwards, she worked as a research assistant at the prestigious Rockefeller University in New York City, gaining exposure to translational research, which she continued as a medical student in the Paintsil Lab at the Yale School of Medicine. Sopeyin subsequently completed her internship in Internal Medicine at Harvard's Brigham and Women's Hospital before joining the Wilmer Eye Institute residency. She is interested in translational research as well as ways to promote access to eye care in minority communities.
---
Recipients from prior years
2021 ARVO SACNAS | Kyle Helms | The Tsh Transcription Factor and the Transcriptional Co-Regulator Ctbp Interact in Drosophila Melanogaster Eye Development

2021 ARVO VRMF |Modupe Adetunji | Laser Selection and Racial Background Impact Rates of Iritis and Intraocular Pressure Elevation following Laser Peripheral Iridotomy for Anatomical Narrow Angles

2021 ARVO VRMF | Alexis Pascoe, MD | Telemedicine Utilization by Ophthalmologists during the COVID-19 Pandemic

2020 ARVO SACNAS | Carla Ramos, PhD | Stimulation of Retinal Glia Cells by Palmitic Acid

2020 ARVO VRMF | Amani Davis | Ocular Findings in Patients with Isolated Sagittal Synostosis

2020 ARVO VRMF | Matthew Tadrus, MD |Toric Intraocular lens implantation in patients with high astigmatism secondary to keratoconus, post penetrating keraoplasty or post refractive ectasia
2019 ARVO SACNAS | Jared Tangeman | Resetting the Epigenome during Retinal Pigment Epithelium Reprogramming towards Retina Regeneration

2019 ARVO VRMF | Dianne Barrett, MD | Retinal Nerve Fiber Layer Thickness in Migraine and its Correlation to Duration and Severity of Disease

2019 ARVO VRMF | Davis Uzochukwu Anugo | A novel therapeutic approach for treating corneal alkaline burn injury by targeting Fidgetin-like 2, a microtubule regulator

2018 ARVO SACNAS | Lewis Marquez | Downregulation of Cytochrome C Oxidase Following IOP Elevation in Rat Model of Glaucoma Is Attenuated By Αb-Crystallin Core Peptide (ABCP)
2018 ARVO VRMF | Joah F. Aliancy, MD | Long-term capsular clarity with a disc-shaped intraocular lens
2018 ARVO VRMF | Caryn Cobb | Micro-Cannula Technique in Periorbital Rejuvenation

2017 ARVO SACNAS | Jesse Velasco | Characterizing the effects of SPHK1 knockout in the mouse neural retina
2017 ARVO VRMF | Deanna Lyttle, MD | Levodopa as a possible treatment of visual loss in nonarteritic anterior ischemic optic neuropathy (NAION)
2017 ARVO VRMF | Akosua Nti, MD | Analysis of the African American and Hispanic sub-groups in the IIHTT treatment trial
2016 ARVO SACNAS | Stephanie Landeros | Effects of human retinal progenitor cells on glial and immune cell reactivity in the RCS rat
2016 ARVO VRMF | Ahmara Gibbons Ross, MD, PhD | The threshold of ultraviolet light energy to eliminate acanthamoeba
2016 ARVO VRMF | Ijeoma S. Chinwuba | Systemic associations of macular retinoschisis, hemorrhagic cysts, and retinal folds in children
2015 ARVO SACNAS | Sierra Warren | Improving underwater vision with amphibious contact lenses
2015 ARVO VRMF | Nikisha Q. Richards | Ophthalmic presentation of giant cell arteritis in African Americans
2015 ARVO VRMF | Alexis K. Warren | Bevacizumab (Avastinâ) as a treatment alternative for threshold retinopathy of prematurity (ROP)
2014 ARVO SACNAS | Daniel Foster | Using change blindness to study the effect of visual attention on neural activity in visual area v4
2014 ARVO VRMF | Alexandros Pappas | Success of intraocular pressure control in glaucoma patients undergoing canaloplasty with and without cataract extraction in a single center setting
2014 ARVO VRMF | Dianne Barrett | Identifying candidate proteases to degrade cochlin using biochemical and bioinformatic techniques
2013 ARVO SACNAS | Emily Sales | Retinal Ganglion type specific Axon Targeting to the Superior Colliculus in EphrinA2/EphrinA5 Knock-out Mice
2013 ARVO VRMF | Ian A. Thompson | CFH and HTRAI risk alleles in Caucasian and African American ocular sarcoidosis patients
2013 ARVO VRMF | O'Rese J. Knight | Comparison of confocal corneal endothelial image analysis methods