Each year the Diversity Initiatives Committee awards three minority fellowship travel grants. The ARVO SACNAS Eye and Vision Research Award is given to an individual with the best vision and ophthalmology-related abstract from the Society for Advancement of Hispanics/Chicanos and Native Americans in Science conference of that year. The ARVO Vision Research Minority Fellowship Award is awarded to an individual who has won a Rabb-Venable Excellence in Ophthalmology Award at that year's U.S. National Medical Association's annual convention (two awards given each year). The Rabb-Venable award is named in honor of Dr. Maurice Rabb, Jr., and Dr. H. Phillip Venable, two pioneering African American ophthalmologists and researchers. For more information about these grants, please contact award@arvo.org.
---
2023 ARVO Minority Fellowship Travel Grant recipients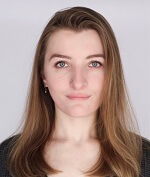 Sophia Ratvasky | ARVO SACNAS Eye and Vision Research Award recipient
Winning project: Advancements in visual sciences: The role of macrophages in newt lens regeneration

Sophia received her bachelor's degree in biology in May of 2022 at Miami University (MU), where she developed an interest in eye tissue regeneration while working in Dr. Katia Del Rio-Tsonis' research lab. She is currently attending Miami University's graduate school as a student in the biology department. Her research focuses on how macrophages play a role in newt lens regeneration. She is also an active member of the Society for Advancement of Chicanos/Hispanics & Native Americans in Science (SACNAS) and is the recipient of the ARVO/SACNAS Eye and Vision Research Award for 2023.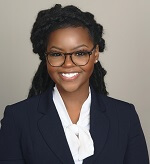 Maylander Menard | ARVO Vision Research Minority Fellowship Award recipient
Winning project: Diversity among ophthalmology fellowship applicants

Maylander Menard is a fourth year medical student at Meharry Medical College, from North Miami, Fl., by way of Haiti. She attended the University of Florida where she studied applied physiology and kinesiology. Her interest in ophthalmology sprouted during her second year of medical school when she had a life changing encounter with an ophthalmologist at a neighboring institution. Maylander hopes to be an active participant in creating equitable and accessible care for everyone. She has a passion for global health and underserved communities. She will be the first physician in her family.


Elise V. Mike, MD | ARVO Vision Research Minority Fellowship Award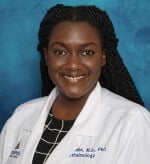 recipient
Winning project: Disparities in discharge patterns in firearm-associated ocular trauma.

Elise V. Mike, MD, PhD, is a PGY-2 ophthalmology resident at the Johns Hopkins Wilmer Eye Institute in Baltimore, Md. She was born in the Bronx, NY and was raised in St. Thomas, US Virgin Islands. She completed her undergraduate education at Emory University and earned her MD/PhD at Albert Einstein College of Medicine. During her MD/PhD training, she was heavily involved in social justice and diversity, equity and inclusion efforts. She also served in leadership roles within the Student National Medical Association at the chapter, regional, and national levels. Dr. Mike aims to build a career in which she can provide medical and surgical care, conduct research, and champion health equity in order to preserve and improve the vision of underserved populations. Her research interests include: (1) investigating the impact of social determinants of health among resident clinic patients; (2) infusing anti-racism into continuing medical education for residents and faculty.

---
Recipients from prior years
2022 ARVO SACNAS | Jessy Martinez | Binocular visual experience followed by sleep optimally promotes visual cortex plasticity and reverses visual deficits in a mouse model of amblyopia
2022 ARVO VRMF | Johsias A. Maru | Barriers in ophthalmology residency applications for students identifying as underrepresented in medicine: A San Francisco match analysis

2022 ARVO VRMF | Anuoluwapo Sopeyin, MD | Racial and ethnic disparities in the prevalence of post-cataract surgery endophthalmitis
2021 ARVO SACNAS | Kyle Helms | The Tsh transcription factor and the transcriptional co-regulator Ctbp interact in srosophila melanogaster eye development

2021 ARVO VRMF |Modupe Adetunji | Laser selection and racial background impact rates of iritis and intraocular pressure elevation following laser peripheral iridotomy for anatomical narrow angles

2021 ARVO VRMF | Alexis Pascoe, MD | Telemedicine utilization by ophthalmologists during the COVID-19 pandemic

2020 ARVO SACNAS | Carla Ramos, PhD | Stimulation of retinal glia cells by palmitic acid

2020 ARVO VRMF | Amani Davis | Ocular rindings in patients with isolated sagittal synostosis

2020 ARVO VRMF | Matthew Tadrus, MD |Toric Intraocular lens implantation in patients with high astigmatism secondary to keratoconus, post penetrating keraoplasty or post refractive ectasia
2019 ARVO SACNAS | Jared Tangeman | Resetting the epigenome during retinal pigment epithelium reprogramming towards retina regeneration

2019 ARVO VRMF | Dianne Barrett, MD | Retinal nerve fiber layer thickness in migraine and its correlation to duration and severity of disease

2019 ARVO VRMF | Davis Uzochukwu Anugo | A novel therapeutic approach for treating corneal alkaline burn injury by targeting Fidgetin-like 2, a microtubule regulator

2018 ARVO SACNAS | Lewis Marquez | Downregulation of Cytochrome C Oxidase following IOP elevation in rat model of glaucoma is attenuated by Αb-Crystallin Core Peptide (ABCP)
2018 ARVO VRMF | Joah F. Aliancy, MD | Long-term capsular clarity with a disc-shaped intraocular lens
2018 ARVO VRMF | Caryn Cobb | Micro-Cannula technique in periorbital rejuvenation

2017 ARVO SACNAS | Jesse Velasco | Characterizing the effects of SPHK1 knockout in the mouse neural retina
2017 ARVO VRMF | Deanna Lyttle, MD | Levodopa as a possible treatment of visual loss in nonarteritic anterior ischemic optic neuropathy (NAION)
2017 ARVO VRMF | Akosua Nti, MD | Analysis of the African American and Hispanic sub-groups in the IIHTT treatment trial
2016 ARVO SACNAS | Stephanie Landeros | Effects of human retinal progenitor cells on glial and immune cell reactivity in the RCS rat
2016 ARVO VRMF | Ahmara Gibbons Ross, MD, PhD | The threshold of ultraviolet light energy to eliminate acanthamoeba
2016 ARVO VRMF | Ijeoma S. Chinwuba | Systemic associations of macular retinoschisis, hemorrhagic cysts, and retinal folds in children
2015 ARVO SACNAS | Sierra Warren | Improving underwater vision with amphibious contact lenses
2015 ARVO VRMF | Nikisha Q. Richards | Ophthalmic presentation of giant cell arteritis in African Americans
2015 ARVO VRMF | Alexis K. Warren | Bevacizumab (Avastinâ) as a treatment alternative for threshold retinopathy of prematurity (ROP)
2014 ARVO SACNAS | Daniel Foster | Using change blindness to study the effect of visual attention on neural activity in visual area v4
2014 ARVO VRMF | Alexandros Pappas | Success of intraocular pressure control in glaucoma patients undergoing canaloplasty with and without cataract extraction in a single center setting
2014 ARVO VRMF | Dianne Barrett | Identifying candidate proteases to degrade cochlin using biochemical and bioinformatic techniques
2013 ARVO SACNAS | Emily Sales | Retinal ganglion type specific axon targeting to the superior colliculus in EphrinA2/EphrinA5 knock-out mice
2013 ARVO VRMF | Ian A. Thompson | CFH and HTRAI risk alleles in Caucasian and African American ocular sarcoidosis patients
2013 ARVO VRMF | O'Rese J. Knight | Comparison of confocal corneal endothelial image analysis methods