Scientific Sections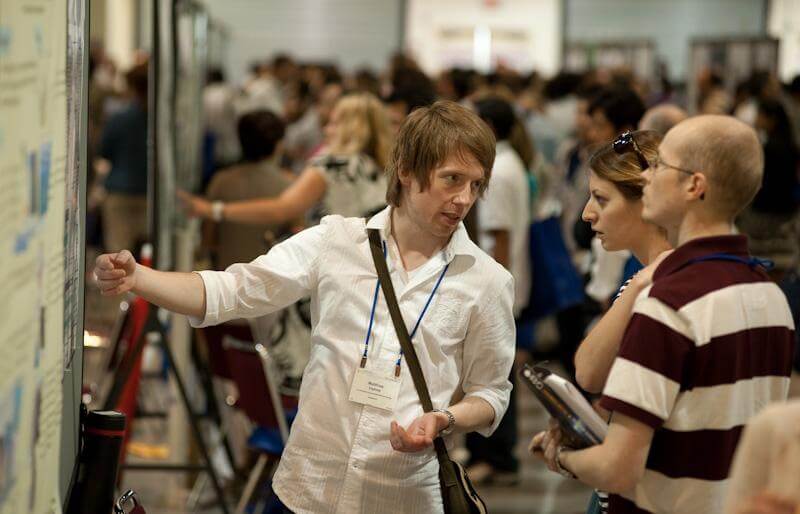 ARVO is organized into 13 Scientific Sections and 3 Cross-sectional Groups, which are described below. Members must select one section with which their research interests most closely identify. Each section is represented on the Board of Trustees and the Annual Meeting Program Committee.
Anatomy and Pathology/Oncology (AP)
Anatomy Sub-section includes descriptive or experimental studies about the gross and surgical anatomy, ultrastructure, organization, and development of the tissues, visual pathways, vasculature and refractive error of the eye, and the mechanisms mediating them. Anatomical research that deals exclusively with the cornea or lens is generally identified with those sections.

Pathology/Oncology Sub-section relates to pathogenesis, morphological, immunohistochemical and genetic features of both neoplastic and non-neoplastic diseases affecting the eye, ocular adnexa and visual pathways, including their response to treatment. Studies involving biobanking, microscopy, biochemistry, physiology and other fundamental science methodologies are appropriate. Concerning neoplastic diseases, this comprises the pathogenesis, diagnosis and treatment of any ocular, orbital, ocular adnexal or visual pathway tumor and related metastases. This would include animal, cellular, genetic and molecular biology, and experimental studies involving other basic science, translational and clinical methodologies.
Biochemistry/Molecular Biology (BI)
Section encompasses biochemistry, molecular biology, molecular genetics, biophysics, and bioinformatics studies on ocular tissue or vision-related brain structures. Mechanistic studies of disease or therapies are appropriate.
Clinical/Epidemiologic Research (CL)
Section covers research using epidemiologic and biostatistical methodology on ophthalmologic disorders and vision. Emphasis is on controlled studies providing a better understanding of the etiology, risk factors, diagnosis, prevention, or treatment of diseases affecting vision, and their prevalence, incidence and impact on patients and society, including health services research and quality of life.
Cornea (CO)
Section covers both clinical and basic research concerned with the cornea, conjunctiva, the tear system, and corneal refractive surgery.
Eye Movements/Strabismus/Amblyopia/Neuro-ophthalmology (EY)
Section covers three areas: 1) The nature, control, and development of eye movements, ocular alignment and alignment-related stereopsis; 2) The nature, etiology, diagnosis, and treatment of strabismus, amblyopia and other disorders of eye movements, fusion and stereopsis; 3) The neuro-ophthalmology of the visual sensory and oculomotor systems, including the orbit and adnexa.
Glaucoma (GL)
Section encompasses basic and clinical research related to glaucoma in normal or glaucomatous eyes.
Immunology/Microbiology (IM)
Section focuses upon basic and clinical research about ocular infections; inflammation and other immunologic reactions induced by infectious agents; and non-infectious immunological disorders that involve ocular or adnexal tissue.
Lens (LE)
Section encompasses basic and clinical studies that include varied aspects of the anatomy, pathology, physiology, biochemistry, cell biology, molecular biology, developmental biology, epidemiology and genetics of the ocular lens in normal or pathological states.
Physiology/Pharmacology (PH)
Section covers three areas of research: 1) systemic tissue cellular and molecular physiology and pharmacology; 2) ocular pathophysiology and disease; 3) pharmacological mechanisms including drug delivery/disposition and related bioengineering.
Retina (RE)
Section is concerned with basic and clinical studies, using a variety of techniques that augment our understanding or improve the treatment of retinal diseases. Any topic pertaining to the vitreous, retina or choroid is applicable, if it has a clinical emphasis.
Retinal Cell Biology (RC)
Section deals with basic and preclinical studies of the structure, composition, and function of the retina, retinal pigment epithelium and their associated extracellular matrices from the molecular through the tissue level of organization. Studies include a variety of topics such as membrane composition, photoreceptor outer segment renewal, neurotransmitter systems, retinal blood vessels, glia, transport, neuronal circuitry, development, growth factors, transplantation, stem cells and models of retinal degeneration.
Visual Neuroscience (VN)
Section deals with research on the neural mechanisms, structural organization, and function of the visual system, including the retina and central visual pathways of vertebrate and invertebrate species. Topics include synaptic processes, neurotransmitter systems, cellular organization, phototransduction, circadian rhythms, light responses and encoding of visual information in healthy, developing and diseased visual pathways.
Visual Psychophysics/Physiological Optics (VI)
Section deals with basic research in visual function and optics. The emphasis is on the analysis of visual processing by psychophysical, computational, physiological and imaging techniques. Optical studies include properties of the lens and eye including aberrations, their correction, accommodation, presbyopia, and refractive error and its correction. Other topics include spatial and temporal processing sensitivity, adaptation, learning, and attentional processing of basic and higher perceptual processes, low vision and visual development throughout the life span.
Cross-sectional Groups
ARVO Cross-sectional Groups were created in 2006 to meet the interdisciplinary scientific needs of ARVO members. Cross-sectional Groups give ARVO members the opportunity to network with colleagues from different but related areas of study, exchange information on topics of mutual interest and seek guidance on allied issues.
Cross-sectional Group members are elected by their group colleagues to serve on the Annual Meeting Program Committee (AMPC) to select abstracts for a paper session and for poster sessions. Cross-sectional Group members can also suggest programming ideas and provide feedback through the Cross-sectional Group listservs.

Current groups are:
Genetics Group (GEN)
Description: Members of the Genetics Group are interested in the interdisciplinary aspects of the genomics and genetics of vision and ocular disease. Topics include:
Methods for disease gene discovery (linkage approaches, candidate gene association studies and genome-wide association studies)
Novel technologies, such as whole exome and whole genome sequencing
Phenotypic expression of genetic variants including modifier gene effects, gene-gene interactions and gene-environment interactions
Translational features of genetic and genomic research, including genetic screening, gene-based therapy, pharmacogenomics and the development of personalized medicine for ophthalmic disorders are also featured.
Low Vision Group (LV)
Description: The Low Vision Group aims to facilitate interdisciplinary communication among researchers in the disparate areas of low vision, including:
Epidemiology of vision impairment
Quality of life measures of low vision
Electrophysiological and brain-imaging evaluations of visual pathways in low vision
Psychophysical performance measures of functional vision
Development and validation of outcome measures
Conduct of clinical trials evaluating rehabilitation approaches
Development and evaluation of adaptive technologies for people with low vision


Multidisciplinary Ophthalmic Imaging Group (MOI)
Description: The Multidisciplinary Ophthalmic Imaging Group brings together clinicians, scientists and engineers from a variety of disciplines who are engaged in the development and application of imaging modalities.

The group seeks to provide a cross-disciplinary home for researchers who are working on a wide range of imaging applications and technologies.

The group spans technology development, fundamental research and clinical studies, as well as variety of imaging methods such as ultrasound, MR, fundus imaging, spectral imaging, microscopy and optical coherence tomography.
Cross-sectional Group guidelines
A minimum of 50 ARVO members must indicate interest in order to form a Cross-sectional Group.
Cross-sectional Groups will not operate as sections, although trustees and program committee chairs from several sections can initiate formation of a group. Cross-sectional Groups will not be represented on the Board of Trustees.
Program topics for paper, poster and platform sessions must be interdisciplinary. Platform session will be scheduled during the SIG/Workshop timeslot at the ARVO Annual Meeting.
Financial support by ARVO or from other sources will not be used to underwrite the Cross-sectional Group program.
Cross-sectional Group Organizing Committee members must be members of ARVO.
Commercial relationships must be disclosed for the organizer(s), moderator(s), speakers and panelists involved with the preparation and presentation of the programs.
Cross-sectional Group programs held at the ARVO Annual Meeting are open to ARVO members and nonmembers. All attendees must register and pay the registration fee for the ARVO Annual Meeting in order to participate in group activities.
You must be a member of ARVO to join a Cross-sectional Group community on ARVOConnect. First, access your member profile page and select the group(s) you wish to join. Your name will automatically be added to each selected Cross-sectional Group community.