Artur Veloso, MD
Glaucoma Fellow
Federal University of Minas Gerais
Brazil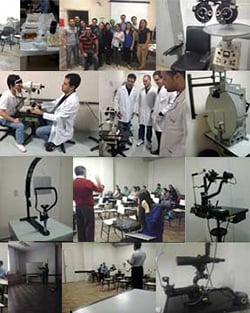 To introduce the rich history of Sao Geraldo Hospital to patients and the medical staff, Veloso organized a series of lectures, tours of historical landmarks and hands-on interactions with ancient medical instruments. The feedback was positive and consistent. "Everyone was surprised to learn about the wealth of history present in the hospital, even those who had worked there for years." Discussions about sharing the history of Sao Geraldo Hospital annually are underway.
Annemijn Wierenga
Graduate student
Leiden University Medical Center (LUMC)
Netherlands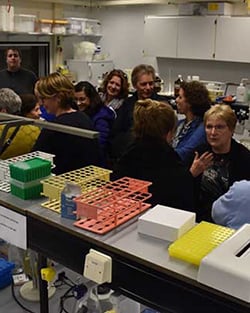 The LUMC is one of Europe's premier medical institutions for treating and studying uveal melanoma. After collecting topics of interest from "Stichting Melanoom," the organization representing uveal melanoma patients and their families, Wierenga organized a "patient information evening." First, researchers, ophthalmologists and a patient representative shared insights into the disease and its impact during a series of short talks. After, the group of 45 participants was split into two for tours of the research labs. "I was surprised by what the patients wanted to know. We got questions like 'do you still have my eye here?' after which they found it great to hear that we keep all samples and eyes that we receive … I've already been asked when the next patient information evening will be!"
Alison Huckenpahler
Graduate student
Medical College of Wisconsin
U.S.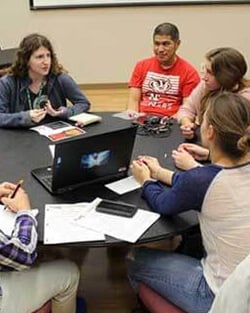 What was scheduled to be an hour-long interactive lecture on diabetic retinopathy (DR) to a high school science club grew into a two-and-a-half hour conversation about the eye and diabetes. Starting with basic anatomy of the eye, Huckenpahler worked her way to the retina, showing OCT and fundus images from a normal patient and from a patient with severe DR. Highlighting differences in the images, Huckenpahler explained to the students how the disease caused the change. She finished her discussion talking about treatments for DR, highlighting how the blood-brain barrier prevents drugs delivered orally from reaching the retina. One student asked why they didn't just inject the drug with a needle straight into the eye. "I said 'yes, that's exactly what they do.' The collective gasp from the students was extremely rewarding and showed how invested they were in the conversation."
David Sousa, MD, MSc
Medical Resident
Hospital Santa Maria – CHLN
Portugal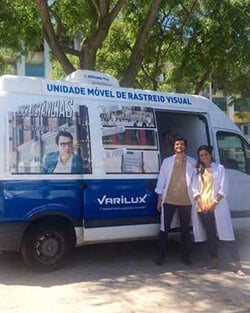 Working with an organization that provides free healthcare screenings to areas with limited healthcare access, Sousa helped design and equip a van as a "mobile ophthalmology station." Along with another ophthalmology resident and technician, he drove the van to some of the poorer neighborhoods around Lisbon to perform simple examinations, such as refractive error, best-corrected visual acuity, intraocular pressure and slit-lamp examination. More than 300 people were screened and referred as needed. "Given the success of this experience, we hope to repeat and extend the geographical coverage in 2018."
Meredith Giblin
Graduate student
Vanderbilt University
U.S.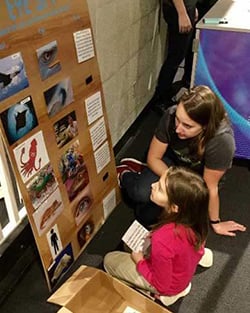 Paired with a high school volunteer through a program called "Scientists on Site" at the Nashville Adventure Science Center, Giblin worked with her partner to develop three optical illusions to share with different audiences at the museum. The "Eye Spy Board" had six different animals on it with a box full of cards attached. The cards held either a close-up of the animal's eye or a cool fact about that animal's eye. The youths were asked to match the eye and the fact to the animal. The "hole in the hand" activity used plastic tubes to give the optical illusion that the tube was cutting a hole in the person's hand. For older students and adults, people could see their retinal blood vessels by taking a card with a tiny hole held directly up to their eye and looked through to a bright white surface provided. When the card moved up and down rapidly, they could see the shadow outline of their blood vessels. "Every time I host this event, I get wonderful questions from kids and parents about what my job is, what I study and how the eye works."