Jeremy Chung Bo Chiang

Australia ― Jeremy Chung Bo Chiang, BOptom, BSc, created an entertaining short educational video focused on increasing eye health awareness, which he planned to release on World Sight Day 2021 (Oct. 14). With no previous background in animation, he used Adobe Creative Cloud and online courses from SkillShare to learn how to illustrate and animate for this project.
Chiang connected with key local stakeholders, such as editors of ophthalmic professional newsletters and charities, to enquire if his video could be posted in their e-magazines, e-newsletters or social media pages. The video was published via various digial media, including online articles, stakeholders' social media, Chiang's Youtube Channel and Twitter, as well as ARVO's e-newsletter, Insight. During the week of World Sight Day, Chiang's video gained over 500 views on Youtube, plus over 4,000 impressions and 255 engagements on Twitter by researchers in a variety of fields.
"I found that the public does engage much better with content presented in a succinct and entertaining way...," said Chiang. "The content should also explain implications of the topic...to the viewer by using metaphors and imagery."
---
Michelle Tamplin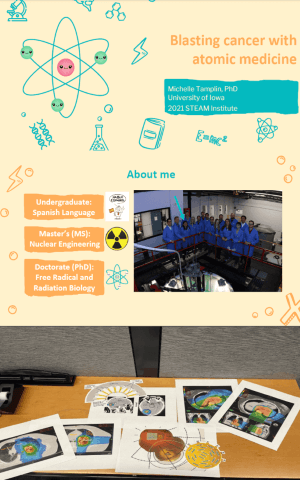 United States ― Michelle Tamplin, MS, PhD's outreach project focused on educating 7th grade students about nuclear engineering (her Master's training) and its role in medical research, as well as encouraging them to pursue careers in these fields. This was important because nuclear engineers are not as common as other engineers, particularly female nuclear engineers or female engineers in general. Tamplin also incorporated treatment planning for ocular melanoma in her outreach. Her project was part of a larger event organized by the Kirkwood Regional Center at the University of Iowa for students interested in STEM careers.
Following her presentation, students participated in an interactive activity matching radiation treatments with the appropriate cancer image, based on the science Tamplin discussed. During the Q&A session she received a number of good questions and "was actually surprised by how much some of the students knew." Tamplin noted one of the challenges many science communicators face is not having enough time for their talk. However, she says "this was a great first introduction to participating in an event like this, and I would definitely do it again!"
---
Rachel Williams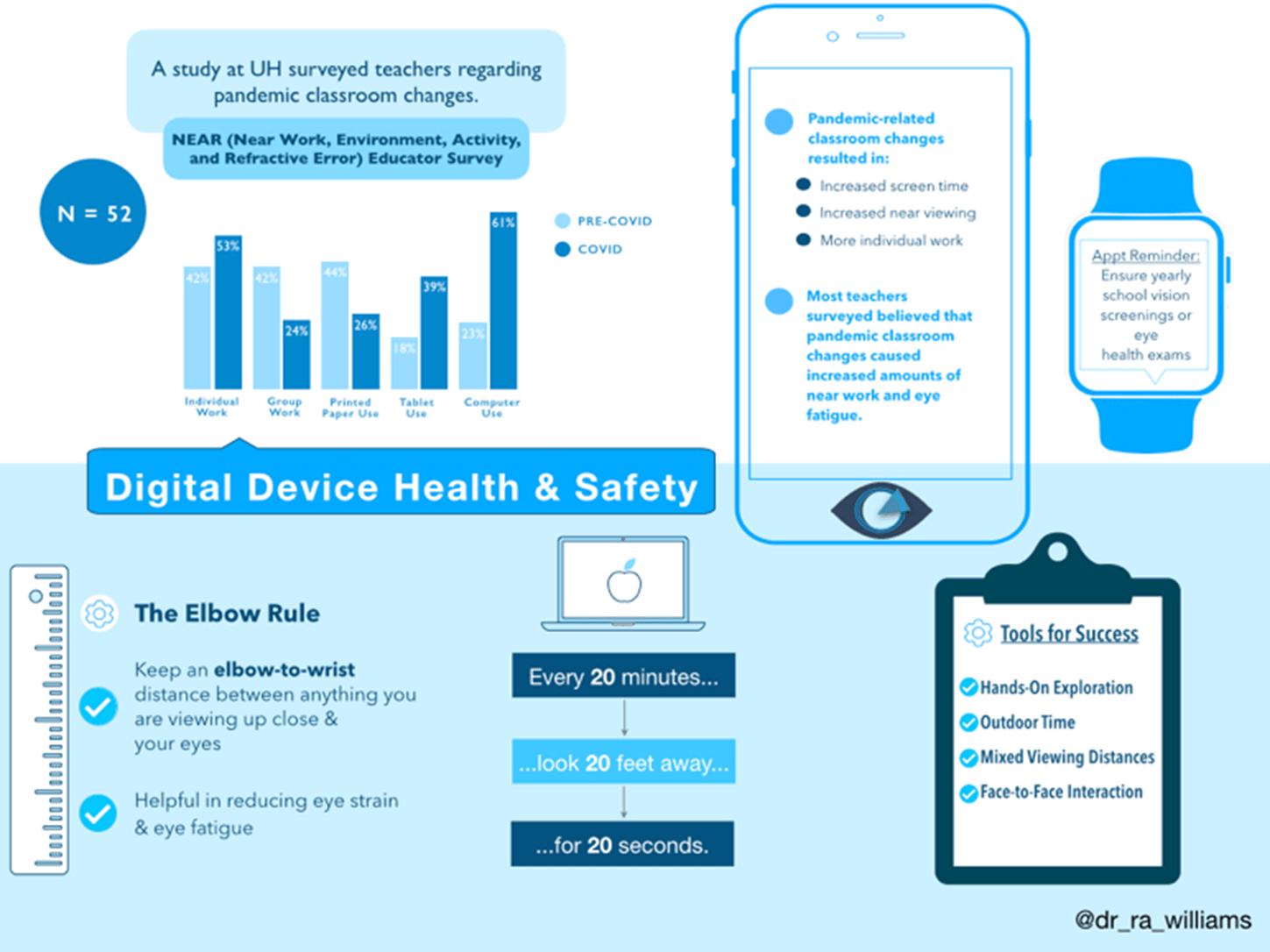 United States ― Rachel Williams, OD, MPH, used her published research to create digital educational materials for teachers "addressing long term eye health of students." She developed an infographic called Digital Device Health and Safety that "communicated the visual effects of screen time and offered suggestions with preventative aims." The target audience was K-12 teachers.
Williams reached out to contacts at the Houston Independent School District (HISD) and Houston Health Department (HHD) to assist her in distributing the inforgraphic with the appropriate people. HISD agreed and shared the infographic with their nurses to disseminate to individual campuses. This district contains 284 schools and over 200,000 students. The infographic successfully reached all the schools, and hopefully the 12,000 teachers within HISD via email and social media platforms.
Williams says she learned so much from this project, pointing out that refining the infographic to fit the audience took the most time and effort. "I have learned that if I transform my research purpose and results into an informative and easy-to-understand infographic, the research will have a greater potential for being shared and appreciated."
---
Victor Rodríguez-Lopez
Spain ― Victor Rodríguez-Lopez, OD, MSc's outreach project consisted of three workshops at a culinary school for teenagers who dropped out of high school. He wanted to explain the value of vision and optics science and how it exists in their daily lives, hence combining vision with food. He also selected this audience out of concern that groups like this are generally overlooked and excluded from such activities.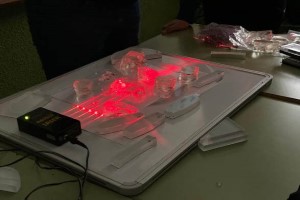 Workshop 1 focused on light and vision, "explaining the basics of ray tracing, refraction, and reflection of light, to understand how light travels." Rodríguez-Lopez then involved the students in an exercise to "develop lenses with transparent jelly, to combine their culinary skills and the teachings on visions."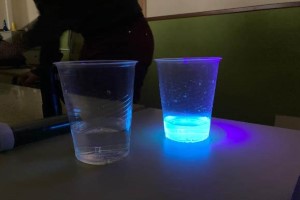 Workshop 2 addressed color vision and fluorescence, "explaining the basics of color vision, how and why we perceive colors, and the concept of fluorescence." Students did an activity with M&Ms to demonstrate what white light is and why we see objects with color.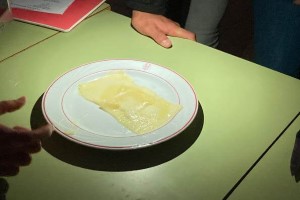 Workshop 3 examined microwaves for the final subject. Rodríguez-Lopez guided the students in exploring the nature of light by using cheese.
The outreach event exceeded Rodríguez-Lopez's expectations. He noted the students asked a lot of questions, were intrigued with the theoretical explanations, and were active and very involved in all workshops. He got positive feedback from the teacher and students as well, receiving an activity rating of 4.6/5. Rodríguez-Lopez says he learned so much, but the most important thing was, "that kids and teenagers overall are willing to learn, they just need the appropriate framework to do it."
---
Ngozi Charity Chidi-Egboka
Australia ― Ngozi Charity Chidi-Egboka, OD, MPH, FNCO, FAAO's outreach project was inspired by her PhD research: Importance of eye health in children. She created an interactive Zoom video-based presentation for the NSW and ACT Junior Girl Guides and an in-person presentation for the Year 11 Society and Culture Class at the JJ Cahill Memorial High School.
Her goals were:
Assess the knowledge of the youths on caring for their eyes
Understand "self-reported ocular discomfort during screen viewing"
Educate them "on blinking and how it can help to relieve their symptoms and prevent eye problems such as dry eyes"
In addition to her goals, she constructed eight questions for the students to answer, both of which served as a reference for the presentation slides she developed (her 11-year-old daughter assisted in gathering engaging visuals).
After her first presentation, she realised her slides needed to be more engrossing for the next group. She previewed the National Eye Institute (NEI) for Kids webpage along with other resourceful websites to gather more ideas on how to improve her presentation. Chidi-Egboka says the "best practices were using animated visual" during the session. This allowed the kids to ask questions during the presentation instead of waiting for a designated Q&A time. It "yielded improved engagement, using google polls, and obtaining feedback" from the participants both verbally and via surveys.



---
Ailis Moran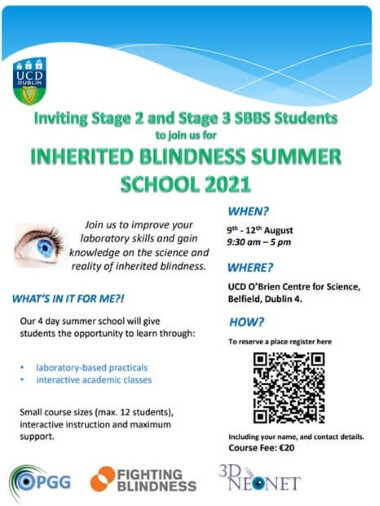 Ireland ― Ailis Moran, BSc, worked on a four-day summer course called the 2021 Inherited Blindness Summer School. Her goals were to raise awareness of inherited vision loss, "to endorse scientific careers for third level students, both in academic and beyond, and to enhance student's basic laboratory skills."
Moran reached out to Stage 2-3 Biology students enrolled at the University College Dublin (UCD) via email, Twitter and flyer. Due to COVID-19 restrictions, the course had to be limited to 12 students.
The students were provided with multiple interactive opportunities, including presentations from postdocs and PhD students from various international institutes, clinicians, principal investigators, an UCD Science alumni, and a PPI ambassador. They also saw what life was like in a lab and were then "exposed to hands-on lab experience which effectively emphasized and reiterated the importance of scientific enquiry and critical thinking". In addition, the students got to identify "visually impaired zebrafish larvae using visual behavioral assays and PCR genotyping". To close out the course, the students communicated what they learned to a lay audience while "highlighting the importance of scientific dissemination."
Moran shared that the students' feedback was positive and they found the course very beneficial. "Whilst one of the goals of this outreach event was to enhance the communication skills of the students partaking, I feel as though this experience strenghtened my" communication, presentation, and organization skills."
---
Miranda Scalabrino
United States ― Miranda Scalabrino, PhD, originally planned to conduct an in-person seminar exploring art through one's background at the North Carolina Museum of Art. Her goal was to use her experience as a vision scientist "to explain how we view art (with a healthy dose of vision education) and how that's impacted by low vision/vision loss." However, due to the COVID-19 surge in early Winter 2022, her seminar was rescheduled to Fall 2022.
Scalabrino decided to create a website covering the information from her seminar. She changed her target audience from non-technical adults to elementary age school children. She also designed the website so it could be included in a lesson plan for that age group. The website was a success, receiving positive feedback particularly on its accessiblity and the usefulness of the content. The Foundation Fighting Blindness (FFB), Arts Access Raleigh, and Nasher Museum committed to emailing the website link to their contacts. The Nasher Museum also requested a handout version to incorporate in their summer programming for kids. In addition, Scalabrino is working with the FFB to present a virtual seminar during the summer, plus an in-person event for their East region on how to create accessible art.
Scalabrino noted that, "while the project had to shift considerably and I had a time crunch that limited getting it out, ultimately the website mediated increased involvement in the vision loss community beyond the scope of the project and I've now had meetings with FFB's east regional chapter engagement director, scientific outreach director, and professional outreach director on how to be active within their organization to communicate the importance of vision research, particularly to treat vision loss."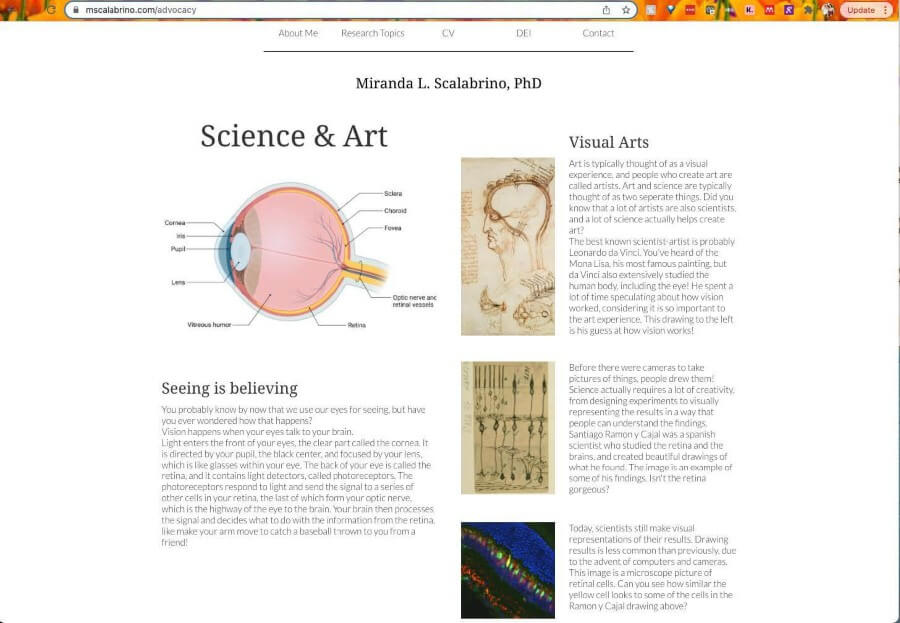 ---
Laura Whelan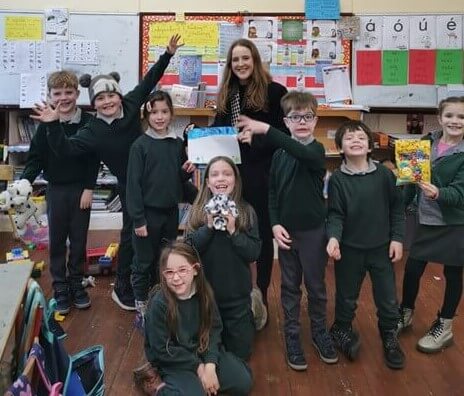 Ireland ― Laura Whelan, BA's event focused on exposing children ages 8-12 to vision science and genetics. Her goals were to "expose children to science early;" which plays a vital part in encouraging the next generation of scientists and getting them excited about science. She decided to host a hands-on workshop at her local primary school, the Knockmahon National School.
Whelan's objectives were to:
1. Provide accessible information to the primary audience, the children.
2. Show the children practical applications of genetics and vision science.
3. Supply the children with information they can relay back to her and other audiences, such as their parents, siblings or friends
To maintain the children's attention, Whelan knew the workshop could not be too long and had to be interactive. She incorporated engaging games, including 'genome detective,' "where the children worked as ophthalmologists/clinical geneticists to find the cause of simulated patients' blindness by looking at DNA sequences." In measuring the success of the workshop, Whelan asked the children what was the favorite thing they learned, which they had to share with the class. Everyone had something to share!
Whelan says the ARVO Fellowship aided her greatly and changed her view of science communication. "Prior to the fellowship I would not have thought about my secondary audiences, including the children's parents, siblings, or friends." She also shared that, "previously, I was so accustomed to just giving presentations but have learned...that fostering interest and excitement through engagement is essential in effectively communicating science." Whelan added that, "prior to the fellowship, I think I was 'winging it' with my science communication, but now I have learned the best practices for planning, delivering, and measuring the information I want to convey."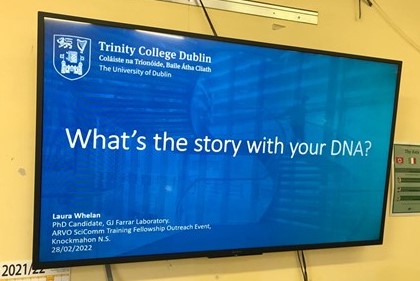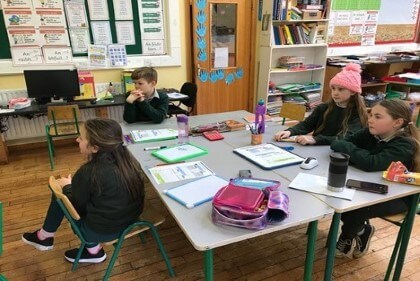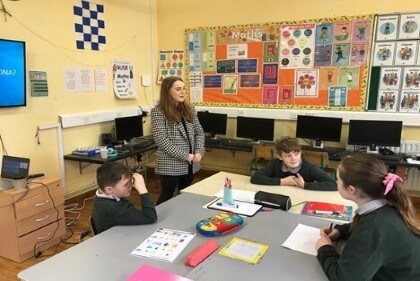 ---
Manuel Soliño
Argentina ― Manuel Soliño, MD, PhD, felt that more Spanish language channels were needed in the SciComm online world. For his outreach event he developed a Spanish platform that encouraged interest in science, showed how the eye can be a spearhead for new therapeutics, explained how vision and gene therapy work and allayed any fears about these types of therapeutics to the public. The platofrm is called @CienciaATP, "a pun on rated G ― 'Apto para Todo Público' in Spanish ― and the ATP molecule (present on the logo)." @CienciaATP is on Twitter, Facebook, Youtube and Instagram.
Soliño created videos (with English subtitles) and social media posts discussing vision and gene therapy, which he posted on all platforms. To measure impact, he followed the views, likes, watch time, average view duration, average percentage viewed, returning viewers and unique viewers on each platform.
"I learned a lot about trying to make things simple," said Soliño. "Specially in the sense of using all the tools that a video offers." Writing the scripts and film was easy since he had video editing experience, but he didn't think it would take so long to edit them all. "I also found that it is a lot of work to be active on social media" while balancing a personal and professional life; "I'm no YouTuber and it takes time to get things than when you need to learn." To keep the momentum of his project going, Soliño says, "I...feel that the next step would be to think about a campaign to advertise the content properly."