Sharing experiences and building confidence
Spotlight on ARVO's Leadership Development Program and the mentor-mentee relationship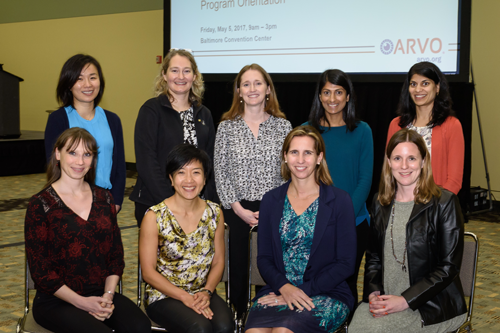 The Leadership Development Program was developed in 2015 as an opportunity to facilitate networking and leadership opportunities within the association. The program targets early to mid-career researchers who are within 10 years of their first faculty/career position and pairs them with a senior ARVO leader with a track record of providing strong guidance and encouragement.

The program is now in its second pilot year, and the next round of applications opened this fall. As the program gains momentum, ARVO spoke with M. Elizabeth Hartnett, MD, FACS, FARVO, a second-year returning mentor to discuss the benefits of the program in developing leadership skills in women.

"There is a need to support women, as we are not often identified as leaders," Hartnett explains. It is one of her initial reasons for being interested in the program. As someone who serves on various membership committees for other organizations, Hartnett often sees accomplished female applicants, but does not necessarily see that translate into the available leadership roles.

She views the program dualistically: as an opportunity to identify women with potential to serve in leadership positions within ARVO and the field and expand their skillset, as well as an environment to nurture these women and provide them an outlet to confide in like-minded individuals.
"The strongest value of this program is the team aspect. It creates confidence and encourages the participants to develop their goals without the fear of judgement, which can be difficult in our field," says Hartnett. One of her personal goals is to help future clinician-scientists develop the tools they need for their journey, as it relates to clinical, research and educational roles.
The program promotes a space to strengthen collaborations. It encourages women to build a network of colleagues and friends within ARVO, as well as within the field. "It is great to have a group of women at different career points because we can share our various experiences in hopes that someone can gain inspiration from it," she says.
The year-long program kicks off with a full day of networking and sessions before the Annual Meeting. After that, participants are provided monthly topics to facilitate dialogue between the mentee-mentor pair.
"As a mentor, your role is not to judge, but to provide experience. There is no right or wrong," adds Hartnett. "You're developing a relationship with someone who is sharing their dreams with you, so you want to be able to establish trust and respect, and be open."
In the first pilot year of the program, Hartnett was paired with Stela Vujosevic, MD, PhD, FEBO. Despite an eight-hour time difference between the U.S. and Italy, the pair established a relationship that has lasted past the duration of the program.
"Dr. Hartnett's affection and willingness to connect on a personal level made our mentor relationship that much more valuable," says Vujosevic. "She provided practical advice and was always willing to make herself available when I needed her."
Hartnett's commitment to nurturing future leaders is reflected in this relationship, as Vujosevic now serves on the Publications Committee and was recently a guest editor for a special issue of ARVO's journal Investigative Ophthalmology & Visual Science (IOVS).
Both women emphasized the importance of the mentee-mentor relationship, as well as the mentee relationship with the other participants. Vujosevic recommends that future participants actively engage in the group discussions and get to know the other mentees through the discussions and activities on their exclusive ARVOConnect community for current and alumni participants and not just the assigned mentor. She stresses that by fully investing in the program, mentees will learn to take risks, to celebrate overcoming mindsets that limit their success and to ultimately merge these concepts to enhance their leadership potential within ARVO. KM
Learn more about the Leadership Development Program.