ARVO Science Communication Training Fellow shares her experience advocating for eye and vision science in Washington, D.C.
by Erica Landis, PhD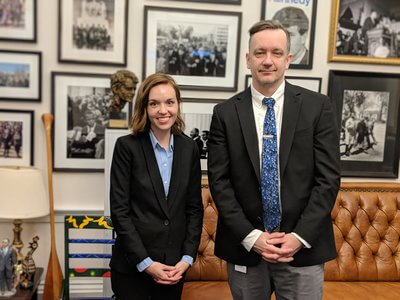 This February the U.S.-based 2018-19 Science Communication Training Fellows gathered in Washington D.C. to make the case for increasing the NIH and NEI budgets in the coming years to our congressional representatives. I arrived in D.C. excited to see the other Fellows again after our first meeting at ARVO 2018 in Honolulu.
The trip, which was organized by the National Alliance for Eye and Vision Research (NAEVR) for ARVO, began with a briefing dinner where we practiced explaining our research to Capitol Hill staffers in approachable ways. This meant emphasizing the impact of our work on American patients and explaining what increasing the NIH budget would mean for us as young scientists. All of this practice definitely came in handy the next day. Starting bright and early on Friday, the other Fellows and I made our way to "the Hill," ready to make our case for biomedical research.
I started my day with a meeting at Representative John Lewis' office, the congressman from Georgia's 5th District. Heading into the office with Julene Joy from ARVO, I was prepared with my business card for the receptionist and folder of information, prepared by NAEVR and ARVO, to leave with the office about eye research funding. As we waited for Senior Policy Advisor Thomas Dorney, I rehearsed my talking points in my head, admired the photos of Atlanta posted on the wall and tried to sit up as straight as possible. After what seemed like no time at all Mr. Dorney came out and invited us into a meeting room covered halfway to the high ceilings in photos of the Representative with other Civil Rights leaders, politicians and notables. We sat down, I took a deep breath, and dove into my explanation of who I was and what I was doing there. Telling Mr. Dorney about my work and the importance of NEI funding felt easy after all of the practice and training we had done to prepare for the visits. In the end, we had a very interesting discussion about funding mechanisms for the NIH, the importance of funding for young scientists and Congressman Lewis' support for our work.
"Any scientist interested in learning more about the funding process or looking for a chance to think about the role of science in our country would benefit from participating in an Advocacy Day."

- Erica Landis, PhD
With my first visit under my belt, the rest of the day was a breeze. I joined other Science Communications Training Fellows for a "supergroup" meeting with Laura Friedel, the clerk for the Senate Labor/HHS Appropriations Subcommittee, who is responsible for writing bills that fund the NIH. Additionally, I visited my state Senator's offices – Sen. David Perdue (R-GA) to share our work, thank them for their past support of research funding and to ask for support on this funding moving forward.
Overall, this visit was a great way for the Science Communication Training Fellows to practice our skills and learn about the scientific funding process from a new perspective. While many of us plug away at issues we face in the lab it can be easy to lose sight of how our research will impact society. By sharing my science with Capitol Hill staff members, I learned how to view on my own research from a new perspective and got to reflect on my responsibility to society as a scientist. It was a great feeling to realize how my work fits into the larger process of providing effective health care for Americans and important learning opportunities for students. I greatly enjoyed getting to participate in the advocacy process and supporting my fellow scientists by advocating for funding increases. Any scientist interested in learning more about the funding process or looking for a chance to think about the role of science in our country would benefit from participating in an Advocacy Day. I am very grateful to ARVO and NAEVR for the opportunity.