Spotlight on members
Recognizing ARVO member Thomas Yorio for a career of contributions
Thomas Yorio, PhD, FARVO, knew ARVO Executive Director, Joanne Angle well.
"I worked with Joanne when I was on the Board of Trustees and on a number of committees," said Yorio. "She was invaluable to the organization. I'm honored to receive an award given in her name and am humbled to be on the same list as the incredible winners of past years."
The Joanne G. Angle Award is the highest service honor to a volunteer professional presented by ARVO. This award was first given in 2012 posthumously to Joanne G. Angle, ARVO Executive Director for 22 years. The award is presented to an industry leader who has made significant, continuous contributions to ARVO in support of its mission. It is presented. Yorio, a long-time member who has served on and strongly led several entities within ARVO is the 2019 recipient of the award.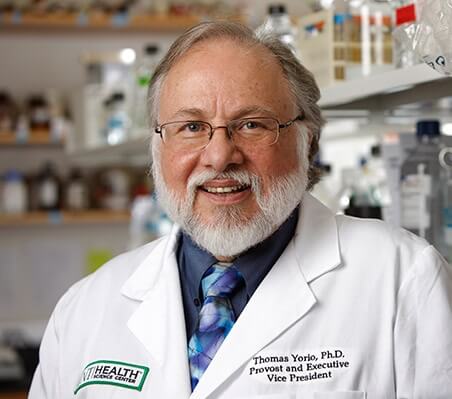 Yorio began his 42-year career as an eye researcher at the Health Science Center of the University of North Texas. He later served as the institution's provost and executive vice president of academic affairs for eight years, leading the osteopathic school's evolution from a medical college to a multi-campus graduate program. He has since been named provost emeritus, one of the institution's highest honors, and currently serves as a professor.
During his years as an ARVO member, Yorio stepped up to serve in multiple roles, including the vice president of the Board of Trustees, the AMPC Physiology and Pharmacology Trustee and as chair of the Finance Committee. With every opportunity, he has seen a need and filled it. "There's knowledge to be gained and friendship to be had. When situations arise where you can contribute, you help where you can."
The focal point of his work through ARVO was being appointed as an IOVS editorial board member, later becoming associate editor and then editor-in-chief. "I was asked to gradually fill the role, but then the editor-in-chief at the time passed unexpectedly. It was a challenge and an honor to guide the editorial ship." As editor-in-chief, he introduced the Reviewer-in-Training Program, which became a way for young researchers to grow into the peer reviewers of tomorrow.
"There's knowledge to be gained and friendship to be had. When situations arise where you can contribute, you help where you can."
- Thomas Yorio, PhD, FARVO
Currently, through a North Texas Eye Research Institute initiative, Yorio prescreens children six months to five years old at local schools with a mobile refractometer. "This testing methods allows us to get readings on the eyes of young patients without them being able to read yet. We've identified needs for glasses, found astigmatisms and discovered treatable diseases that can become devastating as the children grow. We screened about 2,400 kids last year alone. Medical, graduate and pharmacy students also volunteer, allowing for them to learn while giving to their communities. It's a mutual give and take."

For those keen on serving ARVO, Yorio says there are several ways to get you started. "ARVO has plenty of opportunities, including ones for young students to get involved as early as possible, such as the Members-in-Training program. Become part of committees and boards that are doing work that interests you, then find how you can help. Make relationships with experienced members. In the end, the only way you truly get the most out of ARVO is when you make your contribution, so step up."