ARVO and Eye Bank Association of America launch tool to locate eye tissue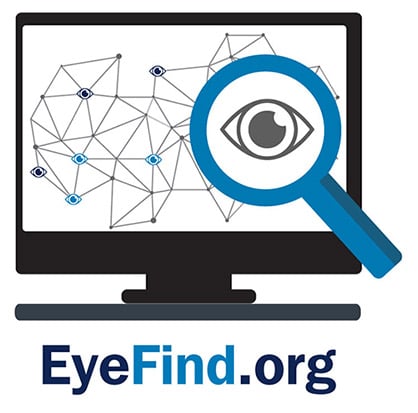 EyeFind, a new, online tool created to help researchers locate eye tissue, officially launched during ARVO 2019 in Vancouver, BC. The new tool was created through a partnership between ARVO and the Eye Bank Association of America (EBAA). A team representing the two organizations came together more than a year ago to develop an online tool that would facilitate easier connections between eye and vision researchers and eye banks.
"We recognized that reliably obtaining human eye tissue is vital to the work of many eye and vision researchers," said Dan Stamer, ARVO's President and the Joseph A. C. Wadsworth Professor of Ophthalmology as well as a professor of biomedical engineering at Duke University, who led the project for ARVO. "Yet, it can be challenging to secure the quality and/or quantity of human eye tissues needed for some studies. The EyeFind tool was created to address this obstacle."
"We recognized that reliably obtaining human eye tissue is vital to the work of many eye and vision researchers."
- Dan Stamer, PhD, FARVO
In 2018, a working group made up of scientists using eye tissue and eye bank representatives came together to develop a tool that would facilitate better communication while speeding up and easing the process of bringing eye tissue into labs. The group looked at the information that would be needed in the tool to ensure that researchers were matched with eye banks that offer needed tissue. The brief form includes questions about the type of tissue, the preferred tissue processing service and additional processing services.
"Providing ocular tissue for research is central to fulfilling eye banks' mission to restore sight to those in need," said Kevin Corcoran, CAE, EBAA's president and CEO. "EyeFind will help connect eye bankers with researchers whose work can transform the lives of countless people around the world."
EyeFind was launched to a small group in February 2019 to beta-test its functionality. Initial users were asked to provide input on the tool and suggest changes that could make it more helpful moving forward. The tool will fully launch during ARVO's Annual Meeting in Vancouver, April 28 – May 2. EyeFind is free to the vision community – for ARVO members and nonmembers.
Attend a free demo of the EyeFind tool during ARVO's Annual Meeting on Monday, April 29 at 9am in the Exhibitor Education Lounge, which is located in the Exhibit Hall. If you can't attend this demo, stop by ARVOCentral where there will be a dedicated kiosk to use the new tool.


Learn more about EyeFind.