President's Message
By Steven J. Fliesler, PhD, FARVO
We are just a few weeks out from ARVO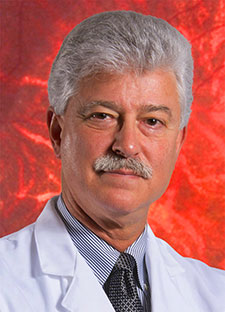 's 91st Annual Meeting, which will take place in Vancouver, BC. All indications — from abstracts to registrations and from the topic of presentations to award recipients — tell us that this year's Meeting will be memorable on many fronts. This is the first time the ARVO Annual Meeting is being held outside of the U.S. It is also the first instance of international abstract submissions surpassing those from the U.S. Indeed, ARVO has become increasingly global in scope and in membership.
There are many regular events during the Annual Meeting, such as the ARVO/Alcon Opening and Closing Keynote talks, our General and Section business meetings, and various social events. However, I want to bring your attention to just a few other events taking place during the Meeting that may be of interest to our broad and diverse membership.


Champalimaud Award lecture highlights gene therapy pioneers
Last September, the Champalimaud Foundation presented the António Champalimaud Vision Award to seven distinguished researchers who have dedicated their research efforts to the development of the first successful gene therapy to cure an inherited human blinding disease. I was honored to attend the award presentation at the Champalimaud Centre for the Unknown in Lisbon, Portugal. Drs. Jean Bennett, Albert Maguire, Robin Ali, James Bainbridge, Samuel Jacobson, William W. Hauswirth and T. Michael Redmond were recognized for their work that paved the way for the successful treatment of a devastating version of Leber Congenital Amaurosis (LCA), which causes childhood blindness. This remarkable group of scientists — working in four different research-intensive institutions — used their collective research to demonstrate the potential for future developments in gene therapy to cure other inherited diseases. If you are attending ARVO's Annual Meeting, you won't want to miss hearing from this group during the Champalimaud Award Lecture on Tuesday, April 30, at 5:45pm.
Workshop to highlight publishing tips
Each year, the ARVO Publications and Members-in-Training Committees co-sponsor a workshop on publishing, presented by a panel of experts with decades of experience in this endeavor. This year's workshop is titled, "Getting published: The light and dark sides." The workshop aims to educate researchers on how to prepare and submit the best presentations of their work to scientific journals for publication, while also being acutely mindful of ethical boundaries and guidelines pertinent to publishing. Specifically, the speakers will discuss where the line of plagiarism lies and what some of the specific rules among journals mean for you and your submissions.
Dr. Karla Zadnik, Dr. Sarah Coupland, Dr. Michael D. Twa, and I will be speaking at this event. Dr. Zadnik is Dean of the Ohio State University College of Optometry. She has published 124 scientific journal articles and was the chair of the Collaborative Longitudinal Evaluation of Keratoconus, the first NEI-backed ophthalmological study spanning multiple institutions. Dr. Sarah Coupland is a professor of Molecular and Clinical Cancer Medicine at the University of Liverpool. She has published 381 scientific journal articles and has been asked to speak at 33 international meetings, including a past ARVO Annual Meeting. Dr. Michael D. Twa is the associate dean for Research and Graduate Studies and director of the Vision Science Graduate Program at the University of Alabama at Birmingham School of Optometry. He has spent his career advancing imaging technology and the understanding of how disease affects ocular structure detectable through elastography.
When not wearing the hat of ARVO president, I am the Meyer H. Riwchun Endowed Chair Professor of Ophthalmology, vice-chair and director of research in the Department of Ophthalmology at the State University of New York- University at Buffalo, and a research career scientist at the VA Western New York Healthcare System. I've published over 150 journal articles, reviews and book chapters. More pertinent to this workshop, I am editor-in-chief of Experimental Eye Research, and have lectured on responsible conduct of research and publishing ethics for more than two decades. Together, these speakers bring expansive and diverse knowledge, acumen, and expertise in the fields of eye and vision research and scientific publishing to the panel.
We have a robust program planned for ARVO 2019. Visit the Annual Meeting website for details on everything from programming to hotel and travel options in the Vancouver area. I look forward to seeing all attendees In Vancouver this April.


ARVO journals shine spotlight on special topics
While we are pleased to see that so many of our eye and vision researchers will make the trip to join us in Vancouver, BC in April/May, ARVO also has seen some important success in other areas over recent months. ARVO's journals have had an impressive year, having brought forth several special issues of critical relevance.
Investigative Ophthalmology & Visual Science (IOVS) spotlighted dry age-related macular degeneration in a special issue, as well as current strides to both prevent and treat the disease. Additionally, the Dry Eye special issue was released, organized by Dr. Kazuo Tsubota to celebrate the 25th anniversary of the Dry Eye Society, featuring 29 invited articles from leading Dry Eye Society researchers. Most recently, the Myopia special issue was published in collaboration with the International Myopia Institute, consisting of a series of "white papers" summarizing the current knowledge in the field.
The Journal of Vision (JOV) recently featured an exploration on Prediction in Perception and Action and Computational Models of Early Vision, organized as online collections of articles that are still growing as more accepted articles come through. JOV has another special issue in the pipeline with calls for papers out for articles on Advances in Perceptual Learning.
Translational Vision Science & Technology (TVST) experienced a significant growth in submissions, allowing it to maintain high editorial standards while publishing almost twice as many articles in the last year as in the previous year. TVST has featured many previously under-reported or unknown relationships between the ocular pathologies and bodily physiology or anatomy, such as grey matter volume changes, intravitreal gas bubbles, and even posture.


We look forward to future special issues, including special issues on myopia and artificial intelligence (AI) in ophthalmology this fall.
In addition, be sure to attend the Opening and Closing Keynote lectures, and the ARVO Achievement Award lectures