Spotlight on Members
Becoming an entrepreneur
Stella Robertson, PhD, is an experienced pharmaceutical research and development executive who helps entrepreneurs and start-ups launch and grow emerging technology companies. She is the founder and owner of Arrochar Consulting LLC, specializing in due diligence, translational research, product development and the life sciences. For three years, Robertson shared her expertise as a member of the ARVO Commercial Relationship Committee. Currently, she serves on the Women in Eye and Vision Research (WEAVR) Leadership Committee and the ARVO Foundation Board of Governors.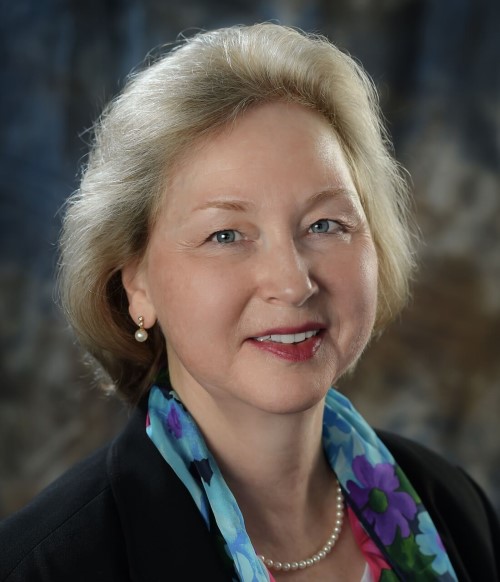 What was your inspiration for becoming an entrepreneur in the field of ophthalmology?
I have always wanted my research to make a difference in people's lives, to solve problems and help them have a better life. This is why I chose a career in industry — pharmaceutical research and development — to provide a practical solution to bringing ideas from the lab to the bedside. There is nothing more thrilling than to see your team's research product used to help a person feel better or see better, whether it is to treat red itchy eyes, invasive ocular infections, post-surgical inflammation or chronic diseases such as glaucoma, uveitis or retinopathies.
I had the incredible opportunity to spend over 25 years making medicines to treat eye diseases with Alcon Laboratories in Fort Worth, Texas, starting in the lab and then leading global product development and clinical trials. Becoming an entrepreneur and forming Arrochar Consulting LLC was a continuation of my desire to help people see better and to pass on what I had learned in product development to the next generation of researchers.
What came next?
In an effort to help foster the next generation, I volunteer as a mentor at TECH Fort Worth, a local non-profit incubator/accelerator that provides programs for start-ups and early stage companies. From this opportunity, I took the plunge into being an "angel investor" with the Cowtown Angels, and into the rewarding, exciting world of working with start-ups led by passionate, brilliant, hardworking young men and women.
Raising money for early stage companies is not easy, especially when the company is developing a new drug or medical device, which can require $20 to $40+ million to go from idea to early clinical data. To further encourage these companies and to raise additional funds for them, Les Kreis, Aaron Fletcher, PhD, and I co-founded Bios Equity Partners LP, a venture capital firm to invest in early biotech companies with life-giving technologies. Our firm has now grown to have nine companies under its wing, with over $100 million under management.
What have been some of the highlights of your work?
I was the first woman with a PhD hired in Alcon's R&D and the first to head a research group. As a senior scientist, I founded the immunology and cell biology laboratory at Alcon in 1981, which developed some of the first human ocular cell lines used for eye drug discovery (conjunctival mast cells, lens epithelial cells and trabecular meshwork cells).
During my tenure at Alcon, I worked with the teams that discovered and developed new compounds for use in ophthalmology, such as a human mast cell stabilizer for treating allergic eye diseases, a novel steroid and NSAID for ocular inflammation, new anti-infectives for corneal ulcers and novel prostaglandins for glaucoma. I studied these medications in the clinic and saw them approved and marketed around the world to help patients. The lab and teams also discovered and published on ocular diagnostics and unique potential treatments for uveitis and retinopathies.
One of the most recent exciting highlights for me as an entrepreneur, was serving as part of the Encore Vision Inc. team, led by William Burns, CEO, and chief marketer. We were a virtual R&D team of independent professionals, each with experience in a component(s) of ophthalmic drug design and development. The team designed and developed a novel, potent anti-oxidant eye drop (lipoic acid choline ester) that reduced aberrant cross-linking in aging lens proteins, restoring microfluidics in the lens cells, increasing lens flexibility and restoring accommodation. The company successfully filed an IND, completed a proof-of-concept Phase 1/2 trial in presbyopes, and was acquired in 2017 by Novartis, which is continuing the drug's development.
What area of research are you working on now?
I am exploring how therapies that are being developed by our non-ophthalmic portfolio companies may be useful in the eye. Companies that are making therapies to control or reverse fibrosis in the lung or modulate hyper-inflammation or enhance neuronal function in Alzheimer's might have application in glaucoma or retinal diseases. We are looking to partner with appropriate research laboratories to test the compounds.
What is the best advice you received as a young woman scientist, especially one transitioning to entrepreneurship?
Some of the best advice given to me as a young woman scientist started as early as junior high and continued throughout graduate school. The advice centered on encouragement, confidence building, organization, serendipity and taking advantage of opportunities and how to navigate as a female scientist in what was then a predominantly male occupation.
Two key phrases that I follow are: "Serendipity and perseverance are key to success: have a prepared mind, be alert to opportunities, able to put details into the big picture, synthesize a plan, work hard, don't give up," and "take opportunities to try new things when the door opens — like a new research area, collaboration or new job."
What advice would you give to women considering a start-up or a career in research?

My advice to a young woman scientist:
Get the best training in your chosen field and try different areas of research — find something that makes you feel fulfilled and that you want to work at 24/7.
Choose your thesis professor, postdoc or mentor carefully: one that will strive to help you achieve your best.
Complete some post-graduate work before going into industry or starting a business.
Try to secure your own grant funding.
A career in research is a life choice.
Don't forget to take time for yourself and family. Together you will delight in and discover the world, nature and research again through their eyes.
Advice to those considering a start-up
At the beginning, carefully consider do you really want to do a start up?
Challenge your idea: How will it be used? Does it meet an unmet need? Is there a market for it? Is it patentable? Patent before you publish.
Have conversations with other scientists or entrepreneurs to hear their stories of success or failure. Understand that being a start-up entrepreneur will be the most grueling, challenging, frustrating and all-consuming thing you have ever done. You will have to persevere through many "nos."
Figure out what part of a start-up you want to do. What are your strengths and desires? Do you want to run the company, or do you want to run the science? Are you willing to leave your academic position or current job to work with the start-up 100%, or do you want to mainly be an advisor to the company?
If you are in academics, work with your technology transfer office and/or find an incubator that will help you think through and achieve the steps to help you file patents to secure your intellectual property and form a company. Attend ARVO workshops like those sponsored by the Women in Eye and Vision Research, Commercial Relationships and Members-in-Training Committees, as well as translational research-type meetings to see what it is like to pitch your idea, gain support and raise money.


What's next for you professionally?
My focus now is on giving back. As a member of the ARVO Foundation Board of Governors, I am organizing a WEAVR workshop with Terri Young, MD, for ARVO 2019. The workshop will focus on entrepreneurship and highlights our members who are ophthalmic entrepreneurs — those who have started their own consulting companies or a foundation or who are working in translational research or industry. I am also working to encourage students to stay in STEM education in high school and college and to expand and grow the translational research and entrepreneurial community in Fort Worth.