ARVO members among 2018 Champalimaud Vision Award winners

Seven scientists recognized for the first successful gene therapy to cure an inherited human disease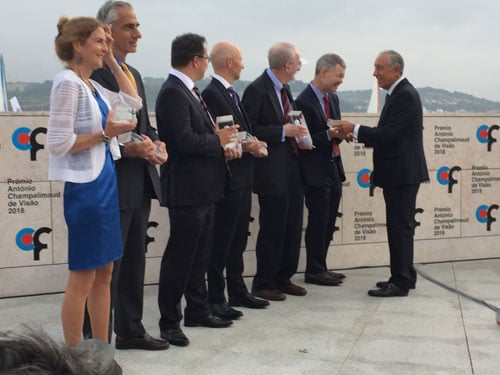 The 2018 Champalimaud Vision Award recognizes the extraordinary scientific advances made by the 2018 Award winners led to the successful treatment of a genetic cause of childhood blindness, a version of Leber Congenital Amaurosis, and demonstrated the potential for future developments in gene therapy to cure other inherited diseases.

Their work resulted in the first gene therapy cure for an inherited human disease.

This research opens the way to revolutionary new treatments for genetic conditions.
2018 Awardees
Jean Bennett, MD, PhD and Albert M. Maguire, MD, Scheie Eye Institute, University of Pennsylvania School of Medicine and Children's Hospital of Philadelphia

Robin Ali, PhD and James Bainbridge MD, PhD, Institute of Ophthalmology of the University College London and Moorfields Eye Hospital

Samuel G. Jacobson, MD, PhD and William W. Hauswirth, PhD, Scheie Eye Institute, University of Pennsylvania School of Medicine and University of Florida College of Medicine

Michael Redmond, PhD, National Eye Institute, U. S. National Institutes of Health

As part of the Award, the recipients will present a special lecture at ARVO 2019 in Vancouver. Learn more about the award, the 2018 winners and the session at ARVO's Annual Meeting.
About the Champalimaud Foundation
The Champalimaud Foundation, created in 2005 by the last will and testament of António de Sommer Champalimaud, focuses on cutting-edge research and strives to stimulate new discoveries and knowledge that can improve the health and well-being of people around the world. The Champalimaud Centre for the Unknown, based in Lisbon, Portugal, hosts the Foundation's activities in the fields of neuroscience and oncology by means of research programs and the provision of clinical care of excellence. The fight against blindness is also supported through a focused outreach program.
Photos from the ceremony held Sept. 4, 2018