Honoring a brother's influence and legacy
Rafal Farjo created the Qais Farjo, MD Memorial Travel Grants
In tribute to his brother, Rafal Farjo, PhD, recently established the Qais Farjo, MD, Memorial Travel Grants through the ARVO Foundation. The grants will provide support for two researchers to attend the ARVO Annual Meeting: one undergraduate/graduate student and one postdoctoral fellow working in translational research. The first students to benefit from these travel grants will attend the ARVO 2018 Annual Meeting in Honolulu.
In the Farjo family, science was a natural topic of conversation around the dinner table. With a medical doctor mom and other physicians in the family, it seemed predetermined that all four brothers would become doctors. The three eldest brothers began medical school and Rafal Farjo, the youngest by six years, was unsure of his path.
When Rafal Farjo was an undergraduate student at the University of Michigan, it was his brother Qais Farjo who encouraged him to try working in a research lab. During the time Qais Farjo was enrolled in the seven-year accelerated pre-medical/medical Inteflex program at the University of Michigan, he began working in a human genetics lab at the Kellogg Eye Center and made seminal contributions to the study of the NRL gene. He connected Rafal Farjo to his mentor, ARVO member Anand Swaroop, PhD, FARVO, who was then working at University of Michigan (and is now at National Eye Institute).
For Rafal Farjo, his lab experience unlocked a passion he didn't know he had. "I fell in love with the lab," he says. "I was just an undergraduate so I was just doing grunt work and making solutions, but I knew I was contributing to something important." Swaroop recognized his passion, gave him a project and supported him in attending his first ARVO meeting in 1997.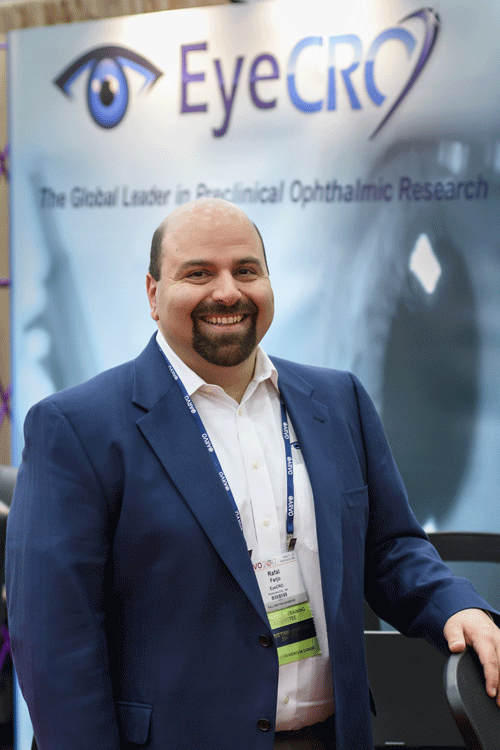 Rafal Farjo followed his affinity for bench research, earned a PhD and is now the CEO of EyeCRO, a contract research organization specializing in eye research. He is a lifetime member of ARVO and enthusiastically refers to the ARVO Annual Meeting as "my Disneyland." He shares that the meeting and all of its opportunities for collaboration makes him a better scientist.
Rafal Farjo's love for vision research was something he shared with his brother Qais Farjo, who became an ophthalmologist and touched the lives of numerous patients. During their phone calls with each other, the brothers would first check in on each other and their families, then dive into research questions. Rafal Farjo described his brother as a generous friend to all and a talented healer who was respected by his colleagues and adored by his patients, many of whom would travel great distances to see him in his clinic. At the age of 39, Qais Farjo was diagnosed with stage IV cancer and began an aggressive treatment regimen. Even though his main clinic was nearly an hour drive from home, he insisted on continuing to practice medicine as long as he could since he felt a sacred obligation to help his patients. In 2014, Qais Farjo passed away, devastating his family, his wide circle of friends and his patients.
In addition to the ARVO Foundation travel grants established by Rafal Farjo and EyeCRO, the Farjo family undertook several memorial projects. They established a memorial lectureship at the Kellogg Eye Center in his name; Swaroop, mentor to both brothers, gave the first lecture and Paul Sieving, MD, PhD, FARVO, gave the second. A memorial website (www.qaisfarjo.com) includes photos and moving tributes from family, friends and patients.
"Establishing a travel grant in Qais' name was the perfect way to honor his legacy. Regardless of the advances in teleconferencing, nothing can replace the importance of having a physical place to meet, to discuss science, to find a collaborator and to present data. I want these travel grants to help people find their destiny and develop their passion in vision science," Rafal Farjo says. "Just like Qais did for me." AJ