Advancing science and careers
Genentech AMD Research Fellowship recipients share their progress
The Genentech Age-Related Macular Degeneration (AMD) Research Fellowships are awarded annually through the ARVO Foundation. The award supports two research fellowships for young investigators who are age 45 or younger, including one award for basic research in the understanding of AMD and one for translational AMD research focusing on therapeutics (not yet in clinical trials).
The 2015 Genentech AMD Research Fellowship recipients, Sarah Doyle, PhD, and Katie Pennington, PhD, completed their work funded through the fellowships in 2017 and recently shared with ARVO how the awards advanced their science and their careers.
Sarah Doyle, PhD
Trinity College Dublin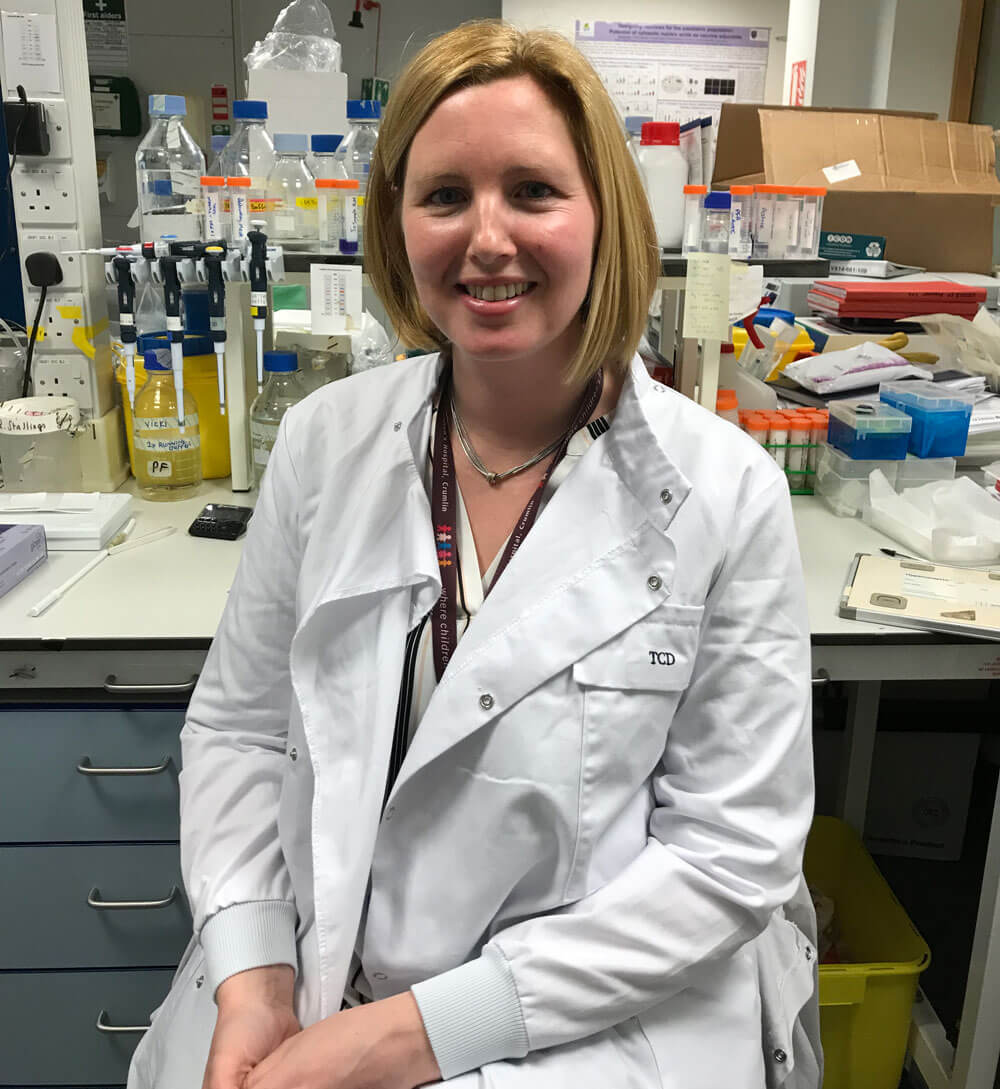 Sarah Doyle feels like she's still relatively new to studying retinal degeneration, though it's been eight years since she was first introduced to the field. Doyle, who is assistant professor of immunology at the School of Medicine of Trinity College Dublin in Ireland, received the 2015 Genentech AMD Research Fellowship for basic research.
Coincidentally, it was a previous recipient of this same fellowship who introduced her to retina degeneration. "I was working on a family of immune receptors that recognize danger signals, many of which are extracellular, when I had a conversation with Matthew Campbell about AMD," Doyle remembers. Campbell, also of Trinity College Dublin, received the fellowship in 2013. "I didn't know anything about the disease, so he explained the clinical signs and he mentioned drusen. I thought that drusen sounded like it would respond to one of the receptors I worked on, called NLRP3. We tested it, and it did. And since then, I've been interested in the role the innate immune system plays in retinal degeneration."
When the eye sends signals to the brain to see, it requires a lot of energy. There are different pathways for the body to harness this required energy, some of which produce byproducts that can induce or suppress inflammation. Doyle's fellowship project looked at the factors that trigger inflammation in retinal degeneration.
"We found that the cells in the retina can switch between different pathways when they need to quickly produce more energy. But under certain stressors, the switch back is delayed, meaning there is a greater buildup of inflammatory mediators," Doyle explains. "This is exciting because there is little understanding of the factors that trigger this buildup. Our results suggest that normal metabolic (energy-harnessing) processes can generate these mediators when put under the kinds of stresses that are observed with age. These results open up new avenues for research."
In addition to accelerating the exciting findings of her project, receiving the Genentech AMD Research Fellowship has aided Doyle's career progress. Being granted an award from an international funding source has raised her profile in this area of study, particularly as an early career researcher. It also helped generate preliminary data to support her research hypothesis, which she can leverage for other studies involving the integration of metabolism and immune pathways in macular degeneration. "The data generated has led to the establishment of new collaborations with experts in immuno-metabolism," she says. "These international collaborations have enabled the research to continue beyond the window of funding granted by the award."
Katie Pennington, PhD
Brigham Young University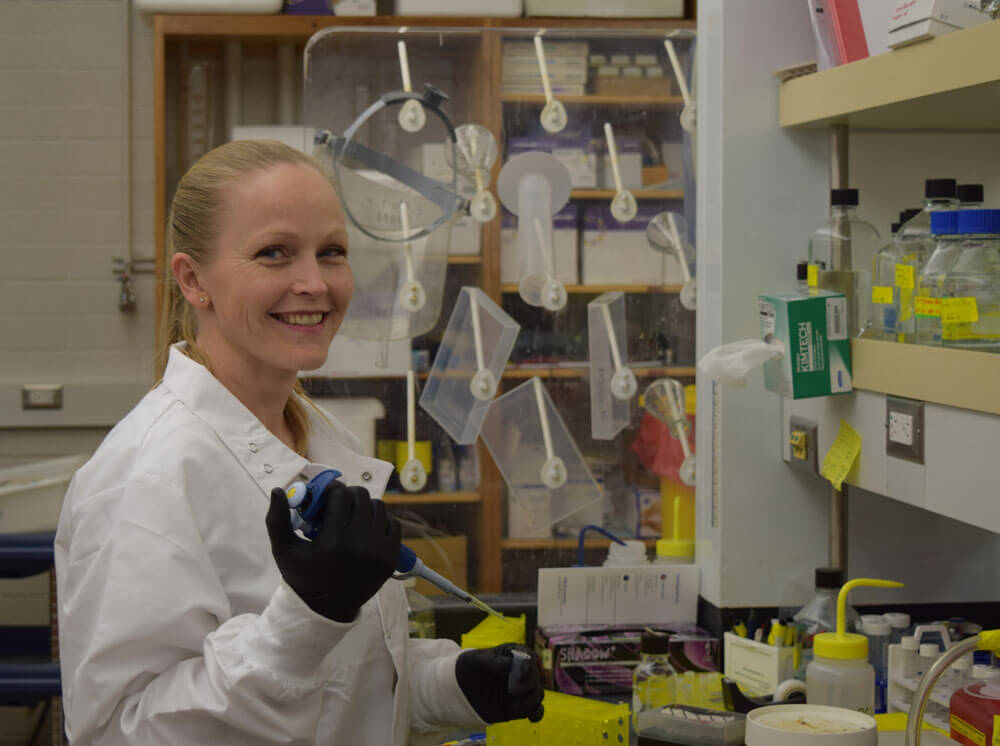 Katie Pennington, a molecular biologist, is no stranger to career transition. Pennington received the 2015 Genentech AMD Research Fellowship for translational research while she was a postdoctoral fellow at the John A. Moran Eye Center at the University of Utah. Her research project focused on finding a less invasive therapeutic method to treat AMD than the current treatment of frequent, in-office injections into the eye.
When her postdoctoral mentor moved to a new institution, this award helped keep her research afloat. "My new mentor was willing to allow me to continue work on this project but had limited means to support it long term. With the funding provided by this award, I was able to make significant progress on the research," she says. Pennington and her colleagues are using a CRISPR gene therapy platform to target the expression of genes involved in AMD progression. "Our initial work in a mouse model of wet AMD has demonstrated improved outcomes with treatment. We are hopeful that our ongoing and future work in this area will provide a method for reducing the impact of this blinding disease," she reports.
Pennington now holds a postdoctoral fellowship at Brigham Young University in the Department of Chemistry & Biochemistry in the Fritz B. Burns Cancer Research Laboratory. While she has left the field of eye and vision science for now, she doesn't see it as a permanent departure and is taking the long view on her career path. "I'm applying my experience to another problem in human health, and I am also expanding my set of laboratory skills to increase the research 'tool box' from which I can draw in addressing future scientific and health-related problems," says Pennington.
"At a basic molecular level, there are many commonalities among eye diseases and cancers, and the tools that I am developing are well suited to investigating both avenues of research. The eye also serves as a promising system for advancing new therapeutic methods with potential for broad application, such as the one I have been developing, due to its being an accessible, immune privileged organ."
Pennington is grateful for the Genentech AMD Research Fellowship giving her better opportunities to pursue her goal of securing a tenure-track academic position. "In addition to facilitating the advancement of the science, this award contributed to my career in that it has allowed me to demonstrate success in both securing funding and pursuing a degree of independence in my research — both of which are important to future prospective employers," she says. "If I am lucky enough in the future to secure a principle investigator position, I hope to bring together all of my training to address both of these important concerns." AJ