Remembering a renaissance man
Announcing the Bert M. Glaser, MD Award for Innovative Research in Retina

As an innovator, clinician, teacher, entrepreneur and researcher, ARVO member Bert M. Glaser, MD, was a renaissance man. After starting a career in academia as a clinician-scientist specializing in retina, he transitioned to private practice. But he never lost the research and teaching bug.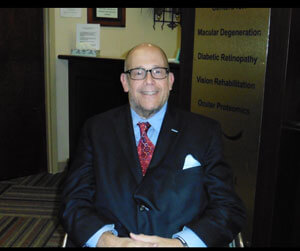 Glaser, whose career spanned over 30 years, died after a brief illness in April 2017 at age 67. In his memory, Glaser's wife, Ronnie, and their family have established the Bert M. Glaser, MD Award for Innovative Research in Retina through the ARVO Foundation. The $10,000 research award will recognize an early-career investigator who has made a novel discovery that has profoundly changed the understanding or treatment of a retinal disease or condition. Applications will be accepted in 2018 and the first award will be given in 2019.
Paul Sternberg, Jr., MD, FARVO, a longtime friend and colleague of Glaser, helped the Glaser family design the award as a tribute to his legacy. "Throughout his career, he would push the envelope, be it in his clinical practice, in clinical research or in the laboratory. Bert was very driven. He was never satisfied with very good; he wanted excellent," Sternberg says. "The award links retina, innovation and impact, reflecting what we will remember most about Bert's contributions to ARVO."
Glaser's career started at the Wilmer Eye Institute at Johns Hopkins School of Medicine. He was chief resident when Sternberg came on as a first-year resident. "He was a wonderful teacher and mentor," recalls Sternberg, "He inspired me to follow him into retina. Over my subsequent years in training, Bert joined the faculty where I worked in his vision research lab. I was inspired by his imaginative and novel approaches to research, as well as the way he seamlessly balanced his clinical and research lives."
In 1989, the same year Glaser received ARVO's prestigious Cogan Award for young researchers who have made significant contributions to ophthalmology, he started his own practice called the National Retina Institute near Baltimore. Research and teaching continued to be important to him, and he was one of the first to figure out how to incorporate a fellowship program into his clinical and research practice. Glaser trained 39 postdoctoral fellows in vitreoretinal surgery and designed a program that incorporated clinical research into their training.
Glaser's entrepreneurial streak ran deeper than his clinical practice. Kindling his love of boats, he launched a successful custom boat-building business which is now thriving under the ownership and management of his two adult sons. "He was a teacher in everything," his wife says. "He mentored the boys to run the business. He was so proud of them."
Life changed for the Glaser family when, in 2009, Glaser was in a motorcycle accident that left him paralyzed. While clearly devastated by this unanticipated turn, he was determined to return to practice, and he did. "His energy knew no bounds," Ronnie Glaser recalls. "It's harder to do anything as a paraplegic, but he continued to put in a full day's work at his practice."
Though his capacity to perform surgery was diminished following his injury, he redoubled his commitment to research, and in the years following his accident he received two research grants from the National Institutes of Health and founded a research company, Ocular Proteomics.
"From his early days trying to connect the dots between growth factors and retinal neovascularization to his final research exploring the proteomics of biomarkers for retinal disease, he was always at the forefront of discovery," Sternberg says.
Glaser's most recent work had been accepted as a paper at the ARVO 2017 Annual Meeting in Baltimore. With his characteristic determination, he had been working toward a surprise entrance: abandoning his wheelchair for an exoskeleton-assisted walking device so he could walk on stage to present his paper. Glaser died of brain cancer just a few days before the Meeting.
Though his life was cut short, the Bert M. Glaser, MD Award for Innovative Research in Retina will help his legacy live on. "Next to his family, ophthalmology and research were always on his mind. It was the utmost importance to him," Ronnie Glaser says. "He would be so honored to have this award in his name." AJ
For more information about the Bert M. Glaser, MD Award for Innovative Research in Retina, including eligibility requirements and how to apply, visit www.arvo.org/awards/glaser.