ONL Therapeutics: More than a one-shot wonder
It's a classic story: scientist discovers a compound with real therapeutic potential, only to have no idea how to move forward. Fortunately for David Zacks, MD, PhD, professor of ophthalmology and visual sciences at the University of Michigan Kellogg Eye Center, help was waiting on campus. Guided by the university's technology transfer office, ONL Therapeutics was incorporated. And with Small Business Innovative Research (SBIR) grants from the National Eye Institute (NEI), ONL Therapeutics is moving its lead candidates down the long path toward commercialization. Below, Zacks recounts the initial "eureka!" moment, describes ONL Therapeutics' pipeline and offers valuable advice.
What gave you the inspiration to create your own company?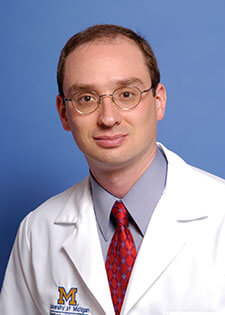 My academic interest was to study the question "why do photoreceptors die during retinal disease?" It almost seems like an obvious question, but there is a FAS-mediated pathway that regulates cell death, and I wanted to study that in the context of retinal disease. We were testing various inhibitors, with one of the compounds being a 12-amino acid peptide that inhibits the FAS receptor. As I was doing one of our experiments, I had this "aha!" moment where I asked myself, "Why am I injecting another rat with this compound (MET-12)? I should be using it to save the vision of people!"
How did you navigate the transition from clinician-scientist to startup founder?
In medical school they teach us a lot about drugs, but they don't teach you where drugs come from or how to make them. So I worked closely with our technology transfer office here at Michigan. The office runs a special program called Mentors in Residence. These are people who have been in leadership roles in startups. The tech transfer office connected me up with a mentor. He gave me a tutorial on starting a business, then helped me find my core team. Here in Ann Arbor, we have some people who had experience in eye drug development, so the community ecosystem was really rich and worked out well for us.
How did the SBIR grants from NEI help ONL Therapeutics?
The SBIR program has been absolutely critical for us. First, the funding helped us get some of our initial experiments done. Second, it provided a level of validation to outside investors. SBIR grants are peer-reviewed, and to earn one means the products we are working on have potential to make it to market. Finally, the guidance we've received from Jerome (Jerry) Wujek, PhD, program officer of the SBIR portfolio at NEI has been invaluable. I think the SBIR program is great, and it's great in large part because of Jerry.
Speaking of products, what does ONL Therapeutics have in the pipeline?
Our first indication will be for macula-off retinal detachment, meaning the macula is already detached. While this can be treated with successful surgery, there still can be significant vision loss. The idea is that our drug will be delivered at the time of diagnosis until the surgery can take place. We have shown that this compound can also keep retinal ganglion cells alive in the presence of high pressure, suggesting glaucoma indications. Finally, the drug can protect RPE cells against death, with implications for AMD. ONL Therapeutics is not just a one-shot wonder, we have a pipeline of indications as well as a developing product profile.
What's next for ONL Therapeutics?
Next is to complete the Investigational New Drug application for the Food and Drug Administration. We've already completed a Series A round of funding to get through the IND studies, and we're currently actively raising money to get us through the clinical trial step to prove that our compound works.
If you could offer advice to anyone thinking about going down this route, what advice would you give?
Find the right team. Be collaborative and seek advice from a lot of people. Keep an open mind. Development will present a lot of twists and turns and what you thought would be your lead indication may not work out in the end. MW