Chew to spotlight reproducibility in science at the 10th Annual WEAVR Luncheon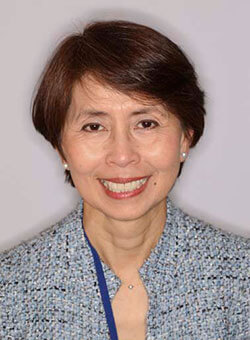 This year marks the 10th anniversary of the ARVO Foundation's Women in Eye and Vision Research (WEAVR) Luncheon, which is held annually in conjunction with the ARVO Annual Meeting. ARVO Immediate Past President Emily Y. Chew, MD, FARVO, will be the featured speaker at the luncheon on Tuesday, May 1 from 1:30 – 3pm at the Ala Moana hotel in Honolulu. The annual networking event raises funds to support women in vision science.
Chew is deputy clinical director and the director of the division of epidemiology and clinical applications at the National Eye Institute at the U.S. National Institutes of Health. A longtime supporter of the WEAVR Luncheon, she offers a preview of her talk called, "The importance of replication in science: A story of ethics, collaboration and relationships."
ARVONews: What role have you seen the WEAVR Luncheon play in advancing women in vision science over the last 10 years?
Chew: Over the event's history, the WEAVR Luncheon has helped us recognize that there are many women in the field who are in similar situations and that we all have common goals: to be successful vision scientists conducting meaningful research to help reduce vision impairment.
The WEAVR Luncheon has provided a venue to highlight the journeys of highly successful women vision scientists and how their careers have evolved, and, in some cases, how they have achieved balance between personal life and career. These women truly serve as important role models for many of our young investigators. This is particularly relevant when you realize that the ARVO Annual Meeting had never had a female opening keynote speaker — one of the most prominent roles at the meeting — until this past year at ARVO 2017 in Baltimore.
Both men and women will find the WEAVR Luncheon valuable for networking, a nice gathering for learning from each other, as well as hearing about pertinent science.
ARVONews: Can you give us a preview of your talk for the WEAVR Luncheon? What should people look forward to learning?
Chew: My talk is called, "The importance of replication in science: A story of ethics, collaboration and relationships." For several years, the National Institutes of Health (NIH) has emphasized the need to demonstrate reproducibility in biomedical science. Factors that have contributed to the lack of reproducibility include inadequate training of researchers, the increased emphasis on making somewhat provocative statements rather than details of the methodology, proper sample size calculations, randomization and appropriate application of statistical methodology. This is exacerbated by the expectations of funding agencies, academic communities, etc., to publish in very high impact peer reviewed journals. Some academic centers have provided incentives for publication in such journals, including promotions, tenure and even cash awards.
Several editorials have been written on this importance of reproducibility and the NIH has provided a series of training modules to ensure that researchers understand its importance. I will give examples about the importance of reproducibility in the ophthalmic literature. I will also talk about the importance of data sharing, especially in those cases in which the research has been funded by NIH.
ARVONews: You and your family have long-supported WEAVR and its mission personally. Why do you sponsor a table at the WEAVR Luncheon every year?
Chew: I am happy that my family can support a table at the WEAVR Luncheon as it means I can invite some of my young trainees and colleagues who may not otherwise attend. Even for those of us who work together in the same place, it can be hard to spend any quality time together when we are caught up in our own busy lives and across our different disciplines. Any time we can facilitate the meeting of very busy individuals, we promote networking and, hence, a better working environment.
Often, I also invite some of my prior trainees for selfish reasons — so I can visit and catch up with them! It is immensely satisfying to reconnect with the individuals who have contributed to and continue to add to my quality of life. AJ
For more information about 10th Annual WEAVR Luncheon, visit www.arvo.org/arvo-foundation/weavrluncheon.