2020 Joanne G. Angle Award recipient:
Jacob Pe'er, MD, FARVO
Giving back is a gift to yourself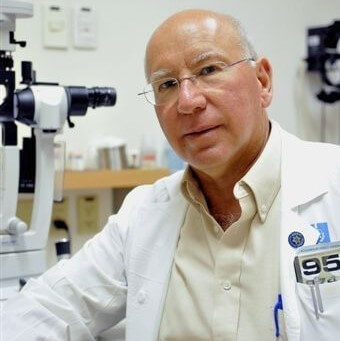 Jacob Pe'er, MD, FARVO, was named the 2020 recipient of the Joanne G. Angle Award — the highest service honor bestowed by ARVO to recognize an outstanding leader who has made significant and continuous contributions in support of the Association's mission. Pe'er shared how receiving this award has a double meaning for him.
"First, I knew Joanne in person, and I witnessed her immense contribution to ARVO over so many years, seeing how important ARVO was for her and how much she loved this organization. Second, for me ARVO is the most important ophthalmic organization in the world. I've always told the young ophthalmologists and researchers that if you want to know what will be presented at the AAO meeting and other meetings in five years, come to ARVO this year."
Pe'er is currently the Jonas Friedenwald Professor of Ophthalmic Research in the Department of Ophthalmology at Hadassah-Hebrew University Medical Center in Jerusalem, Israel. Since joining ARVO in 1983, he has not missed an Annual Meeting and has volunteered continuously, including serving as a member of the Annual Meeting Program Committee (AMPC), ARVO Board of Trustees, Global Members Committee, and on the Investigative Ophthalmology & Visual Science (IOVS) journal Editorial Board.
Looking back, Pe'er says he really enjoyed each one of his several volunteering "jobs" for ARVO. "In my three years' service (1999 - 2001) on the AMPC as a representative of the AP section, I could influence the level of the paper and poster presentations, and also took care to ensure they were presented at convenient times for our AP members."
He also counts among his highlights, his service as a member and chair of the International Members Committee (2002 - 2006) where he promoted the initiation of the ARVO Affiliated Chapters project — the Israeli Society for Vision and Eye Research (ISVER) being the first Chapter affiliated, followed by many others. He also was a collaborator in successfully increasing the number of travel grants five-fold for non-U.S. members at that time and did the same later as a member of the ARVO Long Range Planning Committee (2009 - 2010).
Noted among his accomplishments, Pe'er shared, "As a member of the Board of Trustees (2008 - 2013), I could work for the entire organization membership, of course also representing the AP section members who elected me. And as a member of the IOVS Editorial Board (2012 - 2017), the most important ophthalmic research journal, I helped in keeping its high level."
Although he jokingly refers to himself as one of the "oldies," Pe'er is still an active ARVO volunteer, currently serving as a member of the Awards Committee.
"I consider volunteering as part of my way of life in all duties I've done in various organization I worked for or have been involved in. If you care about people, don't be selfish and volunteer! It adds so much to your own short visit on our planet." Pe'er added, "Volunteering in ARVO is not an exception. It will help ARVO but not less than that, it will add to yourselves!"
About Jacob Pe'er, MD, FARVO
Jacob Pe'er, MD, FARVO, has devoted decades of his life to advancing the field of ophthalmology across the globe. After graduating from the Hebrew University-Hadassah Medical School in 1974, he completed his ophthalmology residency at the Hadassah-Hebrew University Medical Center in Jerusalem, Israel and held a fellowship in the Ophthalmic Pathology Department of the Armed Forces Institute of Pathology (AFIP) in Washington, DC. Following this he worked for two-and-a-half years in Africa where he established the ophthalmology department at Nakuru Provincial General Hospital in Kenya. Since then, Pe'er has trained numerous international residents from over 40 countries at the Hadassah-Hebrew University Medical Center. In 1998, he was appointed chair of the Department of Ophthalmology — a position he held for 20 years. Pe'er has also been an active member of various International organizations, including serving on the Board of Trustees of the International Council of Ophthalmology (2002 – 2012), and as president of the International Society of Ophthalmic Pathology (2000 – 2004) and the International Society of Ocular Oncology (2007 – 2011). In 2014, he was elected to the Academia Ophthalmologica Internationalis.