Celebrating Women's History
Barbara Wirostko, MD, FARVO - From inspiration to action: A vision scientist's multifaceted journey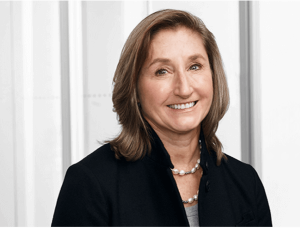 Barbara Wirostko, MD, FARVO, is chief medical officer and co-founder of Qlaris Bio (Wellesley, Mass.), a biotechnology company targeting high unmet needs in debilitating ophthalmic diseases. As a serial entrepreneur and passionate advocate for patients' needs in ophthalmology, she is responsible for guiding Qlaris' medical and clinical development strategy. In addition to her role at Qlaris, Wirostko is the co-founder and chief medical advisor of Starlight Bio and MyEyes. A board-certified practicing glaucoma clinician researcher, she holds an adjunct professorship in ophthalmology at the Moran Eye Center and in biomedical engineering at the University of Utah. Wirostko is a long-time member and Gold Fellow of ARVO, and now serves on the ARVO Foundation Board of Governors.
---
Tell us a little about yourself.
I was born and raised in New Jersey. After earning my BS with distinction in microbiology from Cornell University, I completed my residency and earned my MD at Columbia University where I met my husband, Joseph Morelli, MD. We lived in Long Island, NY, for 15 years. In 2010, we moved to Park City, Utah, where we currently reside.
From an early age, I knew that I wanted to care for patients and pursue a career in medicine following in my father's footsteps, Emil Wirostko, MD, a uveitis specialist at Columbia Presbyterian Medical Center in NY. I recall fondly the trips with my dad and family as a child to Sarasota, Fla. where he would attend the original ARVO meetings.
My father's office back in the day was in our house as well as at the Edward S. Harkness Eye Institute in NY. My brother, William Wirostko, MD, also an ophthalmologist, and I would see patients coming and going and would love to play in the office in the off hours. I saw firsthand the encouragement he got from other people, and the motivation he had for making a difference. I would often join him with my brother as he made rounds in the hospital of the cataract patients with the sandbags. Yes, they were in patients back then.
My first-ever project with my dad was when I was 16, and he was researching mycoplasma-like organisms that were potentially causing inflammation. We would work in the lab together, and I learned techniques like electron microscopy. Eventually, I started to publish papers. Fast forward years later to 1994, and I gave my first oral presentation while eight months pregnant with our first son at an ARVO annual meeting based on the work I had done with my dad.
Besides being a serial entrepreneur, a chief medical officer, a researcher, and a glaucoma specialist, I have also extended my passion to philanthropy. Following the sudden tragic passing of our eldest son, Joseph, in 2014, my husband and I founded the Joseph James Morelli Legacy Foundation to raise awareness and advocate for young adults with dyslexia, which Joseph was diagnosed with as a teenager. Serving as the executive director and board chair of the foundation, we have awarded more than $500,000 for scholarships and mentoring to roughly 200 students nationwide with dyslexia who are pursuing careers in STEM fields.
The foundation has created a network for students like Joseph, who may have struggled with doubts about their ability to succeed in their academic and professional pursuits due to the stigma of dyslexia and the lack of support for those living with the disorder. One of the biggest challenges I have had to overcome in my career is being dyslexic as well. Now I serve to inspire and encourage my students to create opportunities out of obstacles and take advantage of their work and accomplishments. The most important thing is to recognize your strengths and capitalize on them, while not beating yourself up for your weaknesses.
In my spare time, I also enjoy skiing, running and tennis as an escape from work. I love gardening, seeing something being created from nothing is so special. I enjoy spending time with my husband and children, traveling and being outdoors.
How did you get into the eye and vision field?
Inspired by my father's research and passion for ophthalmology, I walked the same halls that he did at Columbia University Edward S. Harkness Eye Institute.
During my third year at Columbia, I was doing my ophthalmology rotation, and we learned how to use an ophthalmoscope. I vividly remember that moment of looking into the back of one of my colleague's eyes and getting to see in such detail blood vessels and nerve tissue. From that moment on, I fell in love with ophthalmology.
With a bold vision to create change, I accepted my first role shortly after medical school as an ophthalmologist at the Huntington Medical Group PC, NY, where I specialized in glaucoma and was intimately involved with pivotal clinical research that would lead to approvals of IOP lowering medications like Lumigan, Alphagan and Cosopt. Throughout my 10 years at Huntington, I was a leading principal investigator (PI) for many novel glaucoma clinical development trials including memantine.
Throughout my career, whether it is in academia at the University of Utah Moran Eye Center or in biotech, I continue to lead research focused on novel glaucoma therapeutics, sustained delivery of therapeutics for ocular pathologies, and the study of genetics and associated systemic diseases of an exfoliative syndrome, a common cause of open-angle glaucoma.

What are some things in your field that you love/enjoy?
My clinical practice has always been and remains a priority. I continue to see patients in Park City, a Moran satellite office, on Mondays and Wednesdays. I also work at the Salt Lake Veterans Administration Hospital as the attending physician at the glaucoma clinic, where I teach fellows, residents, and medical students. As a mentor and physician, it is important to help young, aspiring medical professionals so that they can realize their potential through asking questions, being inquisitive, and helping others.
During the early years of my practice, I discovered that I loved the research aspect of my work and gravitated toward clinical research with sponsors that were conducting glaucoma studies. I worked on several clinical trials, including the Memantine Study, as an investigator at a multi-specialty practice where I was a glaucoma surgeon.
This commitment to people living with eye diseases and my experience as PI on various projects, ignited my entrepreneurial career in drug and device development. I have always loved being at the forefront of discovery, whether it's helping patients, students, early clinicians or investigators. I have learned that combining my work in the clinic with my entrepreneurial work, has made me a better ophthalmologist. Over the course of my career, there are things that I have learned that aren't taught in medical school, such as understanding drug development, clinical studies, and FDA regulatory processes. My career in life sciences has been defined by achievements and innovations fueled by my passion, drive, and ingenuity.
One of the most rewarding elements of my career is imparting all that I have learned through my experience to my students, who I refer to as my "kids." I love to watch these young, aspiring professionals grow and go on to achieve in medicine and ophthalmology.
What is your greatest accomplishment?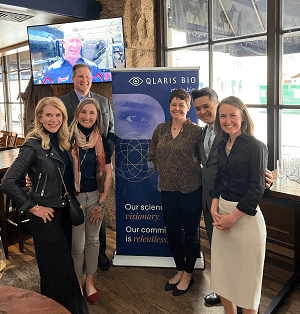 Wearing my entrepreneurial hat, I have started several companies. Most recently, I launched Qlaris Bio in August 2019 with co-founder and chief executive officer Thurein Htoo. We got off the ground with a successful $25 million Series A financing round and have been going strong ever since. When Thurein and I co-founded Qlaris it was with a singular premise in mind: to develop better solutions for patients suffering from debilitating ophthalmic diseases. We saw a potentially disruptive opportunity in glaucoma to target episcleral venous pressure (EVP) as a critical component of intraocular pressure (IOP). I am incredibly proud of the work we are doing, and it demonstrates what can be accomplished when a team of like-minded, creative people come together to solve a long-standing problem.
I also strive to be a leader to other women looking to forge their path in the biopharmaceutical industry. If you put your best foot forward, take a path less traveled, and explore opportunities, you never know what will open up to you.
All that to say, I am most proud of the relationships I have established during my years in ophthalmology, and of the continued fight we have all taken up against eye diseases that are devastating to the people living with them.
Who is your greatest influence and why?
My dad was my greatest influence and inspired me early on to help guide and sharpen the skills of up and coming ophthalmologists in any discipline, which is so crucial. I still take that advice myself, and I am constantly looking to others for inspiration.
One member of ARVO who inspires me is Adrienne Graves, PhD, an accomplished ophthalmologist, bench scientist, drug developer, corporate board member, patient advocate, and former CEO of Santen, Inc. With more than 37 years of pharmaceutical, drug, and corporate and nonprofit board experience, Dr. Graves is a highly regarded contributor to all areas of the ophthalmology industry. And she continues to make meaningful long-term impact on the patients, industry, and community to which she has dedicated her career.
I am fortunate to call Dr. Graves a dear friend, but also consider her an inspiring role model not only for herself but for other men and women. She is a renowned global industry leader constantly driving innovation in ophthalmology. Being a current member of many corporate and nonprofit boards, her passion for ophthalmology, particularly in the advances in retinal technologies and therapeutic interventions is inspiring to witness and work alongside. I am amazed and encouraged by all of her work and success.


Who is your biggest supporter and why?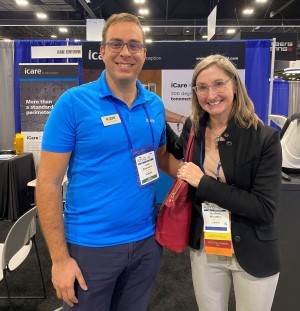 While I have accomplished much in my career, there is nothing I am prouder of than being a wife and mother, raising four children. I consider my family to be my biggest cheerleaders and supporters.
Without the love and support of my family, patients, colleagues and mentors, I wouldn't have been able to launch a storied career that has revolved around amplifying potential in many forms. The potential for people with eye diseases to live their best lives, the potential of students to grow into empathetic and knowledgeable clinicians, and the potential of companies to develop and deliver novel treatments.

Tell us how you found opportunities to help you grow in your career.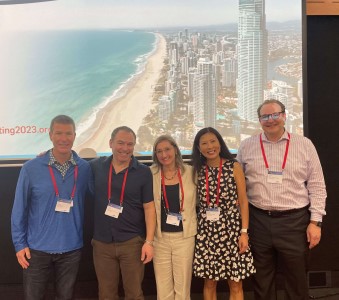 During my professional journey, I have maintained an academic affiliation with the John A. Moran Eye Center at the University of Utah, where I currently serve as an adjunct professor of ophthalmology and biomedical engineering. In this role, I support residents' research and play an active advisory role — mentoring the next generation of front-line clinicians and researchers, residents, undergraduates, and clinicians who are embarking on their careers. Seeing patients also enables me to have first-hand knowledge in the "space", seeing and living the unmet needs, reimbursement challenges and processes, and invocation.
Being involved with research and funding organizations also enables and allows me to see and learn exciting and top-notch cutting-edge technology and innovation as well as help move it forward.

In addition, I became involved with ARVO at an early age. I first joined as a medical student, and today I remain active in the organization, recently reaching Gold Fellow status — an honor recognizing current ARVO members for their individual accomplishments, leadership, and contributions to the Association. Over the years, I have belonged to the Members-in-Training Committee and participated in educational mentoring programs, such as the ARVO Global Mentorship Program and Bench to Bedside (B2B) Meeting. Recently, I was invited to serve on the ARVO Foundation Board of Governors for 2023-2026.
Have you noticed changes as you advanced?
Yes, I believe we have a better voice and are bringing each other around and holding each other up. There are a lot of organizations, including Women in Ophthalmology (WIO), Ophthalmic World Leaders (OWL), Pharma Voice, ARVO, and AAO, that host specific talks, meetings, and awards programs for women in ophthalmology, but it's not exclusive, they are open to anyone in the industry.
In your opinion, what obstacles do women still face in this industry?
The biopharma industry, despite the progress of recent years, continues to struggle with having women represented in leadership positions. I look at some of our glaucoma companies that develop therapeutics, devices, and drugs, and I ask the question, "where are the women on the boards and advisory panels?"
I think we can also do a better job with embracing diversity and inclusion. This has been a hot topic not only in medical schools and residency programs, but also in clinical trials. How do we support all our colleagues to help them not only with disease management, but mentoring, getting them into residency, and eventually the board rooms? In Europe and California, companies are trying to increase their diversity on boards, including women, but I still see so many U.S. companies where the advisory board, board of directors and consultants are predominantly men with little diversity. I applaud those companies embracing and making change.
Where do you see women in eye and vision sciences within the next five years?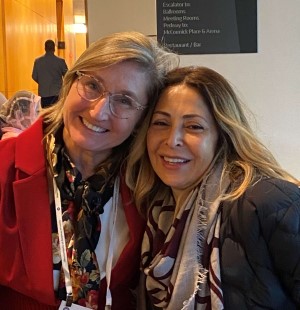 I hope that within the next five years women working in eye and vision sciences continue to excel and make strides. Not only on the bench side, but being awarded grants, awards and board seats. We are now seeing more women enter medicine in general with an uptick in women in basic science, clinical positions, academia and even in leadership positions (i.e., deans and chairs of departments). I see this only increasing.
Women in eye and vision sciences need to continue to support one another, and encourage each other to speak up and voice their ideas and opinions. As a woman leader in the life sciences industry, I continue to empower women to take charge and not be afraid to take risks and challenge the status quo. Hardships will happen, the importance is to not let failures and setbacks define you and your work. Throughout my career I have always put my best foot forward, took risks and explored new opportunities as they came my way so that I can continue to learn and grow. I encourage other women in the biopharmaceutical industry to follow in my footsteps and explore every opportunity possible, as you never know what's going to open for you.
What does Women's History Month mean to you?
It is a month to highlight the accomplishments of women in history, medicine and, moreso in line with our focus, ophthalmology. We have made, and continue to make, history in research, bench science, translational work, and as leaders in the clinic and the industry as a whole, moving the science forward as well as having a voice and a seat at the table. It is time for us to recognize our accomplishments and successes in moving the needle not only for science, but for us as women.