Celebrating Hispanic Heritage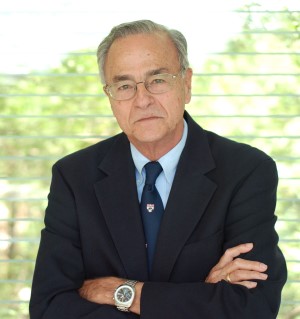 Gustavo D. Aguirre, VMD, PhD, PhD(hc), FARVO, is a professor of medical genetics and ophthalmology at the University of Pennsylvania School of Veterinary Medicine in Philadelphia, Penn. He earned his degrees at UPenn, where he also completed a residency in ophthalmology before serving as a postdoctoral fellow at Wilmer Eye Institute, Johns Hopkins Medicine in Maryland.
Aguirre's research focuses on dog models of inherited eye and retinal disease. Among the many awards he has received throughout his career are the Alcon Award and ARVO's Proctor Medal recognizing outstanding research in the basic or clinical sciences as applied to ophthalmology. Aguirre is an elected member of the National Academy of Medicine (NAM) as well as a fellow of the American Association for the Advancement of Science (AAAS) and ARVO.
---
Tell us a little about yourself.
I'm from Habana, Cuba. When I was a child, I wanted to be a veterinarian that treated horses. Some of my personal interests are gardening, bicycling and traveling.
How did you get into the eye and vision field?
Initially through student summer research projects at the Penn School of Veterinary Medicine.
What are some things in your field that you love/enjoy?
The ability to examine microstructure and assess function in the living eye.
What is something unique about your research?
With our ability to find diseases in dogs, we develop DNA-based tests to selectively breed dogs that will not have hereditary blindness and use this research to develop treatments for human blindness. The best of both worlds!!
What do you consider as your greatest accomplishment?
Identifying multiple genes/mutations that cause retinal degeneration and developing gene-based therapies that are now commercialized (Luxturna) or in phase 1/2 clinical trials.
What impact has your work had on the field and/or the community at large?
It has transformed and energized the field of retinal gene therapy and energized the scientific community.
Have you noticed changes in the field as you advanced in your career?

The field has improved but still, there is an underrepresentation of Hispanics in scientific organizations.
How did you find opportunities to help you grow in your career?
Networking and identifying senior members of the scientific community who would mentor me. As a veterinarian and Hispanic in a scientific world mainly populated, in the early days, by MDs, this often was an obstacle. In fact, being a veterinarian in those early years was more of an obstacle than being Hispanic.
Who is/was your greatest influence/supporter?
Alan Laties, MD, now deceased (read Aguirre's tribute to Laties in IOVS).
Do you have any pearls of wisdom for young Hispanics entering or currently in the field?
Be the best you can be and always reach as high as possible. Top mentors at top institutions will open doors that otherwise may be closed.