2023 Joanne G. Angle Award:
Nicholas Delamere, PhD, FARVO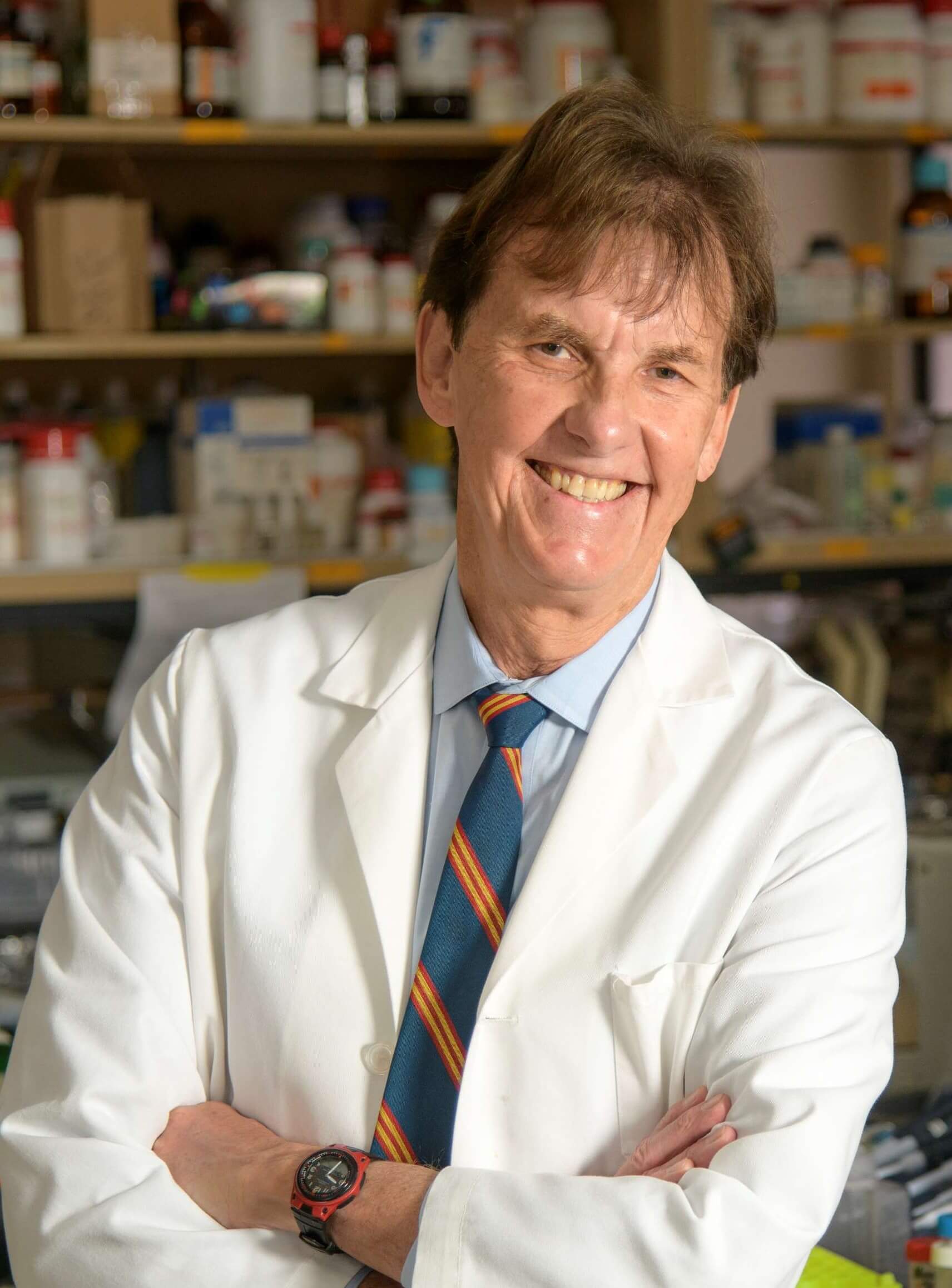 Nicholas Delamere, PhD, FARVO, has been selected as the 2023 recipient of the Joanne G. Angle Award — the highest service honor bestowed by ARVO. The award recognizes an outstanding leader who has made significant and continuous contributions in support of the Association's mission.
Delamere says the news of this award came as a huge surprise. "Being recognized in this way is incredibly touching because Joanne Angle was a very dear friend. Joanne passed away in 2012 but I miss her still and think of her often. For me and my contemporaries, Joanne 'was' ARVO. She was the glue that held the association together in the early years. Joanne kept the organization true to its mission during a period of transformational growth. It will be an honor to accept the award and be with everyone when we gather in New Orleans."
Delamere developed a connection with ARVO from the time he attended his first ARVO Annual Meeting as a postdoc in May 1977. "It was held at the Sheraton Sandcastle and neighboring small hotels dotted along the beach in Sarasota. That week in Florida I met other postdocs and trainees who have been close friends ever since. I met experienced senior scientists who provided advice and support for decades to come. And I found myself immersed in the most exciting science I could ever imagine. I mingled with the authors of papers, names I had read. From the start it was clear the Annual Meeting becomes a temporary community of like-minded scientists."
An associate editor of ARVO's Investigative Ophthalmology and Visual Science (IOVS) journal since 1998, Delamere served on several ARVO committees over the years, eventually becoming president of the Association in 2009. "Becoming a member of the Annual Meeting Program Committee was my first opportunity to contribute. It was an amazing experience to be part of the process and it introduced me to colleagues who study different topic areas. The ARVO community is worth working for and the Board of Trustees and various committees work long and hard to make [the Meeting] happen every year."
Delamere shares the most memorable experiences during his tenure as president involved the main issue facing the Association at the time — the location of the Annual Meeting. "The conference had grown too big for its 'permanent home' in Fort Lauderdale. The convention center wasn't large enough and the shortage of nearby hotels was a major inconvenience. However, many ARVO members, me included, were fond of meeting in Florida and liked returning to the same venue each year. After considering all the options, the Board of Trustees decided on the current model of holding the Annual Meeting in different cities. The decision generated lively discussion."
An active volunteer throughout the eye and vision community, Delamere is also former president of the Association of Chairs of Physiology Departments (ACDP) and served a stint as vice president of the International Society for Eye Research (ISER). He was a member of the NIH Visual Science-A study section, recently served as chair of the Diseases and Pathology of the Visual System (DPVS) study section and is co-chair of the Helen Keller Foundation Prize Selection Committee. He also co-founded the journal Current Eye Research and serves on the editorial board of the Journal of Ocular Pharmacology and Therapeutics.
"Volunteering is a win-win," says Delamere. "It's good for the community, it's good for you. You take your turn doing work that needs to be done. You meet interesting people who become friends and colleagues. This applies when you volunteer in a local community organization or serve on a university committee, editorial board, study section or ARVO committee. It's volunteering when you agree to review a paper, write a letter of support, or simply take time to listen to someone who needs an understanding ear."
Delamere encourages everyone, particularly MITs, to think of ARVO as a gateway to all that's best in vision research, as well as a space where they will be accepted — a virtual support network. "The organization is run by its members for its members. ARVO volunteers decide everything from the scientific program at the Annual Meeting, to new diversity initiatives. I encourage members to do their bit to help, use their voice, share their expertise, make a difference. It's absolutely true that the more engaged you become, the more you get out of it. When you volunteer, you'll meet and form friendships with like-minded people who understand you and your research career. ARVO friendships can be hugely important when you have a research career that often involves moving between institutions and setting up shop in different locations across the world."
About Nicholas Delamere, PhD, FARVO
Nick Delamere is a professor in the Department of Physiology at the University of Arizona (UA) in Tucson. Recognized for his work on cellular specializations in the eye, he started his research journey studying lens biophysics as graduate student with George Duncan at the University of East Anglia in the UK. After completing his PhD, he joined Chris Paterson (ARVO president, 1994-5) as a postdoc in the Department of Ophthalmology at the University of Colorado and eventually became an associate professor. He then joined well-known ARVO member Thom Zimmerman at the University of Louisville Kentucky Lions Eye Research Institute, where he spent 20 years and made it to full professor. Delamere also held several leadership roles there, including IACUC chair and graduate program director. He was recruited to UA in 2006 to chair the Department of Physiology and served until 2022. Under his leadership, physiology grew to become the most popular science major at the university with over 2000 students. George Duncan, Chris Paterson and Thom Zimmerman became Delamere's lifelong friends. "Without their mentorship, and the support of many other ARVO colleagues, things would have been very different."