Celebrating Women's History
María Cecilia Sánchez, PhD - Women need science and science needs women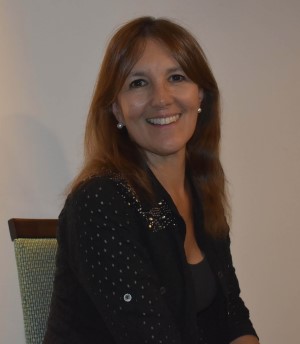 María Cecilia Sánchez, PhD, is an associate professor in the Department of Clinical Biochemistry, Faculty of Chemical Sciences, at the National University of Córdoba (UNC), and an independent researcher at the National Scientific and Technical Research Council (CONICET) in Argentina since 2015.
Currently, she is the director of Ocular Neovascularization and Neurodegeneration Laboratory at the Center for Research in Clinical Biochemistry and Immunology (CIBICI) CONICET, Faculty of Chemical Sciences, UNC and the president of the Asociación de Investigación en Visión y Oftalmologia (AIVO), an International Chapter Affiliate of ARVO.
Using the eye as a model, her research focuses on the study of the interactions between blood vessels and the non-vascular components of the retina such as glial cells and neurons and how they change in neovascular and degenerative diseases like retinopathy of prematurity, diabetic retinopathy and Sickle cell disease. Specifically, she studies antiangiogenic and neuroprotective factors with the goal of developing therapies to stop these complications.
---
Tell us a little about yourself
I am from Córdoba, the geographical center of Argentina. Córdoba is the second largest city in Argentina and has one of the oldest public and free universities of South America, the National University of Córdoba, where I proudly work.
As a child, I always wanted to become a space scientist. I was always fascinated by space and wondered what was beyond earth, maybe, because I was born close to the date that man walked for the first time on the moon. Once I finished school, I chose to pursue biochemistry due to my fascination of working in a laboratory. Never give up the enthusiasm of being a scientist! Now I am a researcher at CONICET and a professor in Biochemistry at the National University of Córdoba.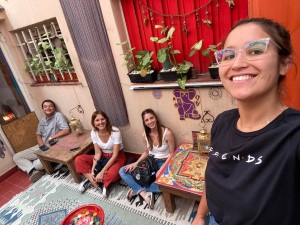 There are so many activities that I love. I enjoy traveling and exploring the outdoors especially in the springtime when the days turn warm and everything blooms or spending a long weekend at the beach with my family. Walking in the sand and listening to the ocean waves; it really relaxes me. Another thing that I really love is the company of good music. Learning about the language and culture of different countries and appreciating their architectural design are other activities that I enjoy.
How did you get into the eye and vision field?
During my PhD training at the Department of Clinical Biochemistry, I was getting progressively interested with the development of new areas not yet explored such as ophthalmology. In my postdoc I was introduced to the world of ophthalmology by Professor Carlos Landa, whom I deeply admire, and I was hooked. Ophthalmology seemed to have great potential for research into many unanswered questions. I was determined to specialize in basic research in ophthalmology but found it difficult at first. However, little by little I was able to organize an interdisciplinary group with clinicians and basic researchers who constitute the Laboratory of Neovascularization and Retinal Degeneration at the Faculty of Chemical Science that I currently lead. Throughout these years I have learned a lot about healthy and diseased retinal tissue, focusing specifically on Müller glial cells due to the multiple activities that they perform.
What are some things in your field that you love/enjoy?
There are three main purposes that I really enjoy in my field:
To connect and collaborate with distinguished basic and clinical researchers of the world and tackle different ophthalmologic problems together.
To disseminate findings to the public; ensuring that the conducted research has a social impact.
To design an experiment, controlling for possible variables, analyze data with critical thinking and sometimes getting a "WOW" answer to the question.
What is your greatest accomplishment?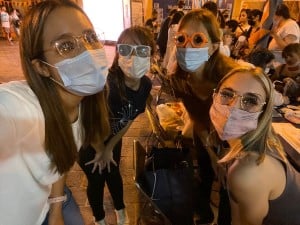 Currently basic research is subject to a highly competitive environment. For this reason, I consider my creation of an attractive, friendly and interdisciplinary work group as my greatest achievement. With perseverance and motivation, we have published papers, participated in national and international meetings, won prizes, and disseminated our results to the public, which is a great satisfaction for me as a leader.
Who is your greatest influence and why?
Dr. José Luna, my clinical collaborator and friend, was the one who sparked my interest in retinal research. He worked with Dr. Peter Campochiaro, a pioneer in the study of HIF-1 and VEGF around 1996 and 1997. José aroused my enthusiasm for the effect of hypoxia on the retina back in 2004. I was entering the world of angiogenesis and neurodegeneration but, in my innocence, I didn't really appreciate what I was getting myself into!
Where do you see women in eye and vision sciences within the next five years?
Science and technology are crucial in the development of countries and in the future of our societies. The challenge is to ensure that more women are protagonists of that future. This requires that all women and girls have access to careers and job opportunities in these fields. For years, women have been underrepresented in different scientific fields. Women need science and science needs women.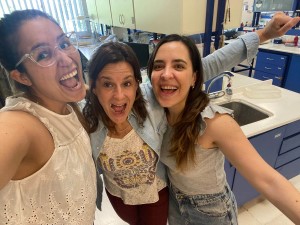 Despite an improvement in recent years, only 22 women have received a Nobel Prize in a scientific discipline to date. Many of the women who today lead scientific and technological development in Argentina had to overcome multiple obstacles. Building and maintaining support networks among peers was key to growing in their careers.
Luckily this is changing and today we can see how different organizations and institutions are working to give opportunities and visibility to the role that women play in science. This will help women researchers reach leadership positions in the future and close gender-related disparities. The only antidote to breaking down the barriers is for science to embody a dream and a hope.
What does Women's History Month mean to you?
March holds significant importance for women, as it is celebrated as Women's History Month. It is a special month that gives us the opportunity to recognize and celebrate the contributions and achievements of women throughout history. In the research area, women have made significant contributions. However, despite progress made, women continue to face challenges in achieving gender parity including unequal representation and pay disparities. Therefore, March serves as a reminder of the importance of supporting and encouraging women and highlights the need for continued efforts to assure them equal rights and opportunities.