Celebrating Hispanic Heritage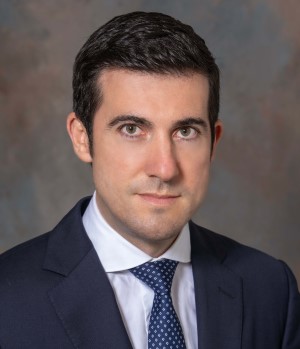 Alfonso L. Sabater, MD, PhD, is a surgeon-scientist and associate professor of clinical ophthalmology at the University of Miami Miller School of Medicine's Bascom Palmer Eye Institute (Miami, Fla.). He is also the Institute's medical director of the Ocular Surface Program and director of the Corneal Innovation Lab. Sabater received his MD from the University of Valencia and his PhD from the University of Navarra, both in Spain. He completed his ophthalmology residency at the University of Navarra, and an ocular surface diseases research fellowship as well as a cornea and external diseases clinical fellowship at the Bascom Palmer Eye Institute.
Sabater's lab investigates strategies for corneal and ocular surface protection and regeneration. He has filed multiple patents and authored several publications in leading journals. He has served as an ad hoc reviewer for 18 scientific journals and currently sits on the board of directors of the Pan-American Cornea Society (PanCornea). Sabater is also co-founder of three University of Miami spinoff companies focused on developing therapies and devices for patients with corneal and ocular surface diseases.
---
How did you get into the eye and vision field?
My interest in the eye and vision field was sparked by my father's profession as an ophthalmologist. As a child, I was exposed to this fascinating world of eye care every time I accompanied my father to his workplace. Witnessing his surgeries and the way he helped patients improve their vision left an impression on me. The precision and delicacy involved in eye surgeries and the ability to enhance people's quality of life through better vision inspired me and ignited my curiosity about ophthalmology.
What are some things in your field that you love/enjoy?
One of the most gratifying aspects of ophthalmology is the opportunity to improve people's vision and, consequently, their quality of life. I love constantly working with innovative technologies as this makes our practice very exciting. I'm also very passionate about innovation and problem-solving, and I enjoy challenging and complex cases that require creativity and critical thinking.
What is something unique about your research?
Something special about our research is that it's extremely translational. Our main goal is to cure corneal blindness and we are focused on developing new therapies and devices from the early stage to the clinical phases in the shortest time possible.
How does your work impact the field and/or the community at large?
Our team is developing novel therapies and devices and some of them are already being used to restore the vision of our patients. We are concentrating on becoming highly efficient in accelerating our development cycle so we can bring novel solutions to our patients safely as soon as possible.
What do you consider as your greatest accomplishment?
My greatest accomplishment has been building an amazing team of highly skilled individuals who share my vision and passion for innovation in ophthalmology. One great and recent example is that we were able to restore the vision of a blind child with a complex and rare disease by treating him with gene therapy, this being the first time that gene therapy was applied topically in the eye.
Do you have any pearls of wisdom for young Hispanics entering or currently in the field?
We should all be proud of our cultural background and heritage. We can use it as a source of inspiration and strength in all that we do.
With determination and hard work, anyone can achieve their dreams. Perseverance through challenges is key as well as learning from every experience.
Embrace diversity and support the people around you. By doing things with love, honesty and integrity, we can have a significant impact on our community.
Work-life balance is essential. Making conscious decisions to balance the two will bring us happiness, satisfaction and fulfillment in both professional and personal aspects of life.