Celebrating Hispanic Heritage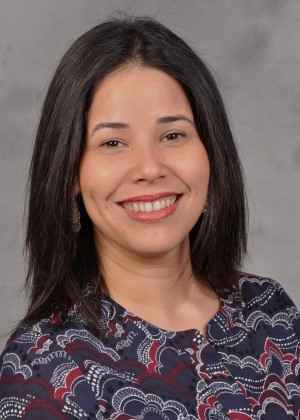 Reyna I. Martínez-De Luna, PhD, is a research instructor at the Center for Vision Research in Upstate Medical University's Department of Ophthalmology and Visual Sciences (Syracuse, N.Y.). She obtained her undergraduate degree in biology from the University of Puerto Rico-Humacao, then pursued her PhD at The Ohio State University (Columbus, Ohio) in the Molecular, Cellular and Developmental Biology Program. It was during her time at Ohio State that she developed her interest in retinal development and regeneration and went on to pursue postdoctoral studies at Upstate's Center for Vision Research.
Martínez-De Luna's research examines the role of the extracellular matrix in the development and connectivity of retinal ganglion cells, the cells that connect the retina to the brain. Her work has been supported by a Grant-in-Aid from Fight for Sight and a Career Development Award from Research to Prevent Blindness.
---
Tell us a little about yourself.
I was born in Humacao, Puerto Rico and spent most of my formative years there, except for a short period of about five years when I lived in the Dominican Republic and then the United States. Since I was very young, I wanted to be a teacher. Then I became interested in science in middle school. My eighth-grade physics teacher brought a Van de Graaff generator to class and we had the experience of seeing it in action. For me, this was exciting and I loved the idea that with science you could find answers to any question. In high school, I decided I wanted to major in biology in college with the goal of eventually obtaining a PhD to become a scientist and a professor, and in a sense fulfill my interest in becoming a teacher.
Outside the laboratory, I enjoy hiking the beautiful New York state trails and parks, experimenting in the kitchen, reading and traveling.
How did you get into the eye and vision field?
"I got bitten by the retina bug" during my PhD and not as a planned career move. I had to change fields while I was doing my PhD and I joined my former PhD advisor's laboratory where I worked to establish a Xenopus laevis model of retinal regeneration. That is when I started working in the visual development field and I just fell in love with it.
What are some things in your field that you love/enjoy?
My colleagues and the science. The visual development community is very collegial. It has been great to establish my career in this area. It has been great to begin my career in this area. Furthermore, it's the excitement of discovery, especially within the realm of science, that drives my motivation to go to work every day.
What is something unique about your research?
My lab is studying the, often overlooked, contribution of the extracellular matrix in the development of retinal ganglion cells and the routing of their axons to establish the visual pathway. I am interested in understanding how cell-matrix and axon-matrix interactions help shape the development of the visual system. My ultimate goal is that we can use the findings from our studies to rejuvenate the environment of the visual pathway to make it receptive to regenerating ganglion cell axons.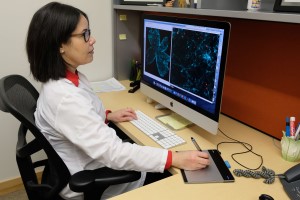 How does your work impact the field and/or the community at large?
The goal of my research is to understand the mechanisms by which the extracellular matrix regulates how retinal ganglion cells (RGCs) develop and form connections in the retina and brain. Retinal ganglion cells transmit visual information to the brain through their nerve fibers that collectively form the optic nerve. Transmission of visual information to the brain is essential for vision, and damage to these cells caused by injury or disease can block this transfer of information and result in blindness. My research aims to build a toolbox that allows manipulation of the extracellular matrix to make restoration of vision possible. My hope is that our findings translate to effective therapies that help the community at large including those disproportionately affected by blinding diseases.
In your opinion, what obstacles do Hispanics still face in this industry? Have you noticed changes as you advanced?
I think Hispanics in academia face the same challenges as every other underrepresented group in science. I think strategies for retention are important to increase the number of Latinx faculty in academic institutions. As I advanced, more funding agencies and foundations began to recognize this issue and have developed grants to increase retention of more diverse junior faculty. Even with these efforts, there is still a very low number of Hispanic and underrepresented minorities in academic science and we need more opportunities that allow inclusion and retention of underrepresented faculty.
How did you find opportunities to help you grow in your career?
By attending meetings and networking. I highly encourage new trainees to attend meetings like the ARVO Annual Meeting to present their work and network.
Who is/are your biggest supporter(s) and why?
I have two big supporters. The first is my husband who supports me in everything personal and professional that I do. The second biggest supporters are my mentors. My department at Upstate is very collegial and collaborative, and it has been a fantastic environment to start my research career. Part of that environment comes from the department's commitment to mentoring its faculty, especially the junior faculty. I have a fantastic group of mentors in my department who have helped me refine my research questions by providing valuable strategic advice on the research, funding, and grant writing. I also have a group of peer mentors composed of other Puerto Rican faculty that have been a key support in helping me navigate the subtleties of my academic career. We have met nearly monthly for the last seven years and it has been an incredible source of support. There is something very special about being able to reflect and talk about career and personal hurdles and how to overcome them with other investigators in similar fields and career tracks that speak your native language.
Do you have any pearls of wisdom for young Hispanics entering or currently in the field?
First, make sure you find out what topics you are passionate about and work in those areas that interest you the most, that way when things become difficult, you still can find the motivation to move forward. Second, find a diverse group of mentors with different backgrounds and different experiences. By doing so, you will have access to a wider range of perspectives.